"I'm from another century," Elbow singer Guy Garvey sings in "Charge," the second track on the British band's carefully orchestrated sixth album, The Take Off and Landing of Everything, released this week on Concord Records. The line may be metaphorical to the Mancunian songwriter who penned it, but for fans of Garvey and his mates in Elbow -- a group of English school buddies who've forged humble backgrounds and clever ideas into tuneful anthems for nearly two decades -- it rings true.
That's not to say The Take Off and Landing of Everything sounds like a rock band trying to be Beethoven, it does not. Yet the melodies and words have an old-world feel that makes the trebly crackle of the current pop radio landscape seem like child's play in comparison. Not to mention the fact that nearly every Elbow track features some sort of symphonic ensemble, the warm hum of a 1960s Philicorder organ or layered harmonies that accentuate the oozy, comforting tone of Garvey's voice. Lyrical themes include the baggage of approaching middle age, romantic breakups, and the dark side of human nature -- thoughts and emotions that require more than just a catchy chorus repeating over three minutes of airplay. As with their previous recordings, including the 2008 hit album, Seldom Seen Kid, and 2011's Build a Rocket Boys!, fans will get out of an Elbow album exactly what they put into it. What takes off doesn't always land, and vice versa.
If a band like U2 uses a fisheye lens to transform its verses into panoramic sing-alongs to crowds of 80,000, then Elbow uses a telescope to go big or go home. It's micro love on a macro level; these songs are like personal stories beamed back to earth via satellites -- stuff that needs space and time. So, it's a good thing Elbow doesn't shorten the optimistic trumpet line in "Sad Captains" as the refrain repeats "Oh, my soul" into the six-minute mark ... or chop down the joy of the title number, which flirts like a dreamy companion to George Harrison's "Wah Wah," to a sum of less than 7:11. "Honey Sun" marches out with a metronomic electronic beat and moseys into what could be a new take on a Civil War-era Southern spiritual. And Elbow never needs irony in order to be cool: "Real Life" is contradictory enough, with angels and miles of depth.
The magic of Elbow is in the mixture, admits the band's bassist, Pete Turner. He says Take Off reflects the quintet's new "small group" songwriting configurations (which meant that all five members were rarely writing together) and a "relaxed vibe" that gave the entire band input into the process. Turner's favorite contribution is "Colour Fields," a midtempo meditation on being bullied, which was recorded using iPad apps.
Take Off is a little proggy, which I like, but Elbow aren't pretentious, perfectionist music geeks -- they're actually blokes who have their own brand of beer and, when not hanging out with their kids or partners, fit in as well with the buzzed festival crowd at Glastonbury as they do at small US clubs and theaters (see their upcoming North American tour dates here).
The band's in topmost form when Garvey ponders personal relationships and brings the pages of his diary to life. He does just that on "New York Morning," one of the more accessible songs on Take Off, in which he reports on the city's innerworkings from the vantage point of the Moonstruck Diner in Manhattan. "Oh my God, New York can talk," he sings. "Somewhere in all that talk are all the answers. Everybody owns the great ideas. And it feels like there's a big one 'round the corner." It's not rocket science, and that's why it's so good.
What I love about Elbow is that every album teeters on the edge of the next big idea. Sometimes that feeling of being "so close you can almost taste it" is more satisfying than the breakthrough itself. May this band always be looking for what's 'round the corner and may we always be blessed to tag along.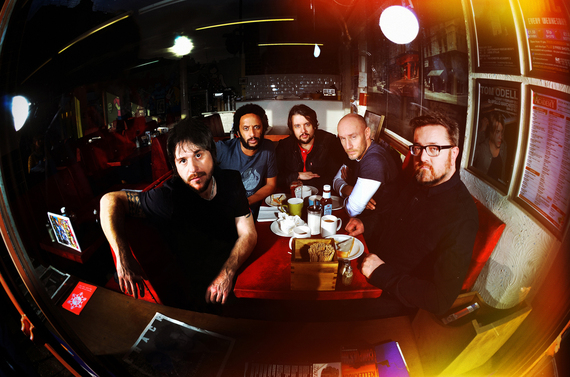 Elbow. Photo by Tom Sheehan. Courtesy of Concord Records.