A Note from the bloggers: As fellow citizens of the planet, we're joining our voices together to bring awareness to environmental issues and to suggest simple ways each of us can affect change.
On Dec. 7, Former President Jimmy Carter and Sir Richard Branson were among the guests honored for their work as exemplary stewards of the environment at the 22nd annual Captain Planet Foundation Gala in Atlanta. Since 1991, the Foundation (an offshoot of the groundbreaking cartoon series developed by Ted Turner and Barbara Pyle), and its Gala have grown to international acclaim -- this year bringing together U.S. Environmental Protection Agency Administrator Lisa Perez Jackson, entrepreneur Sara Blakely, Grammy-winning singer Alison Krauss, and National Geographic "explorer in residence" Dr. Sylvia Earle, among others. Yet the Foundation's mission to give younger generations an active understanding and love for the natural world in which they live is so much more prescient than the party, especially right now.
As we watch rock stars jam for Superstorm Sandy relief, see ski slopes closed due to increased temperatures here in the U.S., and read about the human and economic toll caused by droughts and floods worldwide, none of us can deny that climate change and environmental issues are in the news and on our minds.
Branson says he's seen the effects of climate change around the world, even at his home: "On our island in the Caribbean, you can see signs of sea levels rising and damage to the reefs, so we get a taste of it." He co-founded the Carbon War Room, which brings entrepreneurs together to find market-driven solutions for carbon reduction and to slow environmental effects of industry.
A new generation of highly-inquisitive, eco-minded young adults are already asking hard questions and demanding more sustainable solutions for issues such as: product cradle-to-cradle management and reporting, green building, cleaner corporate supply chains, renewable energy, water scarcity, organic foods and food safety, waste management, transportation and cleaner air.
Programs like those funded through the Captain Planet Foundation help to ensure that future generations of business leaders and policy makers are environmentally literate citizens who leverage technology, science and information to manage and protect the land, air and water upon which all life depends.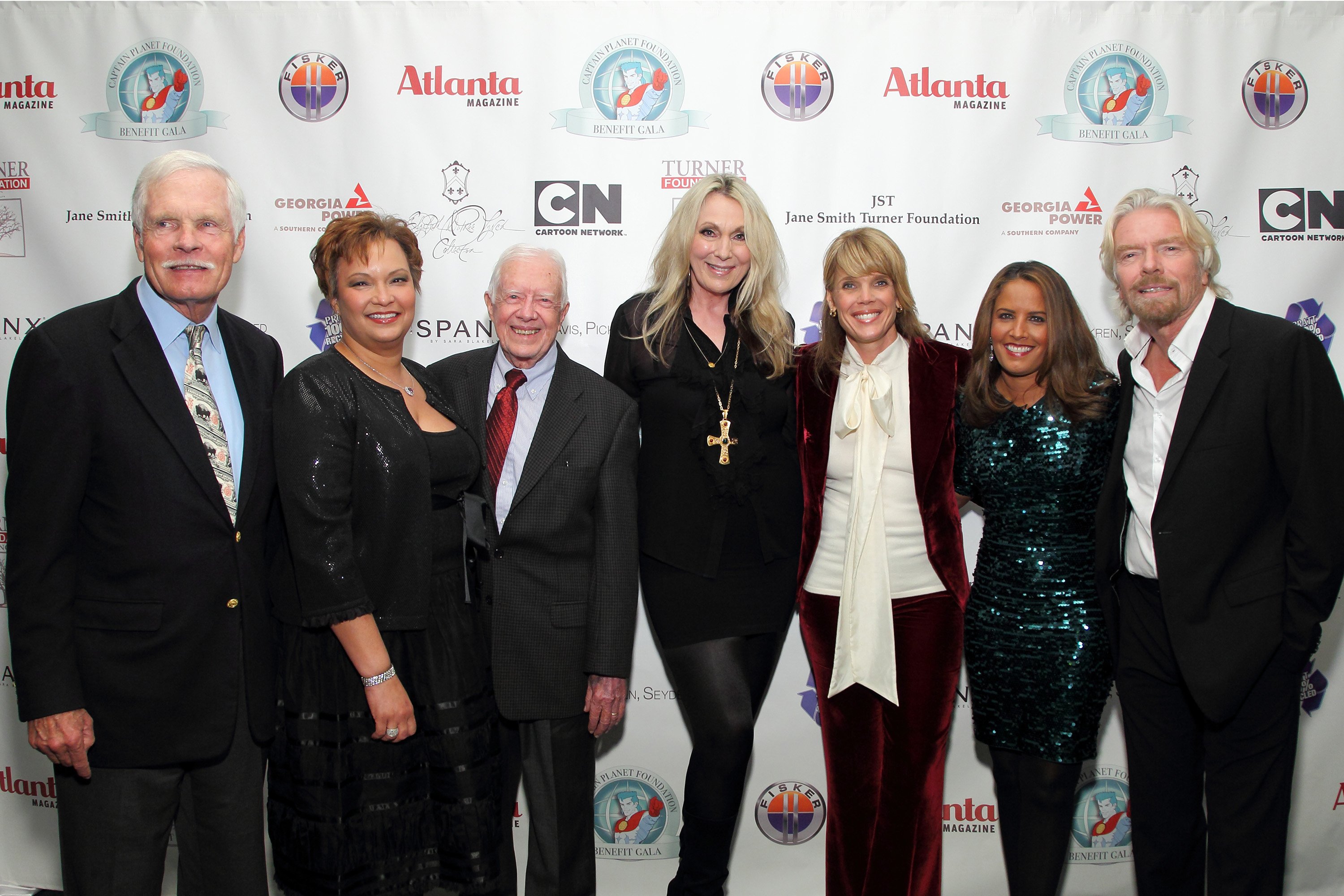 Working for a better future at the Captain Planet Foundation Gala: (l to r) Ted Turner, Lisa Jackson (EPA Administrator), President Jimmy Carter, Elizabeth Dupree Lynch, Laura Turner Seydel, Suzanne Malveaux (CNN), Sir Richard Branson. Photo by Ben Rose. Courtesy of the Captain Planet Foundation.
Strides are being made at the government and corporate levels to alter our society's misuse and depletion of natural resources, but each of us has a role to play in becoming better caregivers for the natural world around us.
As we kick off 2013, here are a few suggestions for ways each of us make the world a better place in which to live, breathe, work and play:
Fund a local environmental initiative:
Did you know that just $100 can fund a water-quality test in a stream or river and $500 can provide an inner-city school with plants and tools for an organic vegetable garden? Even smaller amounts can be very meaningful to local recycling or cleanup projects in your community. Click here to learn more.
Educate yourself about environmental issues and advocate for causes you believe in:
If you are a U.S. citizen, it is your privilege, right and duty to communicate with your elected officials about policies you want to see put into law. From pushing the Safe Chemicals Act to blocking anti-environmental budget riders, you need to be informed! Learn more by visiting the League of Conservation Voters or the Natural Resources Defense Council.
Teach your children:
Have a daughter? In honor of its 100th anniversary, the Girl Scouts of America has launched Forever Green to inspire young people to take simple, daily actions to reduce waste and protect natural resources. The Nature Conservancy's Leaders in Environmental Action for the Future (LEAF) program provides paid summer internships for high school students and helps educators from environmental high schools share best practices and scientific resources. There are also summer camps and other community programs around the country for school children. Search the web for some near you.
No action is too small and we are going to need "everybody in the pool" if we are going to achieve a solution to this climate crisis. Mindfulness and awareness that every action matters are the first step.
Let's work together to make 2013 as green as we can. Every action counts!
Laura Turner Seydel is the Chair of the Captain Planet Foundation and an environmental activist. Learn more about her work here.