Down the red carpet, they keep coming: B.o.B., Janelle Monae, Third Day, Musiq Soulchild -- and the list goes on. Yet, it's not music's biggest night of the year (that would be the 53rd Annual GRAMMY® Awards, Sunday, February 13 on CBS); this is a pre-GRAMMY celebration party at the W Hotel in downtown Atlanta.
Led by Michele Caplinger, Senior Executive Director of the The Recording Academy® Atlanta Chapter, dozens of current and past Georgia-based nominees gather annually with other chapter members to celebrate their accomplishments before heading to the GRAMMY ceremony in Los Angeles. Atlanta's Recording Academy (one of 12 nationwide chapters of NARAS -- the National Academy of Recording Arts & Sciences) boasts one of the largest and most diverse group of nominees -- from pop hitmakers Usher and Cee Lo Green to country music's Zac Brown Band, gospel family act Jeff & Sherri Easter, rappers T.I. and Young Jeezy, jazz man Freddy Cole (yes, Nat King Cole's brother), songstress India.Arie, and many more.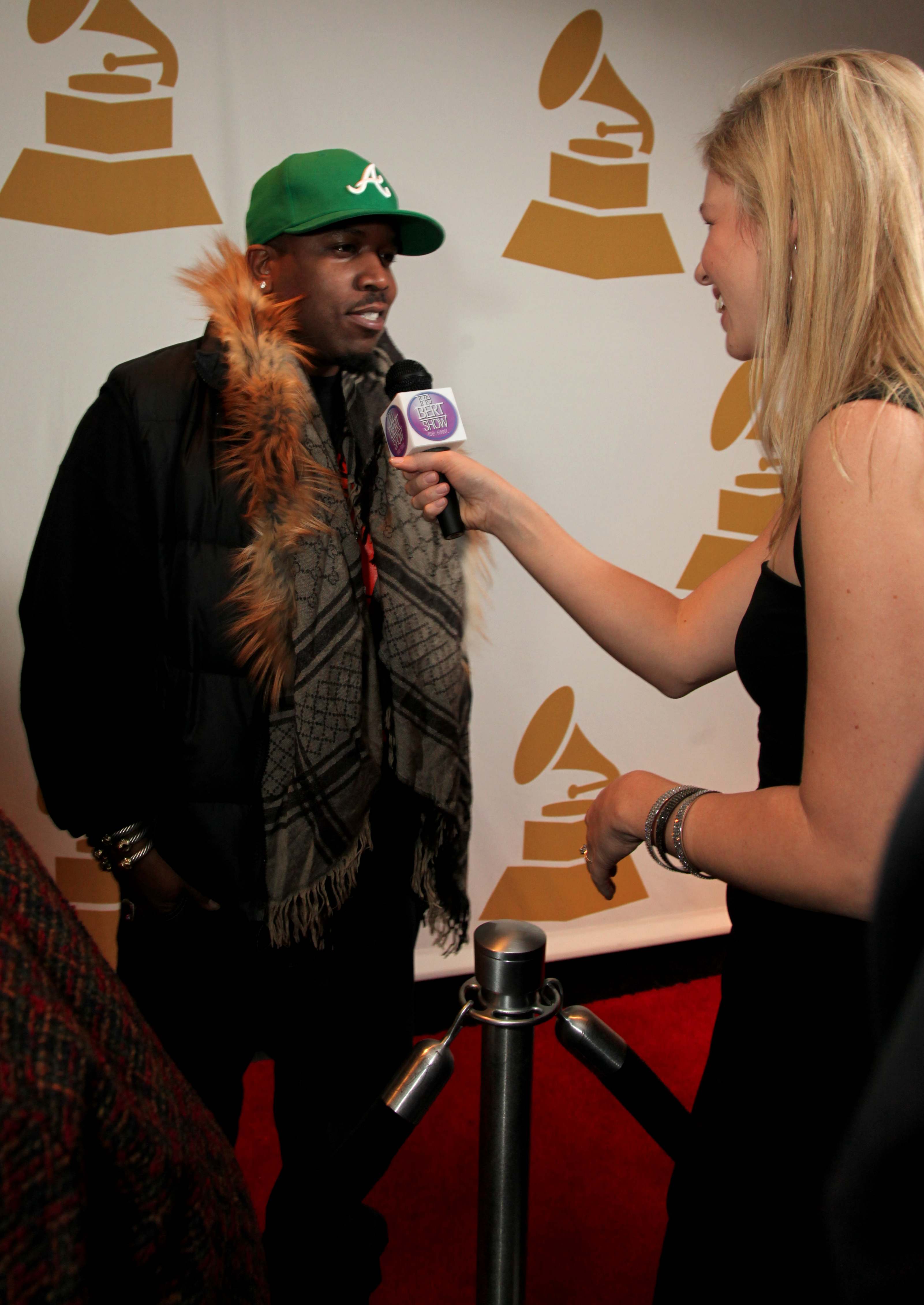 Big Boi walks the red carpet at The Recording Academy Party in Atlanta on January 27, 2011. Photo courtesy of Red Clay PR. Photo credit: SaraHanna.com
Even though you'll see the hottest names in the biz (including some of those mentioned above) perform on TV at the GRAMMYs this weekend, you probably don't know that their involvement with the Recording Academy happens more than just a few days per year. Whether mentoring kids in schools, supporting GRAMMY Camp, or helping fund MusiCares® - which provides musicians and others in the industry assistance for financial, medical, and personal emergencies - chances are your favorite music stars are supporting the Recording Academy's non-profit arm, The GRAMMY® Foundation, behind the scenes.
Outkast's Antwan "Big Boi" Patton, who's nominated for three awards this year, says the Atlanta event "is like a family reunion" because so many artists in Atlanta's close-knit music community "went to school together and now make music together." Big Boi says he was inspired by the work of the GRAMMY Foundation and his fellow Academy members to create his own nonprofit, Big Kidz Foundation, which focuses on culturally diverse experiences to help create socially-conscious youth.
Kelly Price, current nominee for Best Female R&B Vocal Performance (2010's "Tired"), says she became involved in the Recording Academy's outreach efforts after her first GRAMMY nomination back in 2000 as a way to give back; she subsequently served on the board and as a governor of the Atlanta Chapter for four years.
"I want to be a part of saving music in schools, because we can teach kids at a young age the beauty and the artistry of instrumentation," Price says. "I grew up in the projects [of Queens, NY]. Being musical my entire life, I know that [the arts] are the first things to go when there are budget cuts. Music was such a big part of everything I did. I learned through music. I memorized things with music. Now that I'm older I really understand that even as a young child, I used music to comprehend the entire world around me."
In a society where music programs in schools are a dying breed, the GRAMMY Foundation works to provide unique musical opportunities for young students -- whether it's Ludacris stopping by GRAMMY Career Day at Benjamin E. Mays High School in Atlanta last November or 30 of the nation's brightest young jazz musicians flying to LA to join together for a performance with Sara Bareilles at this week's "GRAMMY in the Schools Live!" concert at the University of Southern California.
Caplinger, one of only three chapter executive directors who've held the post more than a decade, says that although "nine out of 10 [Academy] events aren't open to the public," the chapters provide invaluable professional development seminars, hands-on training, and other services to members.
Since 2006, when 100 music professionals met on Capitol Hill to rally for support of the arts in the wake of the devastation Hurricane Katrina left upon New Orleans, one of the country's cultural treasures, Academy members and supporters of the arts have gathered every year on "Recording Arts Day" in April to meet with their congressional leaders and advocate for musical and cultural preservation, school music and arts programs -- as well as to raise the profile of the music industry amongst members of Congress.
A veteran of the industry herself (she formed Marching Two Step with Ed Roland, the band that later morphed into Collective Soul), Caplinger says that, in addition to the excitement of the GRAMMY Awards ceremony, advocating on Recording Arts Day is one of the highlights of her year.
"Members of The Recording Academy come from all over the country and meet with political figureheads to explain how we, recording professionals, make a living. There is quality "face-to-face" time with those who vote on our behalf and have the power to change legislation," Caplinger says. "There is a wonderful 'meeting of the minds' that day... and it's not unusual to see an artist like Sheryl Crow pull out her acoustic and play a song in a Senator's office after one of those meetings. Very cool."
Music fans who want to support the work of the GRAMMY Foundation and MusiCares can bid on VIP experiences, autographed memorabilia, guitars, concert tickets and more during the GRAMMY Charities Auction on eBAY from February 7-24, 2011. Click here to bid.