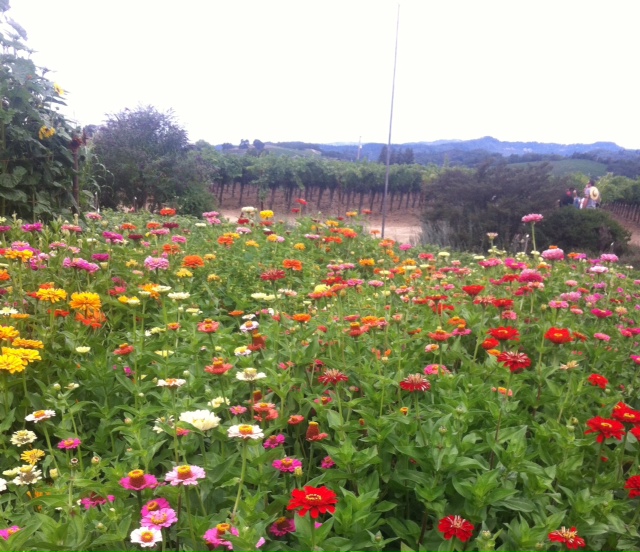 Gorgeous views at Frog's Leap Winery in Rutherford.
Napa Valley: sprawling hills of green and grapes, clean air and a wine lover's paradise. These are probably the first images that pop into your head when you think of Napa, but, the truth is, it is the history of Napa, the familial ties to the vineyards and the commitment to respecting the land that will resonate long after your visit.
I've wanted to visit Napa for years, and finally took a short ride up from Oakland to do just that. Though on a limited schedule-- 24 hours to be exact, I was still able to enjoy a wide range of activities in Napa Valley and will definitely be back. There are over 450 wineries in the Valley, making it impossible to experience the number of opportunities there. Despite a plethora of choices, I was able to choose a few locations that I think provide a diverse tasting experience and great jumping off point for anyone who is looking to spend a day there.
Here is what my perfect day entailed:
We started our morning off at Frog's Leap Winery in the town of Rutherford. The intimate, solar-powered property boasts of organically grown wine and produce, with a gorgeous garden full of lavender, luscious squash and basil, to name a few. An hour tasting offers some of the vineyards most stand-out wines, including a Zinfandel that is perfect for a nice, juicy burger, and a light, airy Chardonnay to pair with seafood. A visit to Frog's Leap will remind you that you get what you give when it comes to taking care of the land.
Next up, and right down the street from Frog's Leap, a visit to Round Pond Estate is a must. If you are a wine, olive oil or vinegar enthusiast, this property will provide you with ample education on the process from soil to bottle. Round Pond offers an olive oil tour that explains the cultivation of olive picking to olive oil production in its purest form. An olive oil and vinegar tasting is also available, where the estates finest Italian and Spanish varietals are served, and include a decadent blood orange and Meyer lemon oil to pour on, well, just about anything. We ended our tour by indulging in the Il Pranzo lunch, which offers some of the gardens freshest fruits and vegetables to drizzle with yes, more, delicious oils, all while taking in a stunning view from the terrace. This was a lunch I will not soon forget, particularly a slice of perfectly moist olive oil cake that still haunts me.
If you are looking for a more intimate wine tasting experience in a unique environment, Del Dotto Vineyard's barrel tasting is a perfect experience for the novice or experienced wine taster who wants to learn more about the process of wine making and taste varietals directly from the barrel. The scene at the St. Helena location is Italian decadence with Venetian crystal chandeliers, mosaic marble floors and a huge disco ball-- and it as just as fun as it sounds.
We ended our day with a tasting of diverse sparkling wines and stunning view at Mumm Napa. The sun shines perfectly on their outdoor patio, and their wines, with Cuvee M and DVX among my favorites, are not to be missed. A tasting at Mumm allows you to take in the full beauty of the valley. A visit to their art gallery is also a great way to spend your time at Mumm and take in a different kind of view.
After a full day of wine tasting, it will probably be time for a nap or two. The Westin Verasa was our hotel of choice, and is located right across from the popular wine train, for those who have time to hop aboard. The hotel has spacious rooms and is just a few minutes away from downtown Napa and 15 of the Valley's tasting rooms. When we entered the lobby, there was a wine tasting for hotel guests. Did I mention Napa has wine? After a full day of drinking, the Westin's patio, which overlooks the Napa River, is a perfect spot to unwind or receive a massage in one of the poolside cabanas.
Once dinner time rolls around, there is no shortage of eating options. The town of Yountville is a wonderful place to start as a base, and contains some of Napa's most acclaimed restaurants. Thomas Keller's Bouchon bakery is a local favorite, especially for macaroon lovers. For dinner, Michael Chiarello's Bottega is also a hot spot, and for good reason. The rustic Italian restaurant is bustling with tourists and locals all evening and has a menu worth talking about. A few favorites included the polenta in a glass, fall-off-the-bone short ribs and freshly made ricotta donuts.
On your way out of Napa, stop by Oxbow Public Market where you can pick up a few goodies for the road, or even divulge in one more wine tasting before your drive-- that is, if you are the lucky one not behind the wheel of course.