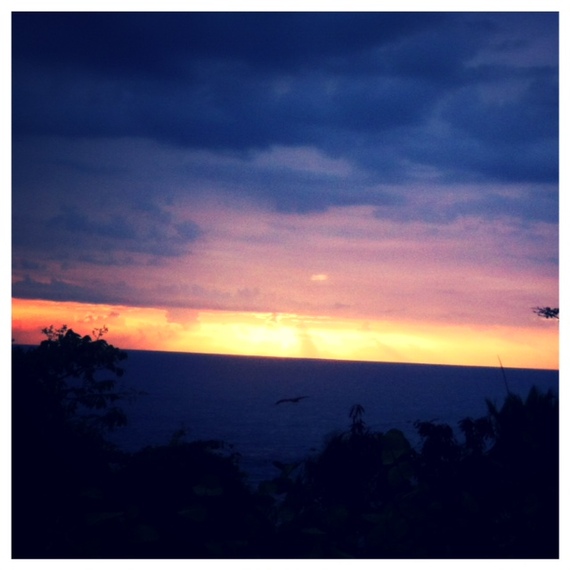 A stunning sunset from The Horned Dorset Primavera
My first experience in Puerto Rico was a spring break visit nearly ten years ago. At the time, rum and sun were the two most important components of the trip. At night, my girlfriends and I whizzed through the streets of San Juan blaring salsa inside of a newfound friend's car and stuffing our faces with fried plantains to hold us over until the morning. But, it was a visit to El Yunque rainforest and Flamenco beach in Culebra that made Puerto Rico more than just a quick spring break trip to get out of the cold. There was an unmatched natural beauty we found during those hours, and I knew that years later I would return. As fate would have it, I did just that when I was invited to a wedding in the town of San Sebastián.
I spent my first night in Aguadilla at a family's home. Located on the northwestern tip of the island, Aguadilla has the most beaches on the island, and perhaps some of the best surfing in the world. On the way to San Sebastián, I tried sorullitos for the first time, which are deep fried corn meal sticks that are sometimes stuffed with cheese. We washed them down with rum punch, because although it is ten years later, I still do love rum.
The interesting thing about Puerto Rico is how obviously American it is in some aspects, including Walmart and Church's Chicken, but also, how distinctly independent and Caribbean it feels as well. In Rincon, we stopped at a local roadside favorite called Kaplash, where empanadas the size of burritos cost only $1.50, and are filled with anything from shark to lasagna -- yes, lasagna. The town itself is unassuming, quaint and full of winding twists of green that lead to the ocean. At night, locals and tourists gather to watch sports at roadside bars, or sink their seat into the sand as a DJ set begins.
The beauty of this area of the island, in regard to lodging, is that there is something for everyone. There are tons of villas, hotels and even condos for every kind of traveler. After much research and word of mouth, I decided on the Horned Dorset Primavera for its location and flawless grounds. My choice could not have been more perfect, as I have never slept in a more comfortable bed or seen more beautiful attention to architecture as I did here. My view of the Atlantic Ocean left me breathless, and even the sound of the roosters next door beat the blaring horns of my apartment back in Brooklyn. In my villa, Arab, French and Asian decor were suitably aligned with the town itself, which contains people from all over the world, from Californian surfers to Chinese immigrants. In the evening, a passionfruit mojito at Restaurant Aaron was almost as delightful as the waves lapping onto the sand below.
A lobster mofongo, a local dish, was also the star of a meal at Restaurant Aaron. Monfongo, perhaps the most quintessential Puerto Rican dish with roots in West African fufu, consists of mashed plantains with garlic and cracklings that are usually accompanied with some sort of meat. It is as hearty as it is flavorful, and you'd be hard pressed to find a menu on the island that does not offer it.
Seafood Monfongo from Aaron Restaurant
In the evening, a visit to our friend's villa in the mountains of Rincon revealed a row of green mountains and electric fuchsia flowers. Somewhere in the distance, more roosters crow. Dogs lazily make their way up the dusty road before retreating in the shade. Below, music thumps from town as people prepare for a Saturday night full of Medalla beer and salsa. And when the sun sets, the sky will be set ablaze with colors that no photo can do justice. And in that moment, I will think once more, "I'll be back again."