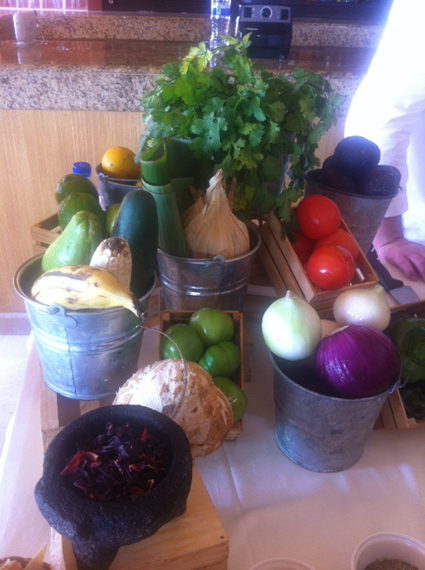 A fresh food lover's dream at Capella Ixtapa's cooking course.
The first time I tasted Chef Miguel's hibiscus ceviche, my palette was bombarded with the freshness of taste I had come to know soon after I arrived in Ixtapa-Zihuatanejo, Mexico. You can taste that freshness everywhere: in the buttery green inside of a perfectly ripe avocado, the abundance of juice squeezed from a lime, and most importantly, the seafood. We grilled a sea bass with just sea salt and chili oil, and barely needed a fork to eat it. Red snapper marinated with lime, oranges and dried hibiscus flowers was both tender and tangy on the tongue, and the most creative (and beautiful) take on ceviche I have ever tasted. We made salsa molcajete, a local favorite, by simply roasting tomatillos, then blending them with white onion and jalapeno. At the risk of sounding redundant, this was the freshest, most flavorful salsa I have ever had, and I have had a great deal of salsa in my life.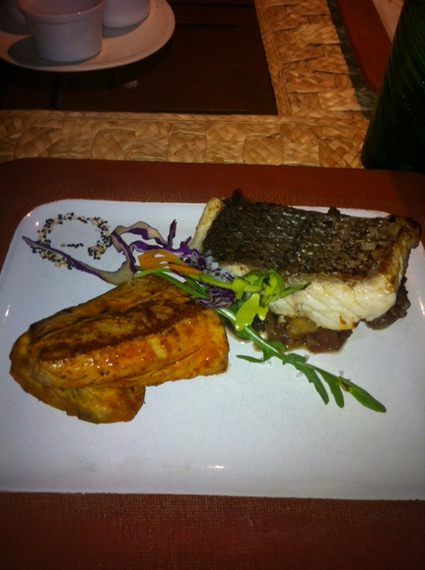 Red snapper with chipotle and sea bass with garlic serrano sauace on a bed of avocado and sweet potato at Las Rocas Seafood Market
On my quest for local cuisine in Mexico, Chef Miguel, of the gorgeous Capella Ixtapa Hotel, created simple flavors with precision. The Pacific Ocean, gleaming and never-ending, sat behind us. In his cooking class, we kneaded corn tortillas from masa and learned about a local ceviche of Zihuatanejo, called "tiritas", which are thin stripes of fish marinated in lime juice, red onion, jalapenos, dried oregano and sea salt that can be thrown into the middle of a tortilla and topped with salsa or avocado. The key to a perfect ceviche, besides fresh ingredients, is to make sure that everything is diced the same size.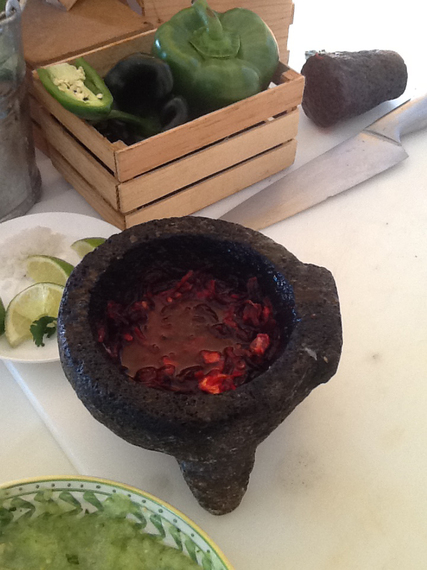 Hibiscus Ceviche
As a Los Angeles native, I was reminded of how often I have eaten Mexican cuisine, not fully celebrating the richness of flavors until my visit to Ixtapa. The only thing more beautiful than Capella's location is the food and history behind each dish. It is the same history that and can be experienced in the town of Zihuatanejo, where we devoured fresh tamales from Tamales Y Atoles Any. In the South, tamales are made using banana leaf. Tamale anejo, a local favorite, is very thin with no filling. It is enjoyed with red mole from Guerrero. Another type of tamale and local favorite is flat and stuffed with pork and guajillo chiles.
The beauty of good food is not in overly complicated preparation, it is in understanding that even two ingredients can give a dish more flavor than you could ever imagine. While Cabo San Lucas and Cancun remain huge tourist destinations for those traveling to Mexico, it is in Ixtapa-Zihuatanejo where I connected to the beautiful flavors and traditions of Mexican cuisine. Food, like life, is often best when it's simple.