(All images courtesy of the filmmakers)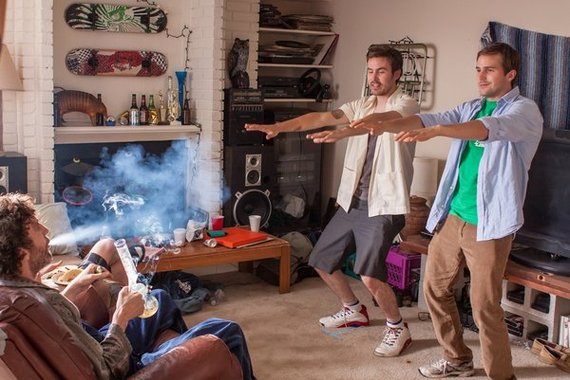 Austin filmmaker Bryan Poyser's third feature The Bounceback—following Dear Pillow and Lovers of Hate—world premiered at the 2013 SXSW Film Festival back in March. Since then, the bawdy rom-com/bromance has been on a roll, introducing the festival circuit to the wonders of Air Sex (did you know there are World Championships?) and reminding them that Austin is at the center of the current indie-film zeitgeist.
According to Variety, Poyser is "channeling such mid-'90s relationship pics as Clerks and Swingers." (We couldn't agree more.) In addition to debuting a brand-new clip from The Bounceback, we've also got an exclusive interview with Poyser himself, who holds nothing back about his rising star cast, upcoming plans for the film, and how you can get your very own Air Sex moniker. You know you want one.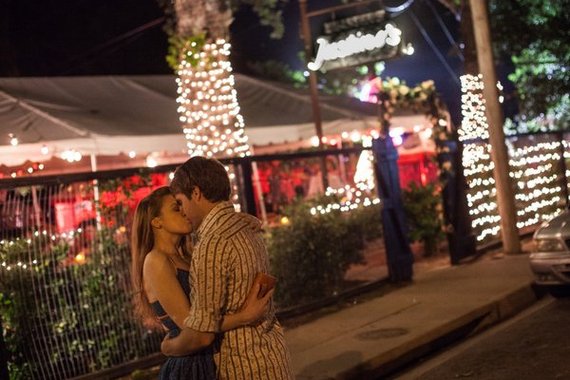 How do you describe The Bounceback to those who know nothing about it?
Bryan Poyser: I tell people it's a raunchy romantic comedy about heartbreak and revenge. It's about two ex-couples who end up in town on the same weekend. One of them is not sure if they want to get back together; the other wants to ruin each other's lives.
Michael Stahl-David—who stars as Stan—called it a romantic comedy, but with chili instead of cheese. Right on, MSD.
As the (co-)writer/director, what inspired you to tell this particular story? Is Air Sex part of your repertoire of talents?
Bryan Poyser: This is my third feature, and it's the first one that I didn't write all myself. The original script, by Steve Walters and Dave Shotwell, really spoke to me. I'm not a huge fan of romantic comedies, but here was one that I would actually want to see if it was made. So the three of us worked on the script, and they were very generous in letting me push it further toward my sensibilities as a director. One of my first directives to them was, "More pain." To me, it's a movie about allowing yourself to laugh at the ridiculous and highly ill-advised things you do in pursuit of love. Unfortunately, I have a long history of stupid things I've done from which to draw.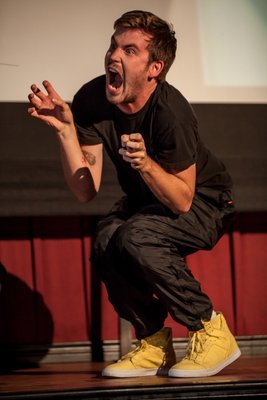 Oh yeah, and Air Sex. That was something I wanted to add to the script, although truth be told, the original suggestion came from my wife. We all wanted to make the film more "Austin," and Air Sex is something that could have only caught on in this strange town. It was imported from Japan (of course) by Tim League, the CEO of the Austin-based Alamo Drafthouse chain of movie theaters. The idea is you get up on stage to act out a wild sexual scenario to music, completely clothed and completely by yourself. My wife and I went to one of these competitions, and it was so hilarious and embarrassing I felt like I had to put it into a movie before someone else did.
And, no, I have not officially Air Sexed. Maybe I did a little bit at the wrap party, but it's kind of hard to remember through the drunken haze. I do have an Air Sex name, though.
It's Lunchmeat.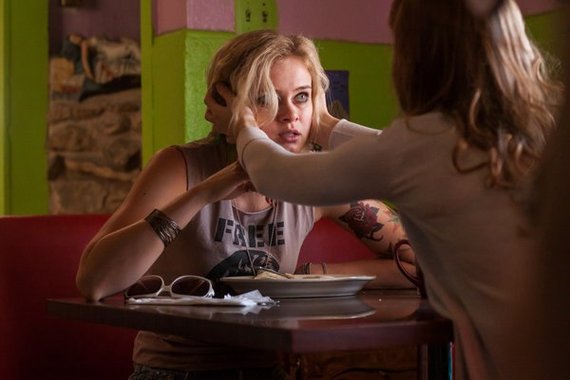 Introduce us to your up-and-coming cast. In addition to their ensemble rapport, they also share a willingness to go for it, holding nothing back.
Bryan Poyser: We were so lucky to get such a great cast for the film. A lot of our cast got to do roles a little outside of what they were known for: Ashley Bell, star of The Last Exorcism, got a chance to wear make-up and not be possessed. Sara Paxton, who's most well-known for being a mermaid in Aquamarine and being terrorized in Last House on the Left, got to show off her incredible comedy chops (and her Air Sex skills).
The fellas: Michael Stahl-David is best known for Cloverfield, and Zach Cregger, one of the founding members of the comedy troupe The Whitest Kids U Know, also got to do some Air Sexing. But they also added a measure of sincere "bromantic" comedy to the film, something that I'd hoped for but don't think I would have gotten with different actors.
In our supporting cast, we got the lovely Addison Timlin from Californication to charm the pants off everyone. I was also thrilled to cast a number of great Texas-based actors, including total charmer Justin Arnold, who impressed me in Spike Jonze's Arcade Fire collaboration Scenes From the Suburbs. And folks may recognize Marshall Allman—one of the only true Austinites in the main cast—from True Blood.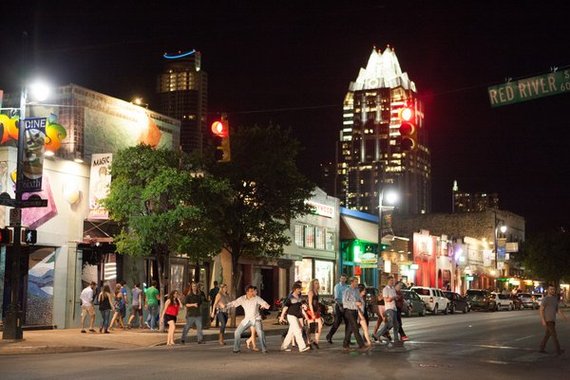 Speaking of Austin, eagle-eyed viewers will recognize key city landmarks. What's it like making a movie in your hometown? Is it a must for you?
Bryan Poyser: Another one of the things that really attracted me to the project was the opportunity to make this a love letter to Austin, to introduce people who don't live here to some of the unique aspects of the city's lifestyle. Austin has become a place a lot of people are really interested in and drawn to, and I really wanted to make this a snapshot of how it is now and how it's changed since I moved here in the early '90s.
Let's pretend we're on a late-night talk show: please set up this exclusive new clip from The Bounceback, featuring Sara Paxton and Marshall Allman.
Bryan Poyser: This is one of my favorite scenes from the movie, where Sara's character Kara has been saddled with a lovestruck weirdo, played by Marshall, on a night out with her best friend. They end up in a country bar and Kara decides she needs a little help from Marshall's character in exacting revenge on her ex-boyfriend. They're both so good in this scene, which is equal parts silly and seductive.
You've got a Kickstarter campaign underway, raising funds for a "Road Show (Air Sex Included)." What's that all about?
Bryan Poyser: Because this is such a fun movie to see with an audience, we've decided we want to do something a little different with distribution. We're raising money to take the film to a number of cities for expanded movie events: we'll do a screening with some of the cast on hand for a Q&A, then put on an Air Sex competition, where our cast members will be the judges, and finally we'll have one of the bands from the soundtrack play a show. It's kind of like exporting the experience of the movie—and of Austin—to different places around the country. We'll do this in the spring, in conjunction with the film's more typical distribution campaign.
Tell us about some of the unique perks on offer—I've already been christened with my own personalized Air Sex name (Bloggy-Style)... but what are some of the others?
Bryan Poyser: Yeah, that's one of the more fun perks in the campaign--for a donation of $5 or more, I will give you your own Air Sex name. It's been a lot of fun coming up with them, and maybe even a little scary that these disgusting, perverted ideas come to me so readily. Already we've given away names like Creamy Italian, Goldfingerer, Taco Meat, Mighty Joe Hung, Kinkytown—apparently I've got a million of them. And they're fully personalized—I've got a brief questionnaire I send out to help me design the perfect name.
In addition to that, you can get signed DVDs, T-shirts, and even an opportunity to get cast members like Sara Paxton to do an Air Sex routine to a song of your choice in a private video, which we'll send to you!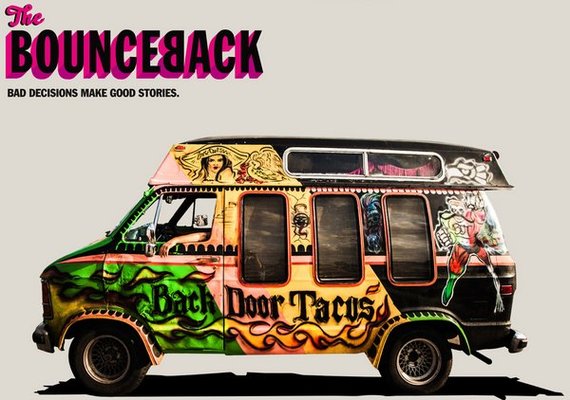 Since premiering at SXSW 2013 (in Austin: perfect!), The Bounceback has been busy on the festival circuit, with a theatrical/VOD release expected early next year. (Stay tuned for details.) In the meantime, which festivals are on the horizon?
Bryan Poyser: One of the reasons we decided to launch the campaign now is because it's been playing at a slew of festivals through October and November. It had its international premiere at the London Film Festival and its NYC premiere at the Gen Art Film Festival. Coming up, it'll be at the Denver Film Festival, Cucalorus in North Carolina, and the Napa Valley Film Festival, where I'll be attending (on my birthday) and where we will wrap up the campaign.
The hope is that we can get people excited to help us out after they see the film at these festivals. Doing this campaign is a lot of work, but it really has been fun to engage directly with new and old fans of the movie. We hope you'll come along for the ride.
Check out the unique perks in the Kickstarter campaign for The Bounceback.
Like The Bounceback on Facebook.
Follow The Bounceback on Twitter.