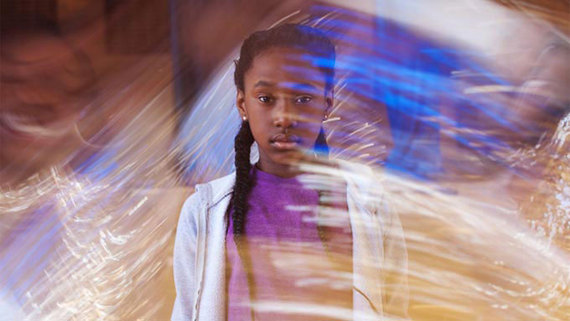 Royalty Hightower in THE FITS; photo courtesy of the filmmakers
A fresh new female voice on the independent film scene, Anna Rose Holmer's dreamy, evocative and wholly mesmerizing debut feature The Fits premiered at the 2015 Venice Film Festival before launching in the US at Sundance. The Fits opens in select US theaters beginning Friday, June 3.
Using the lens of a young tomboy outsider drawn into the complex ecosystem of a girls′ dance team, The Fits explores issues of gender roles, conformity, and coming-of-age, and the sheer physical transformation of girlhood-into-womanhood.What does it mean to be part of a group? Exactly how far should (or will) one go to fit in?
At the heart of The Fits is a powerful debut by newcomer Royalty Hightower, just nine years old when they shot the film. In looking for the specific group of girls called for by her premise--a close-knit community whose individuals begin to exhibit unexplained physical seizures, also known as "fits"--Holmer began by scouting dance troupes. Based on their compelling YouTube videos, Holmer eventually cast Cincinnati dance team Q-Kidz as a whole; she then cast her leads from within its ranks through a more traditional process. Though the lead role of Toni was initially envisioned as an 11-year-old, once she found Hightower, Holmer reworked the script to accommodate the charismatic 9-year-old.
We caught up with the director and her young star at Sundance, just after their standing-ovation premiere.
The movie is fantastic--moving and meaningful, and I'm so impressed with your performance. At the start of the film, you don't talk much; you're just acting. How did you know how to do that?
Royalty Hightower: Thank you. Well, for Toni's facial expressions, Anna helped tell me how to put my face. She would just tell me like, "No, your lips, turn them down a little bit more." And it worked, obviously. [laughs]
Anna Rose Holmer: We shot really out of order... So Royalty not only commands the entire film, but she did it in a way that professional actors do. Every day we would talk about how Toni was feeling in those scenes. And yes, it was so fine-tuned, her performance. We did tiny muscle adjustments--that's what she's talking about, [things like]: "Open your eyes a little wider, breathe, don't breathe..." I would do something, and then we would do it together. It was a lot of mirroring... we would do that until it felt right for both of us.
Had you worked with kids before?
ARH: Working with kids is not really different than working with adults. I mean, there are some actual limitations--you can't go as many hours--but we would have intellectual conversations. Royalty had agency in her character. I treated everything like a collaboration, and they're professionals. They haven't been in a film before, but they are professionals.
What did you draw from your documentary background?
ARH: The thing that I drew from documentary was making a film with a community--sharing leadership and listening, and collaborating with real people who are generous with their time, and being really respectful of that. I lived in Cincinnati for 9 weeks last spring, so that was my family, and I felt like we were making a community film.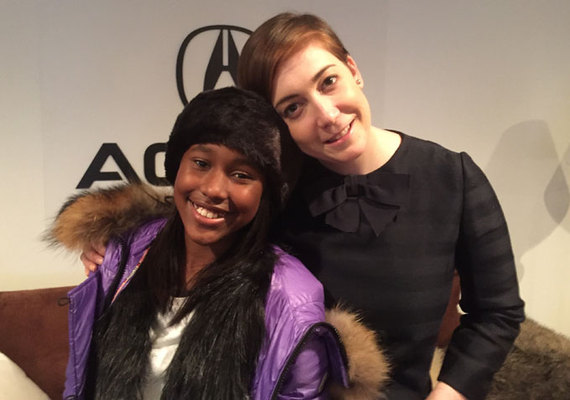 Royalty Hightower and Anna Rose Holmer; photo credit: Kristin McCracken
Can you tell us a bit about how you found your star?
ARH: We cast the Q-Kidz first, and opened up lead casting only to that group, which was a couple hundred girls. We cast 45 of them in the film, including Royalty, who we found, kind of serendipitously, on Day One.
Royalty has this amazing power of listening and observing, and it wasn't just taking direction from me. It was listening to her other performers, it was listening to herself--she was really in tune with her body, in a way that is necessary to play Toni. She just had this kind of magic energy that I felt right away. And I really wanted to direct her and collaborate with her. I've never had that feeling before, because I'd never worked with actors, so it was really special for me to be able to create Toni with Royalty, and I feel like that's what I see on screen.
The mass hysteria--the genesis of the script--was your idea, right? I know you had writing collaborators...
ARH: Yeah, the seed of the film was mine, and I brought on my producer, Lisa Kjerulff, really early on. And then when we started scriptwriting, I brought on Saela Davis. I just trusted both of them instinctually, and wanted diverse female voices crafting this story, because it is simultaneously about Toni and about this group. Having the three of us hash that out in the script phase was really helpful--to make sure we were telling a really nuanced portrait of this specific moment.
Royalty, what did you first think of this story when you first heard it? Were you like, "What is this?" Did you get it right away?
RH: No, some parts I was confused about. But most of the time, I was scared. I was actually scared of "the fits." I knew it wasn't real, but it felt like it was real.
AH: In the film, you don't see a lot of "the fits," but in the room, you do. They are much more intense live in the room, and we hid a lot of that from the audience to build the suspense, but they are all really different... And these are also their real friends, who are doing amazing performances, who appear to be in pain. All of them were really emotional to film.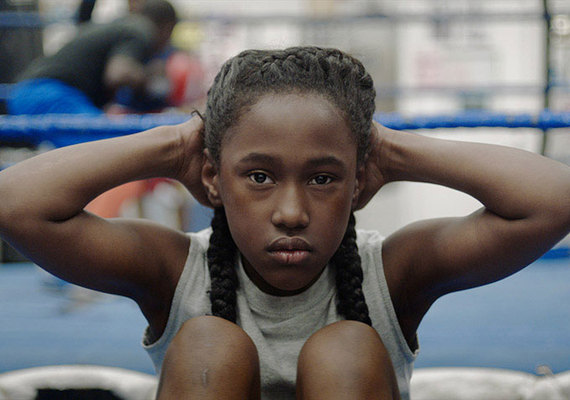 Royalty Hightower in THE FITS; photo courtesy of the filmmakers
"Royalty Hightower" sounds like such a movie star name. Did this give you the acting bug, Royalty?
RH: Yes. [laughs]
What's next for the film? 
ARH: We were picked up by Oscilloscope just before the festival, so we're working with them... about how to release this. We're trying to do some special screenings where we can do a performance with the team, as well, and keep them part of the story and part of the process. They're a big part of why the film is so special, and I wanted to highlight that, and it's also just more fun when they're around.
---