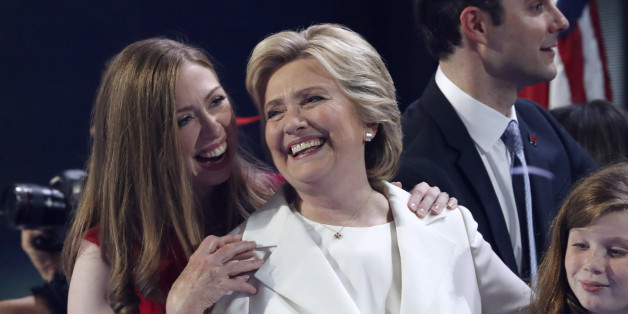 The roaring crowd, the balloons, the celebrity musicians and the respected politicians waving from center stage at the Democratic National Convention (DNC) this past week were expected.
But something unexpected happened too.
Motherhood was front and center as a source of power in and of itself.
Why unexpected? To be blunt: Motherhood -- and discussion of family economic security policies like paid family leave, childcare, and fair pay -- have often been avoided as a weakness and liability by women candidates who want to be taken seriously in the past. This avoidance isn't all together surprising: Being a mom is now a greater predictor of wage and hiring discrimination than being a woman. Moms are judged harsher in the labor force and are taken off the management track for fewer late days.
Many women can't even make it into a room with a glass ceiling because a maternal wall is blocking the door into that room in the first place: Fewer than 20% of Congress are women, and even fewer are moms. Less than 5% of Fortune 500 CEOs are women, and again even fewer are moms.
Just four short years ago, a controversy erupted when at the 2012 Democratic National Convention First Lady Michelle Obama included that she was "Mom-In-Chief" during her remarks. Simply for uttering those words, the First Lady, among other accusations, was accused of pushing back on equal pay and access to reproductive health care, policies that the First Lady has long vigorously supported.
We've come a long way since then. Motherhood -- and family economic security policies that lift our economy, businesses, and families like childcare, fair pay, and paid family leave -- were in the room in powerful ways at the 2016 DNC. In fact during the DNC this past week, as Hillary and as speaker after speaker took the stage centering their remarks and power in motherhood, the maternal wall crumbled a bit with each word. After all, it's hard to discriminate against what's front and center in effective, powerful and high impact ways that not only lifts moms, but also lifts our nation.
"I am here as a proud mother..." said Chelsea Clinton.
"Most of you know me as United States Senator from New York. But during school drop off and pick up, I'm better known as Theo and Henry's mom," remarked U.S. Senator Kirsten Gillibrand.
Our nation, our economy, and our families will be better off when the maternal wall finally falls: 81% of women become moms. Three-quarters of moms are either the primary or co-breadwinner for their families. Women and moms make the majority of purchasing decisions in our consumer-fueled economy. Corporations with more women in leadership earn more corporate profits. And, studies also show that women legislators are more effective than men, passing twice as many bills.
It takes leaders standing up with mothers and standing up for family economic security policies -- like fair pay, childcare, and paid family leave -- front and center to change the way we view motherhood, to end pay discrimination, and to break down the maternal wall.
For those reasons, and so many more, the words shared on the DNC stage had rippling impacts that went beyond anything that has to do with the Democratic National Convention at the Wells Fargo Arena this past week:
I'm here as a proud American, a proud Democrat, a proud mother, and tonight in particular, a very, very proud daughter. My mom can be about to walk on stage for a debate or a speech, and it just doesn't matter. She'll drop everything for a few minutes of blowing kisses and reading Chugga Chugga Choo Choo with her granddaughter.
Were among the very first words of Chelsea Clinton's speech at the Democratic National Convention as she introduced her mom.

If fighting for affordable childcare and paid family leave is playing woman card, then deal me in... If you believe your working mother, wife, sister or daughter deserves equal pay, join us!

-Hillary Clinton in her Democratic National Convention remarks .
I am here with Hillary Clinton tonight because she is a leader and a mother who will say our children's names. She knows that when a young black live is cut short, it's not just a loss, it a personal loss, it's a national loss, it's a loss that diminishes all of us.

-Geneva Reed-Veal, the mother of Sandra Bland, one of nine women, Mothers of the Movement, whose unarmed African-American children were killed by police officers or gun violence who spoke at the Democratic National Convention.
Our policies are stuck in the Mad Men era. We are the only industrialized nation that doesn't guarantee workers paid family leave. Many women can't even get a paid day off to give birth. Most parents work outside the home, yet child care can cost as much as college tuition. Families rely on women's income but we still don't have equal pay for equal work. This makes no sense because we know that when families are strong, America is strong. Hillary Clinton gets it, not just because she's a working mom and Charlotte and Aiden's grandmother but because for her, it's about her core values -- the idea we have that we have a responsibility to one another. It's who we are as a nation.

-U.S. Senator Kirsten Gillibrand
First Lady Michelle Obama centered her remarks in motherhood to lift Hillary Clinton, take down Trump, and invite us all to build a better nation for everyone, referencing the "hateful language" that's been on TV to remind us all that:
With every word we utter, with every action we take, we know our kids are watching us. In this election and every election is about who will have the power to shape our children for the next four or eight years of their lives.
As a business woman I can tell you how important family and medical leave is for 21st century jobs. Hillary fought for that. She fought for a higher minimum wage. She knows we build our economy from the middle out.

- U.S. Senator Maria Cantwell
With each syllable, these words resonated and reverberated far outside of the Wells Fargo arena, breaking down the maternal wall that is holding our nation back. Hillary Clinton's bold and brave leadership in centering her power in motherhood and in embracing family economic policies -- like affordable childcare, paid family leave, and fair pay -- that lift our businesses, economy, and families has opened the door already to more leaders coming behind her.
As we reflect on the outcomes of the DNC, it's important to not just celebrate the sound of the glass ceiling shattering, but to also celebrate the maternal wall crumbling. After all, as Hillary Clinton said in her DNC remarks: "When there are no ceilings, the sky is the limit."