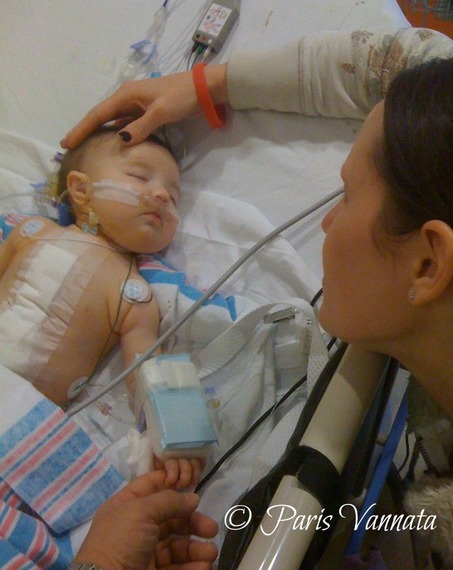 When I lived in Atlanta, there were seven couples who got together frequently on the weekends. My friends Becky and Ben were the constants, the ones who brought everyone together, and we were all very close. Over the course of several years, however, several of the couples split up, one by one, leaving only two couples standing.
I stayed in touch with at least one partner from every couple in the group, and I have seen each of them move on; four out of five are married with one or more children. All are in better places in their lives, including me.
Paris was half of one of the couples in our circle of friends, and although we suffered the anguish of a failed marriage separately, we reconnected via Facebook in 2008 and watched each other blossom in our new lives.
First, Paris had to mend his own heart.
He met his new wife Beth at a corporate event and was awestruck. He didn't think he had a chance with her and kept his distance, although her intelligence, beauty, and personality had caught his eye.
"Finally, my buddy Andy insisted that I introduce myself, and we hit it off right away," he said. "I liked that she was silly and we laughed at each other's jokes. We didn't have to be someone else in front of each other. Of course, I thought she was beautiful, but there has to be more, you know?"
They dated for two years and married. To their great joy and surprise, they discovered just a few months later that they were expecting.
I knew Paris wanted children when I knew him in Atlanta, and I knew family is important to him.
"I always wanted kids, but I'm thankful I didn't have kids before now, even though I wanted them sooner," he said.
It wasn't easy, though. Beth and Paris discovered that their baby daughter was going to be born with heart complications that would require at least one surgery, right away.
"We went in for a routine sonogram, and the technician kept checking and checking. She said, 'OK, I'm going to have to bring the doctor in' and Beth looked at me with fear in her eyes. My heart sank," he says.
The doctor sent them to specialist for heart defects, and they had to wait for two or three days to find out the diagnosis. The not knowing was hard for both parents-to-be. Soon, they discovered that their baby had Atrioventricular septal defect (AVSD). AVSD is characterized by a deficiency of the atrioventricular septum of the heart. It is caused by an abnormal or inadequate fusion of the superior and inferior endocardial cushions with the mid portion of the atrial septum and the muscular portion of the ventricular septum.
Instead of four chambers, baby girl Vannata had three, and the surgeons would have to create a new chamber with an extensive surgery. Throughout the process, Paris and Beth were reassured that it was pretty common.
Sometimes, you have to play the cards you're dealt, Paris told himself, at the time.
Little Olivia was born in Atlanta 2009, and they had prepared themselves as much as they could. Her heart was the next to be mended.
"Olivia was three months old when she had open heart surgery," Paris told me. "It was the worst day of my life; the minute I had to hand her over to the nurse, I just lost it. I cried like a baby. On that day, Beth was the strong one, and together we sat on pins and needles until the doctor came out three hours later."
Olivia sailed through surgery like a champ. But that was just the beginning: Paris and Beth had to tube feed her for some time, and the family saw the cardiologist on a regular basis. By the time their little girl started school, she was operating like any other four-year-old girl, albeit one who needed a little extra attention.
In the meantime, Paris and Beth rolled the dice and expanded their little family by one more, adding tiny Avery to make four.
After Avery was born, Paris and Beth started thinking about another big life change. Paris was running a telecommunications company at the time, and the business model was not working as well as he would have liked.
"I thought, maybe this is a sign," Paris said. "We had some money put away, and Beth had given up her job at Marriott when she had Olivia. We decided when our baby girl was born, we'd make sacrifices to give Beth the option to stay home. By the time Avery was two, we were both ready for a new challenge."
So they made a leap of faith, leaving their life in Atlanta behind to move to Florida to pursue their dream to own a business together. "I felt like the opportunity was now," Paris said. "I can always get a job, but you only live once. I've always followed my heart, and I won't regret trying."
In June of 2013, the Vannatas opened their doors to a new gym.
Now, they're closer to Beth's mom and Paris' father and brothers, with a new career and two beautiful girls. Paris isn't afraid to keep working toward a better life. And he has to keep being brave for his oldest daughter, especially, who is scheduled for another heart surgery this summer.
"Every time I look at Olivia, I see a little miracle," Paris said.
I've known Paris for more than 10 years now, and I've never seen him so happy. This little family is finding joy and facing their challenges one life step at a time.
Hearts: some, mended. Some, mending. All, beautiful inside and out.
Kristin Shaw is a freelancer by day, writer by night, a full-time wife of an Austin native, and mother of a mini-Texan. She's proud to be a co-producer of the 2014 Listen to Your Mother show in Austin. You can find her on Twitter (@AustinKVS), her blog, Two Cannoli, or at The Huffington Post.