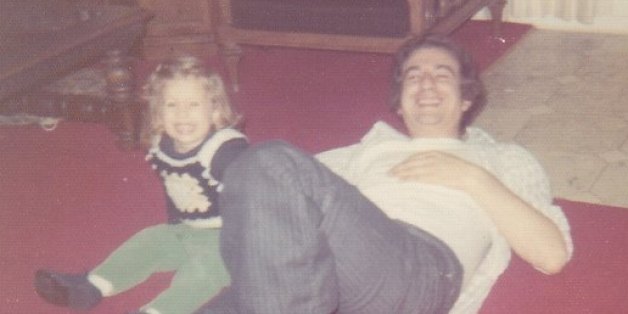 My dad is a car fanatic. He is also a saver, and paid cash for a '66 Corvette, brand new. I'm sure he was sad to let it go when I was born in 1970. Dad grew up in a family with a bunch of boys and he was fated to raise two girls, which was probably a culture shock for him. He rallied, however, sharing with us his hobbies, and instilled in me an appreciation for cars and sports.
Over the years, attending car shows with my dad became our special connection. I have great memories of walking the car show grounds with my father as he pointed out makes and models for me. As a result, the cars that generally take my breath away are the late-'50s model sedans with long, beautiful fins, and any Corvette from the '50s and '60s. The next generation, my four-year-old son, calls out car brands on the road for our entertainment. I like that he can pick out a Ferrari in a lineup.
Dad taught me a lot of things in my life, not the least of which has been how to say "I love you" through actions and not just words, how to stand up for myself, and how to fix the speaker wires in my car when they shook loose on bumpy county roads. My dad is a quiet man, and if he were a car, he'd be a purring Jaguar -- understated, reliable and classy.
It makes the most sense to list some of the other lessons he taught me in relation to driving:
Make a full stop.
All of my life, I think of my dad when I get to a stop sign.
"Don't roll through the stop, Kristin," he would say. "Stop fully or you'll get a ticket someday."
Now that I have a little boy of my own, I'm finding this advice to be true both in the car and in our daily lives. I try to remember to avoid rolling through anything without taking the time to pay attention and make a full stop. By taking that extra second, I have the opportunity to breathe, look, listen and watch out for dangers headed my direction.
Last night, I thought about this as I put my 4-year-old boy to bed. He was falling asleep just fine on his own, until I took one of many business trips while I was working full-time, and my husband fell asleep next to him to comfort him. From that night on, one of us has to join him until he falls asleep. At one point, I cursed this habit and let myself be frustrated with the "wasted time." And then I decided to give in and enjoy those moments, and it's particularly sweet when he asks me to hold him while his eyes close for the night, and he has fallen asleep in my arms.
Full stop. I don't want to miss moments like that.
Learn how to shift gears.
My father's oldest brother went to the recruitment office when he was 18 to sign up for the service, but it happened to be closed. Before he could return to formally enlist, he was offered a college scholarship to play basketball and went on to graduate, complete seminary school and get married. The next two brothers in line served in the Navy, and my dad thought he would follow in their footsteps too.
Until he lost his right arm in a car crash when he was 16.
He not only survived but thrived, finishing college and meeting my mother on a blind date. Mom gave didn't blink an eye at his artificial arm and married him a couple of years later. My father has had to shift gears in many ways and in many directions in his life, and he gives me inspiration to keep shifting too.
Dad has steered me through some gear changes of my own, including an eating disorder in college, a divorce and subsequent financial challenges I conquered on my own. He has always given me solid advice, and I trust him to lead me down the roads I need to travel, as much as I have been willing to listen.
Life is never driven in first gear alone.
Choose your vehicle wisely
Picking out a car is like picking out a mate: don't choose one on looks alone, be sure you can live with it for many years, and be sure it's going to meet your needs. If only I had figured that out before I went through a divorce ten years ago.
When I got my license, my parents had a 1980-something Chevy Citation with gleaming white paint and a thick blue stripe straddling the chassis. It was a stick shift, which I was very nervous to drive. Dad tried valiantly to teach me how to wrangle it -- he is part saint, because he also attempted to teach my never-learned-to-drive grandmother too.
I balked and complained and cried that I couldn't drive it. Desperate to get some relief from shuffling me to my thousands of after-school activities, I think, my parents gave in and sold the Citation and bought me a 1977 Dodge Aspen. It was ugly as sin: the color of an old Coppertone bottle, sporting brocade couch-like seats, and it was a behemoth. However, it was a solid ride and it was an automatic.
I'm not sorry they got rid of the Citation, but I am sorry that I didn't try harder to learn how to drive it. It took me many years before I attempted a manual shift again, and that was on a racetrack in a Winston Cup car at a driving experience facility.
In college, I wanted to trade my car in for a motorcycle, but my parents weren't having any of it.
"Oh, that's fine," my mom said over the phone. "Then you can go ahead and pay for your college classes, too."
Dad nodded in the background. I mean, I couldn't see him through the phone, but I'm sure he was.
Enjoy the ride
We took a lot of road trips growing up. Dad bought this big blue van, converted it himself and we folded out the back seat into a flat surface on which my sister and I could lounge all the way from Indiana to Florida every Christmas. There was no TV. No video games. No iPads. Just books and music. And a CB for trucker-style entertainment.
I learned how to read a map on these trips by taking my turn as the navigator, and I developed a love for small towns and quirky roadside attractions. We were able to stop wherever we felt like stopping. We looked out the windows and watched the southern half of the U.S. fly by from our perch on the van couch.
My son loves to travel in friends' cars that have a TV installed and for long trips, I must say that it's a welcome perk. However, most of the time, the furthest we drive is about four hours out to west Texas to visit my in-laws, and we provide him with plenty of books and snacks and we talk. We point out topographical features along the way, wildflower patches and interesting garden statues, and name-brand cars as they whiz by.
I do love to fly, but I have a lot of great memories of road trips in that big old van.
Enjoy the ride. There is so much to see out there.
Love you, Dad.
Kristin Shaw is a freelance writer, wife, and mama to a mini-Texan. In 2013, her blog Two Cannoli was named a Babble Top 100 site, and she was recognized as Type-A We Still Blog awards finalist. She's proud to be a 2013 cast member and now co-producer of the Listen To Your Mother show in Austin. She was recently named a BlogHer Voice of the Year reader for 2014, and she writes for the Huffington Post.