Click here to read an original op-ed from the TED speaker who inspired this post and watch the TEDTalk below.
I'm sitting at the Indianapolis International Airport on a cold February night, a stack of new winter coats on the seat beside me, two car seats buckled into the backseat of my car out in the parking garage.
Tonight I'll be welcoming a new refugee family to Indianapolis.
I scan through a sheet of details on the newly arriving family -- a young couple with a 1-year-old and a 6-year-old who fled Burma's brutal conflict zones for a chance at freedom.
This will be their first night in America, their first night of freedom. It's going to be the first time they see their new city, the first time they walk into their apartment -- and, I think to myself, probably the first time they will see snow.
In a moment the family appears, walking off the plane, smiling but tired faces, exhausted from days of travel. The mother is holding the sleeping 1-year-old and the father tests out a few newly-learned English phrases while the daughter immediately tries on her new pink puff coat.
I thought about that night, opening up the door of a new apartment, giving demonstrations on how to operate the stove, use the phone, flush the toilet, run a hot shower, adjust the thermostat. -- Kristin Wright
"Welcome to Indianapolis," I say with a smile, "We're so glad you're here."
When I watched Hyeonseo Lee's moving TEDTalk, I was instantly struck by her words, "Getting to freedom is only half the battle."
I thought of that cold February night walking out to the airport parking garage, watching a 6-year-old throw her hands in the air and dance as snowflakes fell around her. I thought about that night, opening up the door of a new apartment, giving demonstrations on how to operate the stove, use the phone, flush the toilet, run a hot shower, adjust the thermostat.
I thought of that night and so many nights just like it, welcoming new families and individuals from the Congo, Iraq, Eritrea, Somalia, and Bhutan. That first night of freedom means the world to newly arriving refugees.
In all the dazzling excitement of finally reaching freedom, it can be hard to imagine the often staggering challenges that come next in their journey.
Hyeonseo Lee is right. For refugees around the world, getting to freedom is only half the battle.
Lee spoke of the challenges of immersing oneself in a new culture and recovering from a traumatic past -- all while struggling with a lack of resources, a language barrier, and the next to impossible task of finding a job without work experience or connections. She spoke of the struggle of finding home, identity, and friends.
This is the story of thousands of North Korean refugees fleeing their homeland. And beyond North Korea, it is the story of millions of refugees -- displaced people from Myanmar, Iraq, Iran, Syria, Somalia, Eritrea, the Congo, and so many other countries.
Being a refugee means starting life over again. And it isn't easy. In fact, it can be one of the hardest, most painful experiences a human being can endure. Many refugees leave loved ones behind in their home countries. Dealing with the sadness of missing family and friends, addressing the trauma of their past, grappling with assimilation, and trying to understand a new culture can leave many refugees in an incredibly vulnerable state.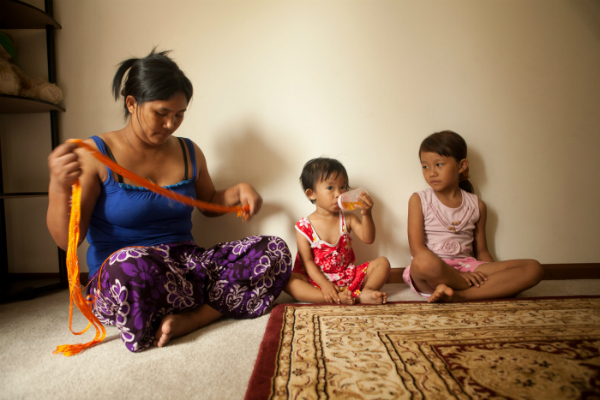 That's why refugees in our communities need all of the care and support we can give them.
At the refugee agency where I serve, newly arriving individuals and families receive the basic tools they need to start this new chapter of their lives -- language training, case management, volunteer support, medical care, job preparation, employment opportunities, and housing. Every day refugees from all over the world enter our doors for language classes, resources on taking the GED, writing a resume and landing a job.
Every day these programs help equip refugees to begin new lives of freedom, to tackle the transition they are experiencing.
But this is only the beginning.
My refugee friends tell me that it's often the relationships with people around them that ultimately help to make this difficult transition possible. It's friendship, community that makes the difference.
I think there is something in each of us that can identify with the refugee experience. Whether it's a heartbreaking loss, a crushing loneliness or the challenges of adapting to a new area -- we've all been there. It's easier to reach out to refugees in your area than you might think. And the rewards are enormous.
I was leaving the home of a newly arrived Iraqi refugee family a few days ago. After their toddler gave me a hug, and the mother a kiss, the father, whose assistance to U.S. forces in Iraq put his life in danger, called out after me, "Come back any time of the day or night! We always love to have a visitor."
I smiled, walked down the stairs of the apartment and realized how fortunate I was to have such incredibly courageous people in my life.
Freedom is only half the battle, and battles are never won alone.
Ideas are not set in stone. When exposed to thoughtful people, they morph and adapt into their most potent form. TEDWeekends will highlight some of today's most intriguing ideas and allow them to develop in real time through your voice! Tweet #TEDWeekends to share your perspective or email tedweekends@huffingtonpost.com to learn about future weekend's ideas to contribute as a writer.