Every day I wake up at 5 a.m. Like most single mothers, I need these extra hours to get a start on my day -- I respond to emails, pack my 10-year-old daughter's lunch and get ready to drop her off at school early in order to get to the commercial kitchen where I work by eight.
Unlike most single mothers, however, I've done something that most people I know regard as completely crazy. Two years ago I quit a good, steady job at a high-end catering company in Washington, D.C. to start my own business. No, that's not the crazy part. (Even in this economy, a lot of people still quit their jobs to start their own businesses.) Instead, after 22 years of the glamourous lifestyle I'd grown accustomed to, I said goodbye to caviar, quail, weddings and crystal stemware and said hello to ... popcorn. Gourmet popcorn. That I sell from a food truck.
In short, I am a mother trucker.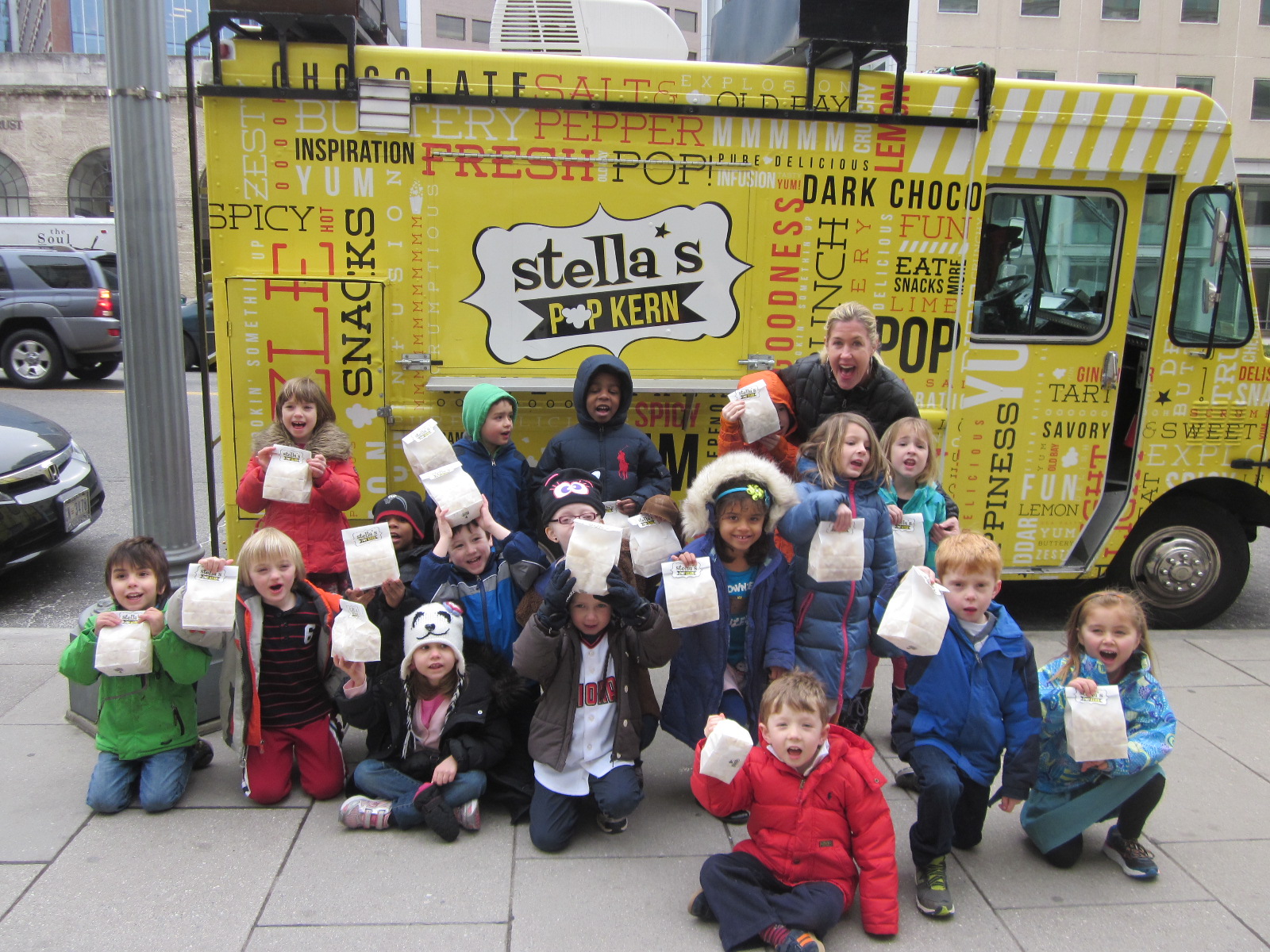 Owning a food truck is definitely not where I saw my life heading when I was in college. I started out in the computer industry -- was recruited on campus by a major corporation, landed in Detroit. Soon realized I wasn't meant to be in corporate America, fraught with its dress codes and rules of conduct. After a year of not fitting in, I moved to D.C. and got closer to my dream of being Julie, the cruise director of the "Love Boat," landing a job in hospitality world.
I quickly became miserable again, however, as the job was with a mega corporation. Hospitality, from that perspective, was not so much different from computers. But now I was in D.C., my favorite city and the city I declared I would live in at age 16. At that tender age, I knew this city was for me -- so international, cultured and urban, yet manageable to a country girl like myself. So I sucked it up and for the next year I met lots of people while partying and getting to know the city. One day someone told me about a fancy caterer looking for an assistant. I got hired -- and was immediately catapulted from a world that regarded Red Lobster as fine dining into one of heightened culinary expectations. I had a position in the best catering company in D.C. Then I got married. I had my beautiful daughter, Stella. Life was good...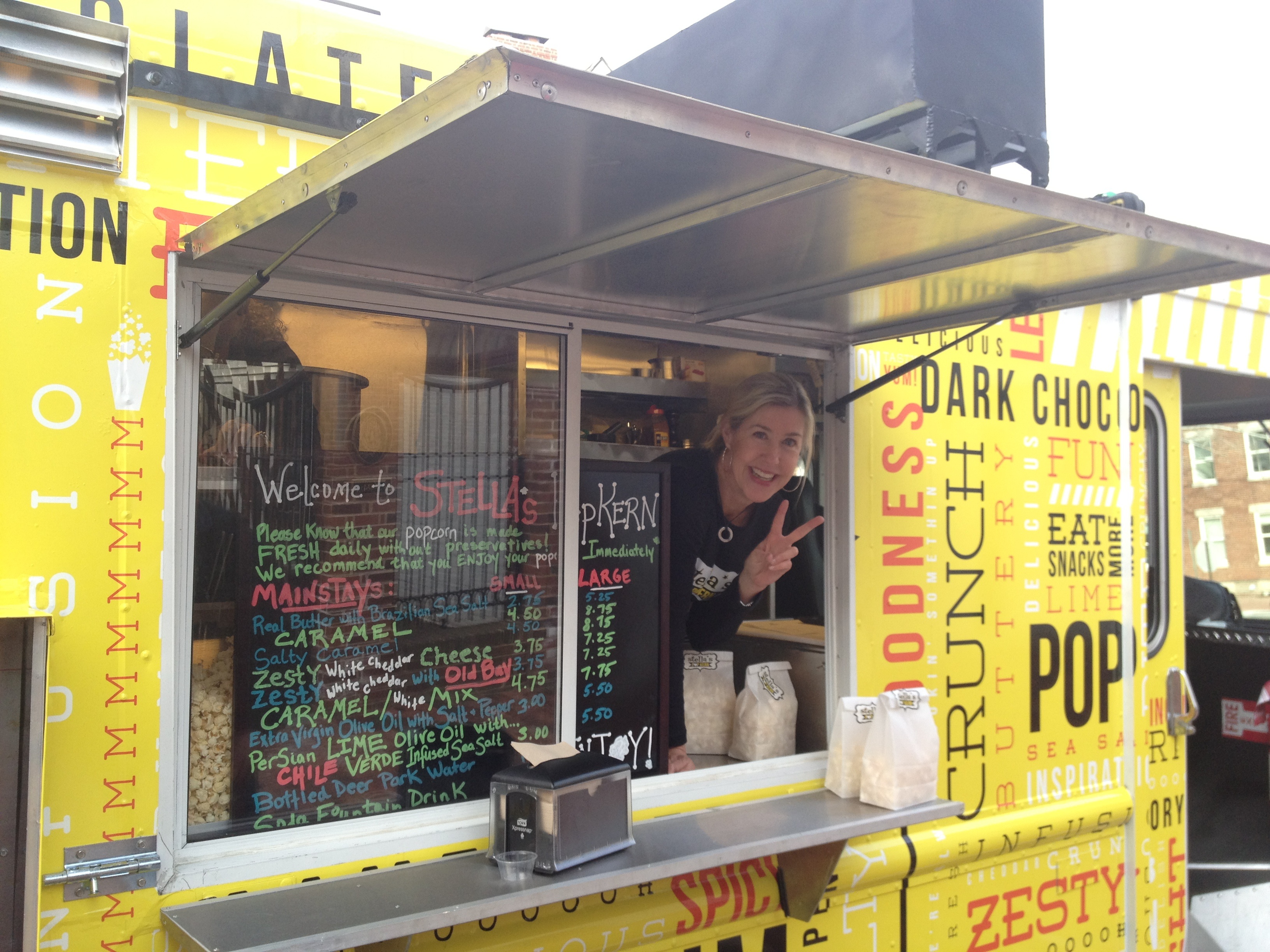 ... Until I divorced five years later and found myself at another catering company. You ask why I changed companies since I was already with the best? This company was good and they knew me as a mother first and not the barracuda I'd become at the other company. I found myself unhappy again and frankly, I was tired of working for people who told me that I wasn't riding the "company bus" (though, who would've thought a woman like me would prefer a truck?). Shortly after deciding my life needed a serious change, my best friend died suddenly of brain cancer. It was then that I decided life is too short to let any other opportunities go by.
So I did some research and then ... quit. Yes folks -- I hadn't conducted a market survey, drafted a business plan or done anything other than a bit of research. I was purely operating off my gut feeling that this was an awesome idea. You see after being in the food business for so long, I truly felt I had the pulse on what people dig when it comes to food.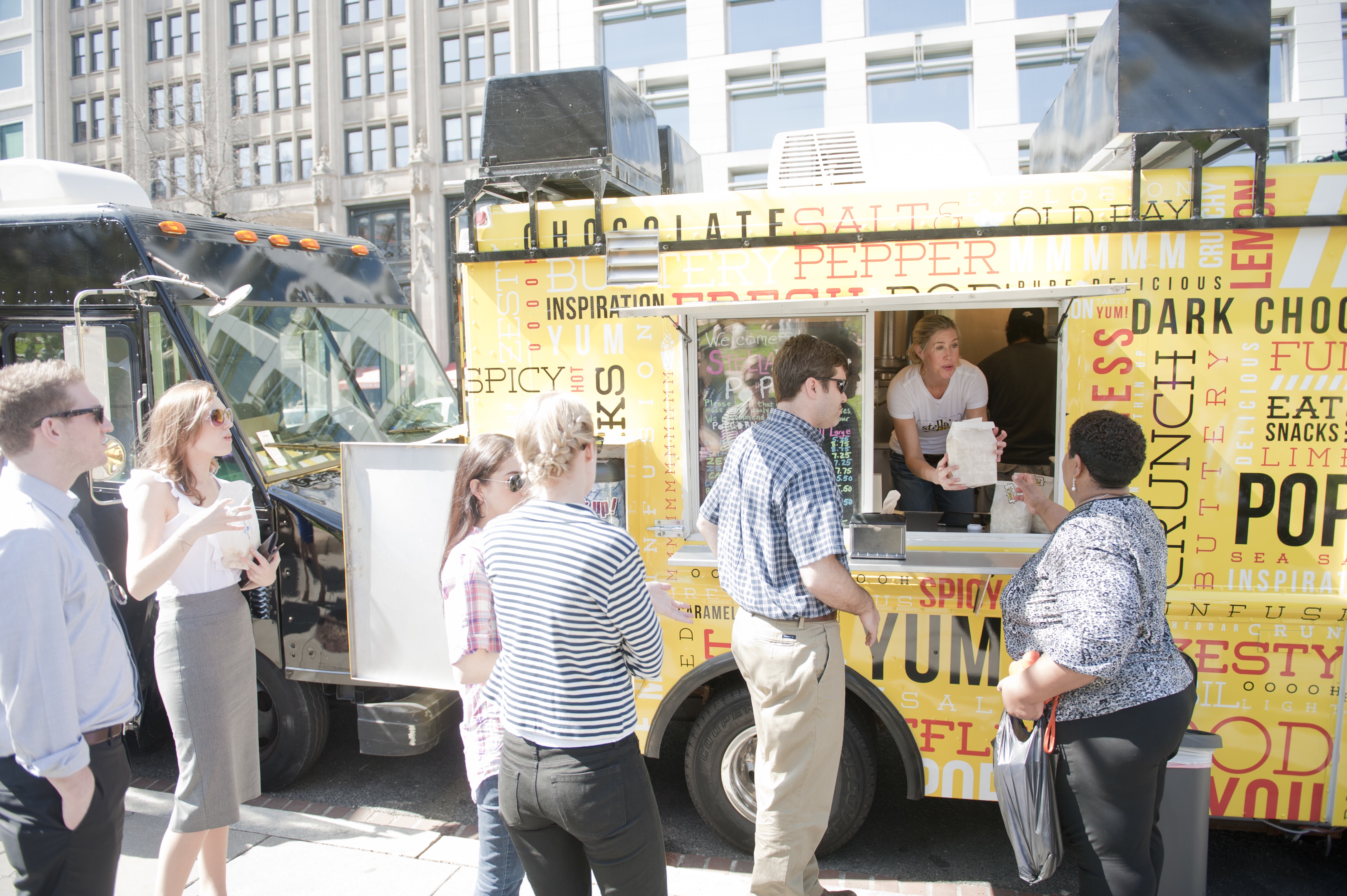 I agree that "popcorn" and "truck" aren't the first two words people think of when it comes to "serious change." But I literally woke up one October morning thinking those two very words. I'd had two other business ideas over those past 22 years that I hadn't acted on; and I'd promised myself the next great idea I had, I was going to act upon it. What were those two ideas? The first was opening a coffee shop. When I was 21, I created a coffee shop business plan for my senior project in business school. This was pre-Starbucks and everyone thought I was crazy, as coffee wasn't in vogue at the time. The next idea came 15 years later: I was living in Dupont Circle and wanted to open a salad shop where people could choose their own lettuces and different ingredients and dressings and ... well, again people thought I was a goofball.
Partly because my daughter and I love it. Growing up, my mama and I would make popcorn dinners at least one night a week on our farm in Kentucky. We'd make it in our cast iron skillet and drizzle it delicately with real butter and then toss on the salt. Back then we didn't know how to clarify butter and we didn't have access to high-grade sea salt harvested off the coast of Brazil (as I do on my truck). But what we had was buttery, warm and salty, and we ate it while conversing alone, just the two of us, creating memories that we both relish to this day. Carrying on that tradition, my daughter Stella and I began having popcorn dinners ourselves, when she was around four years old.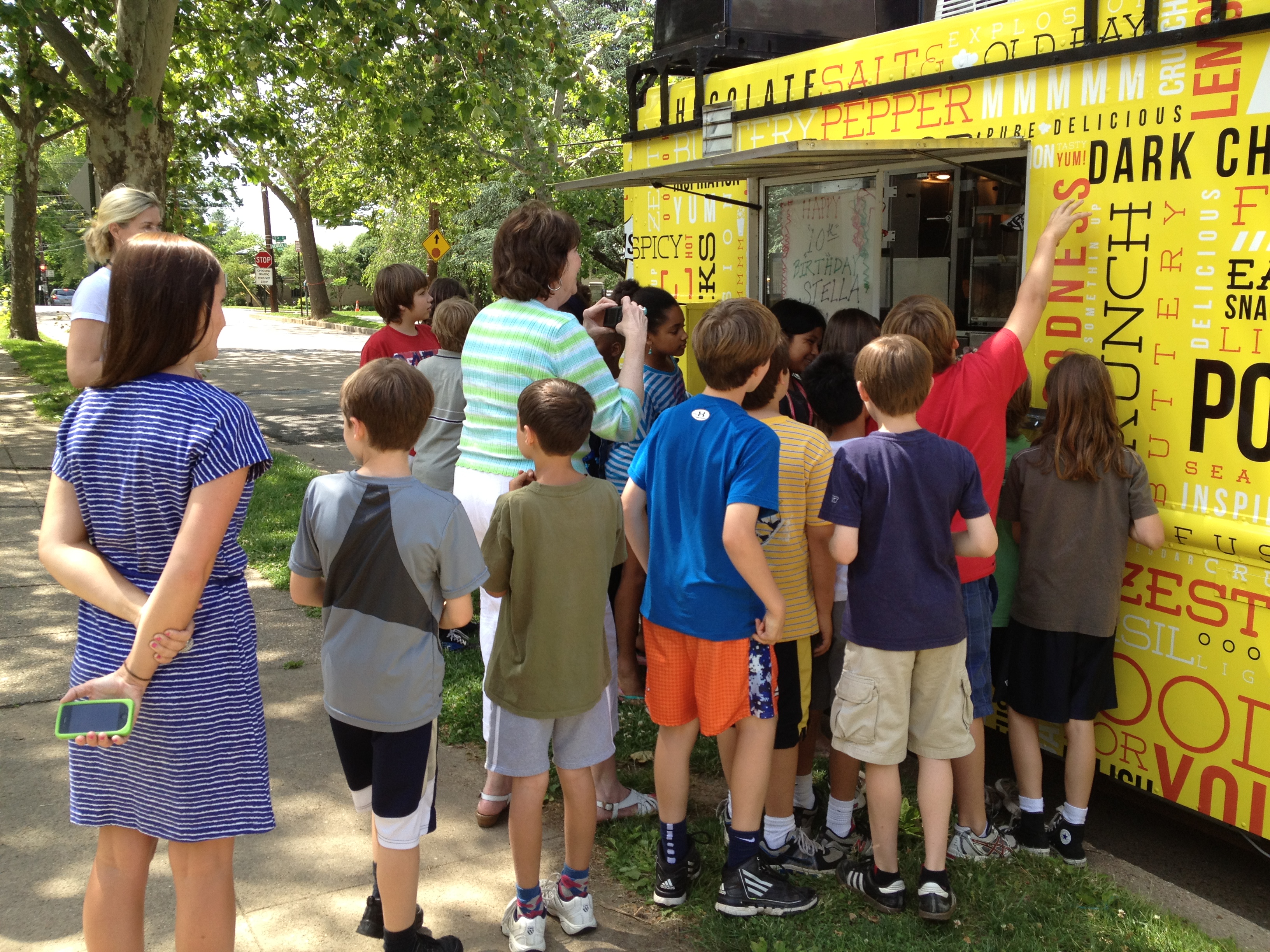 It's also an amazing vehicle to carry different flavors. During our popcorn dinners, Stella (whose first solid food -- and I'm not joking here -- was a baby lamb chop) began to give her two cents on some exotic popcorn concoctions, and together we came up with some fabulous creations.
But maybe the most compelling reason for popcorn was this: Not one other person in this country had a gourmet popcorn truck on the streets, let alone in our nation's capital.
The truck aspect, however, wasn't at first obvious to me. After running numbers and researching everything from organic popcorn, popcorn equipment, different types of oils, etc., I soon realized that opening a storefront was going to be too ambitious and I stood to lose my home if I took the loan I'd need to start this business. Hmmmmm... what to do?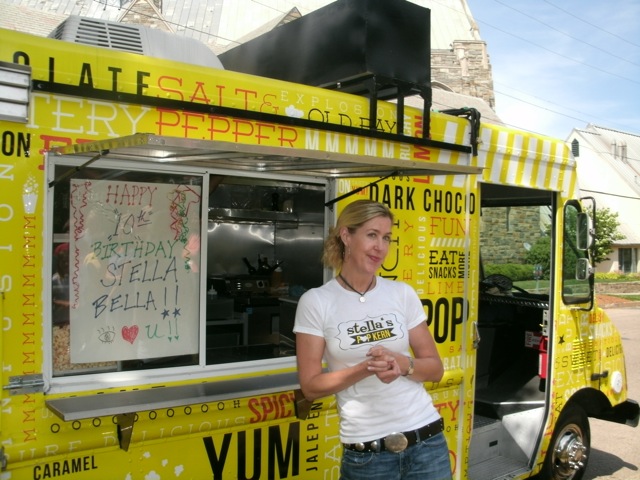 I needed to figure out another avenue to create the product I had in my head. Someone mentioned opening a food truck and I immediately squashed that notion as I truly never saw myself as a trucker. I must admit that I'd never seen a food truck and the mental picture I had wasn't too pretty. It was the typical "roach coach" picture. However, the more I researched the idea, the more appeal it had to me. I went to an event and saw the food that was being created on these trucks -- super impressive. And many of the owners I spoke to were a lot like me. They were embracing entrepreneurship -- or in my case, mompreneurship -- and were happy to be out of the corporate world. This was something I could actually do on my own without the risk of losing potentially more than just my pride.
The name for my new company, Stella's PopKern, was a no-brainer: it evolved from my daughter's name, which means star, and Kern -- my last name -- which means "kernal" in German.
So now, every morning, when I arrive in the commercial kitchen, I set about trying to create new flavors daily, before we hit the streets. Needless to say, I didn't realize when I decided to take this business plunge that my new eau de parfum was going to have natural hints of vanilla and brown sugar... best known as caramel corn... but then again, I didn't anticipate a lot of things...