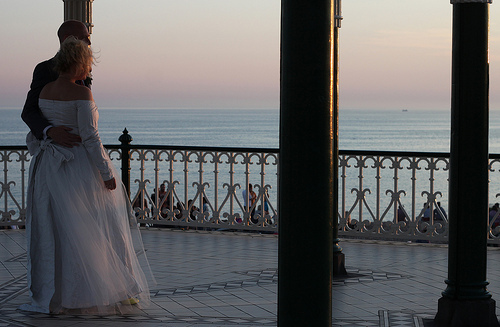 So, you looked at a few venues online and you have bookmarked a few of your favorites. You think you know where you want to get married, but how do you get the ball rolling? Who do you contact? How should you prepare for an event space walk-through? Below, I answer these questions and more:
How should I contact a venue and what should I say?
Most websites will give you an option to either email, fill out an information request form or ask you to call for information. Whichever avenue you choose, make sure you leave the following information for the rentals coordinator: Your name and number
The date and time of your event (leave multiple dates if you haven't decided yet)
The estimated number of guests
The space or spaces that most interest you
An email address (to ensure that you don't wind up in a game of phone tag)
Once I get a hold of someone, what should I ask?
After giving the venue your basic information, you will want to find out about any costs or restrictions that would prevent you from booking your event in that space. You don't want to waste your time visiting venues that have too many costs or rules, so I suggest asking the following:
What is the capacity of the space?
Will I be required to use any exclusive vendors and, if so, how can I get a quote from them?
Am I required to purchase insurance for the event?
What kinds of restrictions are there on decorations? (i.e. candles)
Are there any restrictions on guest attire? (some country clubs have strict rules, and -believe it or not, a few places will not allow high heels)
What is the cost to rent the space and are there any other additional costs to hosting an event there?

Would I be able to have a rehearsal here the night before and is there an additional cost?

When can I come in to look at the space?
What do I look for when I visit the space?
It's easy to get swept away when walking through events spaces, but make sure you are paying attention to some crucial details. Be sure to ask yourself these questions as you go on your tour:
Where are the bathrooms and are they accessible?
Can all of my guests fit comfortably in this space?
Is the location easy find?
Is there parking?
Does it look like the venue is well cared for? (if the venue is messy the day of your visit, chances it could be messy on the day of your event)
Can you easily fit all of your vendors? (band, DJ, Photo booth, caterer, etc.)
Most importantly, can you see yourself getting married at this venue?
I loved it! Now what?
Congratulations! You have found the wedding venue of your dreams! Ask the rental coordinator to send you a contract and read it closely. Look for any red flags or hidden costs. It is okay to question something in the contract or ask for something to be added. Once you have finalized the contract, you will typically have to secure your reservation with a deposit. This can vary, but it is often around a third of your venue cost. Also, discuss with your venue whether or not you will be able to walk-through the site with your wedding planner or MOH at a future date. If a venue does not seem accommodating from the start, you may want to move onto another venue to find somewhere that will truly partner with you on your big day.