Much of what I used to know about Canada stands in stark contrast to the devastation I found in the tar sands of northern Alberta.
Canada, from my experience, is a nation that championed the global pursuit of peace and environmental protection. The historic Ottawa Treaty that abolished the use of landmines and the Montreal Protocol that took swift action to protect our ozone layer exemplify the Canada I knew.
I have watched in disappointment as Canadian politicians, policy makers, and lobbyists have done everything in their power to sabotage climate protection talks and keep a world that is addicted to oil hooked on their supply.
The Alberta tar sands place an entire generation on the wrong side of history. At a time when the solutions to averting catastrophic climate change are all around us, Canada and multinational oil companies are recklessly promoting a dirty oil that only exacerbates the problem.
This is what drew me to Fort McMurray; I wanted to see first-hand Canada's fastest growing source of greenhouse gas emissions and the environmental destruction it has wrought. I wanted to speak to the people who are on the front line of the struggle to stop the reckless development and wanton destruction of Canada's magnificent Boreal Forest.
I had, of course, read about the tar sands long before my arrival. I was told it looked like the moon; that giant swaths of forest had been leveled only to be replaced with vast toxic lakes of chemicals or churning black pits of bitumen and industry. "Mordor" someone called it, in reference to the wasteland in "Lord of the Rings."
Over the course of 24 hours, I saw vast mine sites and giant upgrade facilities from the air: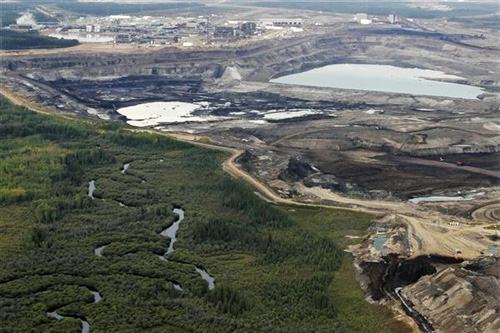 An open pit mine in the tar sands as seen from the air.
© Greenpeace / John Woods
I met with community leaders in Fort Chipewyan, situated downstream from the tar sands on the Athabasca River. Water is the lifeblood to this beautiful community, but it's being poisoned by toxic chemicals leaching into their waterways and wreaking havoc on their communal health. The people I spoke with told me they were afraid to drink the water, scared about its impacts on the wildlife and fish they eat. Many are justifiably fearful for their very lives.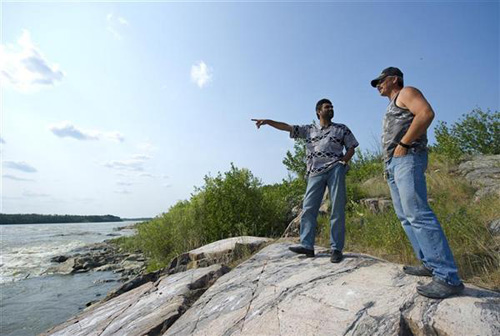 Fort Chipewyan resident Brian Lepine discusses the effects of tar sands development on the local river system.
© Greenpeace
I came away deeply affected, and extremely disturbed. Not only did I witness environmental devastation on a scale I had yet to encounter, I was acutely aware that I was hearing about a series of human rights violations and injustices that reminded me of my own experiences of Apartheid growing up in South Africa.
During Apartheid, the government did not act in the interests of all its citizens. Here in Canada, it appears the rights and health of First Nations peoples are also being violated and ignored. Whether it be "leasing" the surrounding environment of this community to multinational oil companies without proper consultation, or willfully turning a blind eye to the elevated rates of cancer in the community, there is a clear abandonment of responsibility on the part of the Canadian government.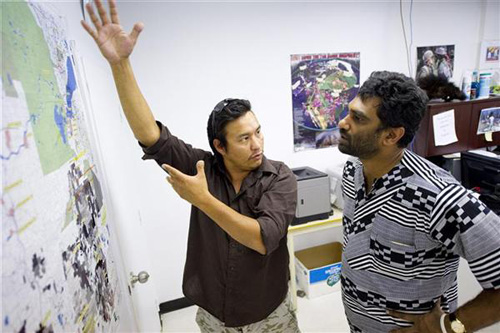 Mike Mercredi, a community member from the Athabasca Chipewyan/Dene First Nation shows the traditional territory of the Athabasca Chipewyan First Nation and the effects tar sands are having on their community, land and wildlife.
© Greenpeace
As an activist, I asked myself how we can "Stop the Tar Sands." I believe the answer begins with coming to terms with our addiction to oil. Whether we see it with our own eyes or not, we must acknowledge the injustices and impacts that happen as a result of developing the tar sands. With this knowledge comes the clarity or responsibility to act with authority.
This is as true today as it was nearly 40 years ago when a group of mostly Canadian activists, journalists and community leaders headed to the island of Amchitka, Alaska to bear witness to US nuclear testing in peaceful waters. They watched, and in turn, so did the world and testing was brought to an early end.
In an age where information is but a click away, there are no excuses for ignorance. There are only feeble rationales for inaction.
Sadly, Canadian politicians have abdicated their responsibility for Alberta's land, water and people. They have walked away from Canada's positive international reputation on the world stage by talking about the climate and acting against it.
I cannot believe they represent the people of Canada.
Doing the right thing for others, not just themselves, is a value Canadians hold near and dear to their hearts. And it is for this reason that I am left with the hope that Canadians will remember their responsibility at home and abroad.
As I left the tar sands, it occurred to me that in the wake of what I saw, I was witnessing an oil disaster not unlike the Deepwater Horizon spill in the Gulf of Mexico. There is one difference though: in Canada there is no end in sight. It is happening every day, and it is being done on purpose. It cannot be capped, but it can be stopped, but only when you bear witness and act on what you see.
Learn more and get involved in the campaign to 'Stop the Tar Sands'.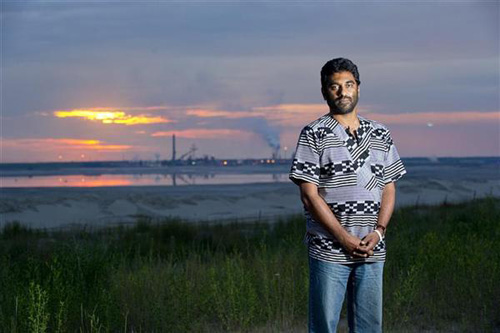 In the midst of the tar sands of northern Alberta - a Syncrude facility in the distance.
© Greenpeace