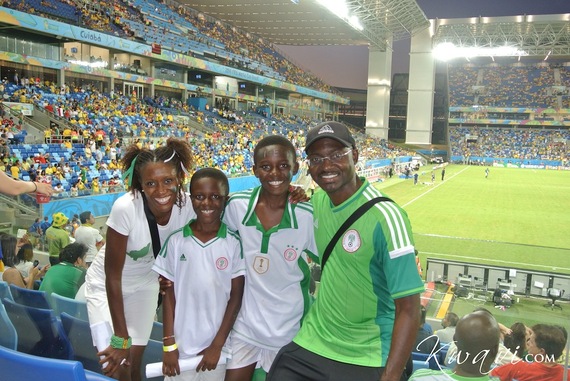 I traveled to Brazil for the World Cup with my family after two years of planning. Attending the World Cup in Brazil allowed me to merge my two loves (second-rate loves, of course) -- watching quality football on a grand scale and traveling. Brazil is a country where a majority of the citizens live, love and breathe football.
The number of citizens on the street wearing Brazilian jerseys was astonishing. I even made up a game with my boys to count the number of people wearing Brazilian jerseys, while in a taxi to a destination 30 minutes away, we had to give up 10 minutes into it, because we got tired of counting so many jerseys.
A country where establishments shut down when the Brazilian team is playing. I witnessed this first-hand when Brazil played their second match against Mexico on June 17th. The match was at 4 p.m., by 3:30 p.m. the mall was empty, and all the stores had closed.
Having the world's best football player of all time (in my opinion), the legendary Pelé, as their native son definitely accounts for some of their pride in the sport.
In order to enjoy watching football, you must and I mean must establish where your loyalties lie, without it watching a football match loses its significance. Your relationship with a team can be superficial as in a casual affair or a committed one like a marriage. This allows you to be emotionally attached and become immersed in the highs, lows and at the end of it all the final outcome, that can leave you jumping for joy or upset and internally analyzing what went wrong, much like a personal relationship.
I have a personal relationship with three teams in the World Cup. Nigeria (I'm originally from there), United Kingdom (I was born and went to school in the UK) and the United States (my current country of residence). Like a mother with no favorites I value all of them equally. Then again maybe not, but like a mother I would never tell you which one was my favorite.
Coaches with their teams arrive for the World Cup with different levels of expectations. Some teams are happy to go the next level (the round of 16), for others it might be their ambition to reach the quarterfinals and for some leaving the tournament without the hardware, is not an option they even want to consider. Fans also have their own expectations for their teams.
Loyalties and expectations aside, the World Cup has the potential to teach us to look outside of ourselves and embrace one another authentically. While I was in Brazil the atmosphere was inviting and friendly. I took pictures and smiled with complete strangers and it is safe to say that a sporting event like the World Cup allows us to take off the masks and layers that would ordinarily makes us cautious of strangers and allow "the core of our genuine selves" to be displayed in the forefront for all to see.
Questions like:
"Where are you from?"
"Where do you live?"
"Can I take a picture with you?"
...flowed back and forth with gestures interspersed to communicate and break down the language barrier. Smiles, laughter and hugs were seen all around in the stadium.
I thought to myself:
"These are the human connections we live for."
"This is the human spirit, pure and raw."
It was magical with a child-like aura, strangers doing the wave together all across the stadium as if to say:
"We are all one."
For a split second I began to wish this could last for much longer, much longer than the World Cup tournament.
And then it dawned on me that if it lasted longer and became the norm it would lose the added significance and value. And in that moment I realized it was worth lasting for just as long as the World Cup tournament was going on. I knew that as soon as the trophy was handed over to the champions, the atmosphere would gradually transition back to normal. The masked-up, layered-up cautious versions of our human selves would return to the forefront
I would then have to wait another four years (if I'm fortunate enough to go to Russia) to experience the indescribable excitement and positive display of the human spirit, that is associated with a unique and beautiful sport like football.