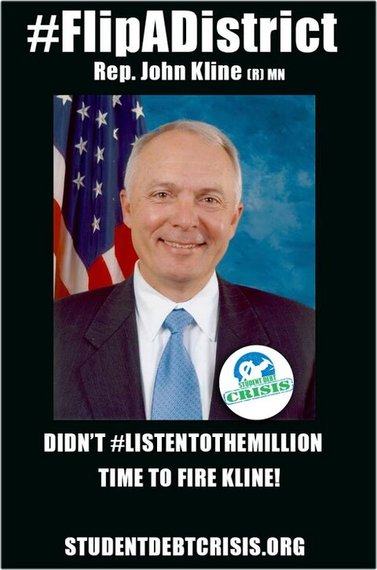 In 2012, my colleague, Robert Applebaum wrote a petition in support of HR 4170: the Student Loan Forgiveness Act, which was signed by more than one million people. The legislation was designed to lend a helping hand to those struggling under massive amounts of student loan debt. The petition requested that Congress bring the bill up for consideration and commit to holding a straight, up-or-down vote. Despite over a million people signing this petition and demanding action, Representative Kline refused to take action to address the student debt crisis.
The education industry has contributed more to Representative John Kline's re-election campaign than any other. The bulk of these donations come from for-profit colleges, many of which have low graduation rates, high student loan default rates, been engaging in predatory lending, deceptive and fraudulent practices, and bury students deep in debt. Kline however, continues to call for less regulation and oversight for these schools.
Students, graduates, and the American public deserve better from a member of Congress, and especially the chair of the Education and Workforce Committee. For this reason, we at StudentDebtCrisis.org have nominated Representative John Kline for Bill Maher's "Flip a District" campaign, which aims to find the worst representative in the country and oust them from office.
Less Regulation? While the nationwide college graduation rate is 59 percent, many of the schools that donate to Kline don't come anywhere close to this number. Capella University is one example, which according to the school's website, has a 0 percent graduation rate for first-time, full-time undergraduates attending the school. Other poor performing schools include, University of Phoenix with a 12% graduation rate, Brown-Mackie College at 17%, Globe University at 25%, and Minnesota School of Business with a 34% graduation rate.
Many of the schools that Kline receives campaign contributions from also have extremely high student loan default rates. Two such schools include ITT Technical Institute of Murray, Utah along with Broadview University which have been listed as "Red Flag" schools for having default rates higher than their graduation rates. Broadview University is part of the Globe Education Network, a family managed group of poorly performing and over-priced for-profit colleges. Other Globe Education Network schools include Globe University which has a 17.5 percent default rate, and Duluth Business University where 23.2 percent default on their student loans.
These high default rates, however, are eclipsed by other for-profit colleges that have contributed to Kline's campaign. At Corinthian Colleges, which operates campuses under the names Heald, WyoTech and Everest, 36 percent of students default on their student loans within three years. Other schools that donate to Kline's re-election, include Stevens Henager College with a 34.1 percent default rate, National Aviation Academy with a 29.8% default rate, ITT Tech with 29.2 percent students defaulting, and University of Phoenix with 26 percent defaulting on their student loans.
We are better than this and deserve a member of Congress that represents the people, not simply those who bankroll their re-election campaign. Take action now. Click HERE to help us #FlipADistrict!