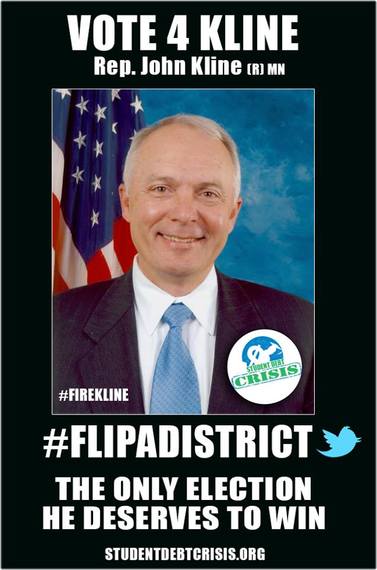 Bill Maher is in search of the worst member of Congress, and he has been calling on his viewers to cast their votes on social media with the hashtag, #FlipADistrict. The "winning" member of Congress then gets the grand prize of having Maher and the Real Time staff throw their support behind the winner's opponent.
According to the Real Time blog,
It's simple: There are a lot of terrible, entrenched congressmen out there. Many don't even have an opponent. We're going to choose one of them, throw him into the national spotlight, and see if we can't send him scuttling under the refrigerator on Election Night.
Last month, we nominated Representative John Kline for Bill Maher's #FlipADistrict campaign, and emailed our members at StudentDebtCrisis.org, encouraging them to vote. The result? John Kline skyrocketed to first place. We nominated Kline because, as Chair of the Education and Workforce Committee, Kline consistently fights for the lenders and for-profit colleges that bankroll his campaign, while simultaneously turning his back on the 40 million Americans buried in student loan debt. As Maher said, "Kline didn't just oppose the Student Loan Forgiveness Act, he actually wrote a bill to reduce the budget deficit by raising rates on student loans."
But he has not just turned his back on current, future and former students. He has turned his back on the middle class and hardworking Americans. Below are three more examples of how Kline is making life harder for hardworking Americans... three more reasons to #FireKline and help StudentDebtCrisis.org #FlipADistrict!
Organized Labor
If you are looking for a labor rights champion, better look somewhere else. Kline has shown disdain for organized labor, voting against the Employee Free Choice Act and currently backing legislation that would slow down the process of union elections, which would essentially give more time to companies to put pressure on workers against joining the union. Kline is also opposed to student-athletes unionizing, and has scheduled a hearing to look at "big labor" on college campuses.
With all of Kline's anti-labor policies and votes, it should come as no surprise that he has been given a rating of zero percent by AFSCME, four percent by SEIU, 11 percent by the International Brotherhood of Boilermakers, zero percent by American Federation of Government Employees, 16 percent by International Association of Machinists and Aerospace Workers, nine percent by International Brotherhood of Electrical Workers, zero percent by the United Food and Commercial Workers, 11 percent by Communications Workers of America, three percent by the AFL-CIO, and zero percent by the National Farmers Union. Since 2005, Kline has also received a grade of an "F" or zero percent rating each year by the National Education Association.
Minimum Wage and Overtime
Congressman Kline has voted against raising the minimum wage several times while in office. Most recently, he voted against gradually increasing the minimum wage to $10.10 an hour by 2016. Workers have rallied outside Kline's local office demanding answers for his vote against raising the minimum wage. Today, a minimum wage worker in Minnesota working 40 hours a week grosses about $290 a week, while Kline, by contrast, averages a salary of about $3,300 per week. And even though Kline keeps voting against raising the minimum wage for hard-working Americans, he has, ironically, voted five times in favor of raising his own pay.
Until 2013, home healthcare workers were exempt from federal wage laws and were not required to be paid overtime for the extra hours worked. Kline vehemently opposed this and claimed that it would cause healthcare costs for the elderly to soar. However, officials at the Department of Labor estimate this would only increase Medicare and Medicaid costs by less than three tenths of 1 percent.
Working Women
Concerned about women getting treated fairly in the workplace? Not John Kline, which is presumably why he voted against the Lilly Ledbetter Fair Pay Act, the Paycheck Fairness Act, and blocked the Pay Equity Act. Kline is even pushing a bill that would cheat people out of overtime pay. The bill, ironically called the "Working Families Flexibilities Act," would actually hurt families by ensuring workers have less time, flexibility, and earn less money.
According to 9to5, National Association of Working Women, an organization dedicated to improving working conditions and ensuring the rights of women and families, the Working Families Flexibility Act would actually make life harder for working families.
Much like a wolf in sheep's clothing, the falsely cloaked Working Families Flexibility Act (HR 1406) would hurt, not help, families. The Working Families Flexibility Act, a true misnomer, would in reality ensure workers have less time, less flexibility and less money.

This anti-family proposal would force workers to spend more time away from their families in exchange for possibly getting to spend time later with their families. Under this proposal, the employer, not the employee, determines when earned comp time can be used.
Not surprisingly, the organization, Women Employed, which advocates for fair wages, advancement opportunities, and respect in the workplace for women, rated Kline a zero percent.
Kline has not just turned his back on current, future, and former students. He has turned his back on the middle class and hard working Americans. Continue the momentum and help keep him at the top spot of Bill Maher's #FlipADistrict contest by taking to Twitter and voting to #FireKline and #FlipADistrict!.