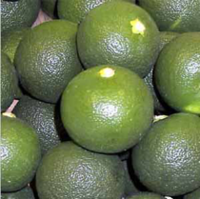 I love Adam Seger.
I mean, you know, I'm engaged and crazily in love with my fiancee, but... well... I love Adam Seger.
Adam is the General Manager at Nacional 27 here in Chicago, as well as a Master Sommelier candidate with the Court of Master Sommeliers, a member of the Beverage Tasting Institute, and one of our most prominent and talented members of the United States Bartenders Guild.
So, I stop in on Friday to say hi - see what's shaking (quite literally.) Adam is hanging out behind the bar, and within 5 minutes I'm playing the role of lab rat to Adam's liquidy whims.
The first thing he pulls out is a bottle of single-orchard Sudachi. Sudachi is a Japanese citrus fruit akin to its slightly more famous cousin, Yuzu. The fruit itself is small and green, like a round lime, and is harvested in the fall. It contains more calcium and Vitamin C than lemons, and is often served on the side of several traditional Japanese dishes to add a nice shot of delicious acidity.
So Adam gives me a little taste of the stuff, and it's CRAZY. Pepper jumps right out of the nose - a white or maybe pink pepper. Sure enough, it's all over the palette too, and it's freakin' delicious. Besides being peppery (and, of course, very acidic), there's other subtle layers of spices like cumin or cardamom. To see that out of a fruit juice is wacky, and I loved every minute of it.
Plus, it's just fun to say. Say it with me at home, "Sudachi!" You almost have to put the exclamation mark there.
We were talking about what spirits it would blend with nicely, and turned to blanco or reposado tequila, rum, cachaca, or even a non-London dry gin to blend even more nuances with the great botanicals.
We proceeded to try a few different yuzus blended into a pisco sour and again with some blood orange and agave nectar. We even tried some yuzu marmalade that Adam whipped into a Margarita. Overall, for inventing drinks on the spot with these very cool Japanese culinary treats, Adam had three cocktails that could make the drink list at most any restaurant or bar in the country.
Lab rats should have it this good.
Sudachi!