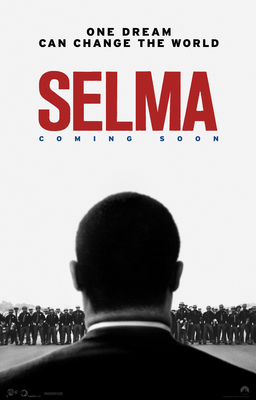 If you haven't yet heard of Selma, you soon will. The film is based on the real life events that occurred in Selma Alabama in 1965. The three marches from Selma to Montgomery signified a critical moment in race relations in the United States, and a monumental moment in American history. These marches, including "Bloody Sunday," led directly to the 1965 Voting Rights Act, giving people of color a say in our governmental makeup.
Selma, the film, is more relevant today then then it was just a mere few months ago. It's no secret that there are protesters, the majority of whom are peaceful, that are currently on their own marches around the country. Tens of thousands of people of all races, shapes and sizes have come together to exercise their constitutional right to peacefully protest in the wave of deaths of unarmed people of color at the hands of law enforcement.
Surprisingly, Selma is the first feature film to depict any part of the life of Martin Luther King, Jr. King was able to help bring peace and healing during a time of civil unrest. A time of unrest that is very much like today.
The film is produced by Oprah Winfrey and her Harpo Productions and beautifully directed by Ava Duvernay. I have a "blink and you'll miss it" role in the film, but in my time on set, I was blessed to see such a hard working cast and crew, of all colors, shapes and sizes, coming together to make a film that we all knew was long overdue. There was an energy on set that we were creating something that was much bigger then ourselves. It wasn't just history in the making, but a loving tribute to those who stood up for justice when all of the odds were against them. Selma is not just an eye-opening revelation for those of us that have only heard about these events in history books, it is a not so gentle reminder of the blood that was shed in the name of equality.
While Selma plays in theaters across the United States, men and women march on once again in the name of equality. Selma shows us that much progress has been made. Reality shows us that we still have a long way to go. #MarchOn #Selma
Kyle McMahon, the recording artist known as K.Mac, is a millennial who has recently appeared on a series of Emmy winning Oprah's Lifeclass specials, writes about self improvement for millennials and gives speeches on fatherless sons. Check out the Kyle McMahon website for more information. You can follow him on Twitter, Google+ or Facebook.