In what may have been the largest environmental protest 1600 Pennsylvania Avenue has seen in decades, 12,000 protesters from across the country surrounded the White House last week to demonstrate their opposition to TransCanada's proposed Keystone XL tar sands pipeline, which would snake its way from Alberta, Canada to the Texas Gulf Coast transporting a substance called diluted bitumen, a watered-down form of the gooey tar sands deposits.
As President Barack Obama acknowledges, he has a tough decision awaiting him in the form of the controversial $7 billion pipeline project; a decision that has now been postponed until after the 2012 election as the State Department studies an alternative route through Nebraska. The president is rightly concerned about energy security, but that shouldn't come at the expense of the nation's water resources and agricultural lands. For far too long our federal government -- as well as Canada's -- has buried its collective head in the sand, refusing to address the need for coordinated food, water and energy security policy and planning. The three are closely entwined, yet current policies are formulated largely in separation, laying the foundation for the Keystone XL quandary now facing the president.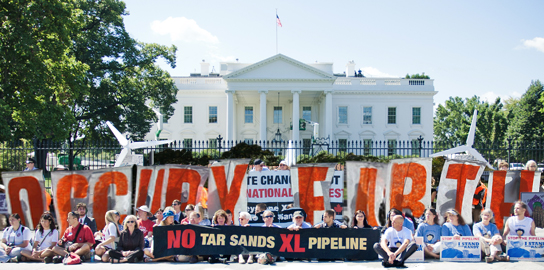 TransCanada's Keystone XL pipeline and the diluted bitumen that it would carry pose unique dangers to freshwater supplies along the pipeline's proposed route, including America's agricultural heartland which is home to the Ogallala Aquifer, a major source of drinking water and agriculture irrigation water to much of the Great Plains. (Prior to entering the proposed pipeline, the tar sands mining process will reduce and potentially contaminate local freshwater resources. In fact, current tar sands mining operations have already polluted some local water bodies. At the end of the planned Keystone XL pipeline, refining the crude oil will require copious amounts of water; the refinery process can also adversely impact water quality -- and contribute to emissions -- in already-polluted communities of the U.S. Gulf Coast.)
Opportunities for oil and gas exploration and production may be bountiful, but technological advances and discoveries of new fields must not overshadow a sound environmental review and analysis of ecological, public health and economic impacts both in the short- and long-term. Nor should they outshine the critical need for a coherent, overarching policy that considers the various ways in which food, water and energy systems relate to one another. Greater reliance on renewable energy and energy efficiency should be a key strategy for making these systems more sustainable. The current administration would do well to invest more in these areas.
High-level federal coordination of energy, water and agriculture policy and planning -- while a complex task -- would help to identify environmentally unsound projects which are bound to continually draw massive protests (and hilariously insightful clips from The Colbert Report). We must not make the same mistakes with the Keystone XL pipeline that we made when rushing into shale gas development and corn ethanol production.
(Originally published at Ecocentric)