In Nairobi, Kenya, 27-year-old Dinah Mwangi was reading a children's book she had purchased for her niece, when she noticed two young boys craning curiously to see what she was reading. When she asked if they would like to join her, the boys lit up. They read, and laughed and shared stories with Dinah. They told her they had no books of their own.

The boys' reality struck her. So Dinah started buying books with her own salary and recruited volunteers to read and distribute books to kids each Saturday. In less than three months, she had over 500 children participating.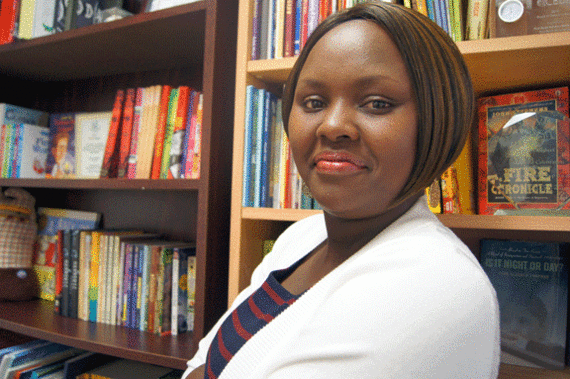 Last September, Dinah called me. She'd attended an Ashoka event in Nairobi and someone there suggested she should learn about First Book's model to bring a steady supply of new, high quality and culturally relevant books and educational resources to children growing up in poverty. Two weeks later, using her own money and her vacation time, Dinah became the first-ever First Book Social Enterprise Fellow, spending a month in our Washington, D.C. headquarters to learn about our efforts, and to develop her own plans for bringing First Book to Kenya.

Dinah's story -- traveling across the world to find a sustainable solution to the lack of books for children growing up at the base of the economic pyramid -- exemplifies the powerful impact that women have. But her story is doubly important because it focuses on a critical issue: education and educational resources for children worldwide, and particularly for women and girls.

Indeed, in celebrations of International Women's Day, gender equity in education is cited as critical to our ability to empower women.

The statistics are compelling. Although females represent half of the world's population, women and girls make up 70 percent of the world's poor and two thirds of the world's illiterate population.

We know that when women and girls receive an education, the positive effects are substantial and measurable. For every dollar a woman earns, she invests 80 cents in her family -- in nutritious foods, medicine and housing. Women also invest in furthering their children's own educations, thereby breaking the cycle of poverty for future generations. Education is one of the most powerful tools available to combat poverty and raise standards of living.

If that wasn't reason enough to invest in education for women and girls, experts point to additional ripple effects. In a recent column, Forbes' contributor Geri Stengel noted that women approach problem-solving differently than men. In fact, according to Larry Keeley, author of Ten Types of Innovation: The Discipline of Building Breakthroughs, women approach problems in a holistic and systematic way. They build comprehensive solutions.

In my work as a social entrepreneur, I've seen this again and again.

Women are innovators, and their practical, collaborative approach helps address social issues -- from environmental quality, global health, education, economic stability and human rights.

In her 2014 commitment to International Women's Day, UNESCO's Director-General Irina Bokova states that "empowering women is a frontline for building a more peaceful and just world."

Fortunately, that reality is being seen more and more around the world.

We need to ramp up our investments in educational gender equity and opportunities for women and girls. By doing so, our families and communities will thrive, transforming lives and providing a brighter future for us all.