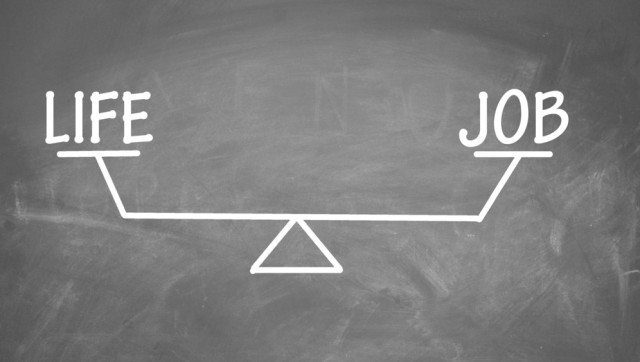 It used to be the term "work-life" was a dirty word. In one of my earliest sales calls, while sitting in a fancy conference room with an amazing view, I was shushed by the SVP of HR at the very beginning of our meeting. "Work-life" he said, "is a dirty word around here."
I left his office that day resolved to change the words I used. "Workplace flexibility" was the term that would lead me to salvation. Except it didn't. There's as much negativity around that term today as there was five years ago around "work-life."
Case in point. We recently met with the senior leaders of a local ad agency. They were struggling to figure out how to get their edge back. Because they'd lost it. They still had an enviable client base, but they couldn't get young talent in their city to join their agency. They were going to their competition. And that spelled danger for the future. They knew they needed to do something, but they didn't know what.
We proceeded to share the approach we take toward organizational transformation. The emphasis on team, authenticity, transparency and opening up the rules about how, where and when work gets done. We told stories about flex as a tool for innovation, productivity and engagement. The rest of the leadership team was nodding in agreement throughout our presentation. Then the CEO spoke, "I like where you're going with this, but why do you keep using the word 'flexibility'?"
We explained that it's the way to frame the transformation that's occurring today in organizations around the world. It's the key to stakeholder value and to achieving your organizational goals.
No matter how we tried, he couldn't get past the words "workplace flexibility." And we didn't get the business.
So what is the right word? Nobody knows anymore. All of the words being used today are just representations, or parts of a bigger transformation that is happening on a global scale: mobility, telework, telecommuting, workplace flexibility, future of work, workshifting, virtual, remote, dispersed, eWorking, workflex, alternative work arrangements/environments.
Just like singer songwriter Prince who stopped using his name publicly in favor of "the love symbol" as a more apt representation of who and what he really stood for, the world needs a new way to represent the workplace/workforce strategy formerly known as "flex."
Why? Because the words we currently represent have too many negative connotations to too many people, and it's getting in the way of adopting new ways of working.
Today's leaders are looking for new ideas and strategies to continue growing their businesses, to ensure consistent gains in productivity and profits. Some see the transformational power of changing the rules of how work gets done.
Sadly, most American leaders don't. They approve a telework or flex program which results in a policy on the books that most managers are afraid to implement and most employees are afraid to use. Or they approve a workplace redesign that changes the way their office looks and the places onsite teams can work, without giving the green light to enable employees to work remotely.
Until leaders believe that transforming how work is done is the next big, untapped frontier for unlocking shareholder value, they will continue to marginalize these efforts. They'll continue framing these initiatives as offering marginal value for marginal stakeholders -- people like caregivers, employees with disabilities, women -- and not giving it their time and attention.
Perhaps many years from now, we can go back to the term "flex," after it's been cleared of the negative energy that surrounds its use, just as Prince went back to his original name in 2000.
Until then, we're going to have to describe it to leaders and middle managers in words with which they have positive connections: innovation, future, competitiveness, productivity, cost savings, etc. And we're going to have to accept that we've not yet reached the tipping point on work transformation.
We won't reach that transformation until leaders are willing to look beyond the limitations of the words we use to describe it, to the powerful concepts that lay underneath.
October is National Work and Family Month. What language are you using to talk about these issues in your workplace?