Seattle's 5th Avenue Theatre presentation of the Broadway hit musical Matilda is a family-oriented show highlighted by outstanding performances and a staging that keeps the audience engaged throughout. The story revolves around unwanted young Matilda (brilliantly and energetically played at the performance I attended by Mabel Tyler) and her quest for wisdom and happiness through learning (especially reading which is frowned upon by her parents), storytelling and pushing against rules that restrict freedom.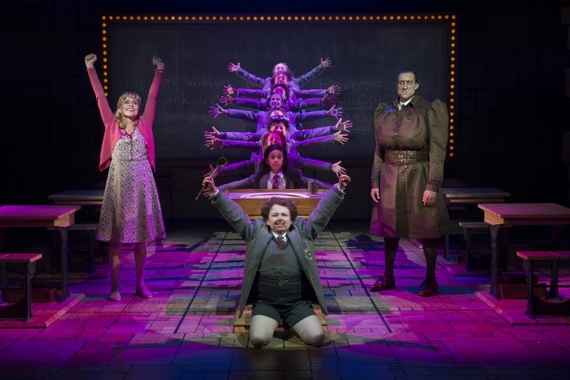 Matilda is supported on stage by a posse of other wonderful young actors who can dance and sing like they've been doing it all their short lives. Then, there's the character of Miss Trunchdbull portrayed in full drag with outrageous flair by Bryce Ryness. Her motto, "Children are maggots," tells what everyone at Crunchem Hall School are up against. Still, Matilda rallies her fellow students and sympathetic adults with her tenacity and captivating storytelling, much of which is acted out as she tells it.
All this happens within an amazing set filled with changing letters and other perfectly choreographed elements that make the songs and dances sparkle. It's particularly innovative during a song that uses every letter of the alphabet from "A" to "Z" as they appear on stage and are used as footholds by the singers.
All in all, Matilda The Musical is a beautifully staged and acted performance with the exception of the sound, which made hearing the children's words rather challenging. So, if you really want to hear all the words of each song, just sit near one of the many tween girls attending because she'll probably be singing along to every song.
Matilda continues at the 5th Avenue Theatre through September 6.