The setting was nearly perfect when Chicago took the stage at seven last Saturday night. 74 degrees, a few puffy clouds in the sky, a sold out crowd on the magnificent Chateau Ste. Michelle lawn and the wine flowing freely. This was the scene in Woodinville, just outside Seattle, as Chicago played the first show of their US Heart and Soul tour, and it could not have been any better.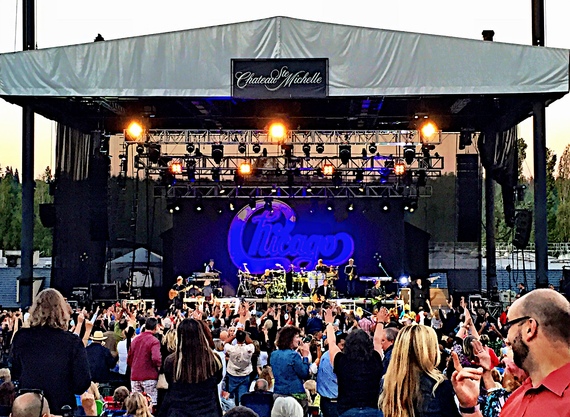 Two hours and forty minutes later, when Chicago closed the show with a series of their biggest hits including Saturday In the Park and If You Leave Me Now, everyone was on their feet dancing, couples were hugging and singing Chicago's love songs to each other and the party was winding down on a genuinely high note. In other words, it was an outstanding concert, at a magnificent venue with perfect weather and lots of great wine.
There's really nothing much more to be said about a band that has been a proven entertainer for decades and about a venue that really knows how to graciously take good care of a capacity crowd. The band delivered the goods, and the venue hosted a capacity crowd with a professionalism that made the event appear seamless and impeccable. Everyone did their jobs with skill and poise, and the crowd left smiling, humming Chicago songs and carrying a few bottles of wine. If they play your neighborhood, definitely go see Chicago. If you're in Seattle and love live music and great wine, check out Chateau Ste. Michelle.
Chicago continues the tour as they crisscross America this summer and into the fall. Chateau Ste Michelle hosts more great performers including Gregg Allmann, Cheryl Crow, Lyle Lovett, Harry Connick, Jr. and Randy Newman. If these shows are anything like the Chicago concert, they'll be well worth attending and enjoying.