For me, the test of a great concert is when I find the songs continuing to play in my head days later, and that is the case with the Dudley Manlove Quartet's 20th Anniversary Concert, which happened last Friday. Interestingly, those songs are not ones that I normally listen to on my iPhone or Pandora. Copacabanna, Dancing Queen, Video Killed the Radio Star (the first video played on MTV), Silly Love Songs and Perry Como's Seattle are not tunes I would expect to see at a live show, but Dudley Manlove is a cover band, and they cover a wide range of music with great skill and dynamism.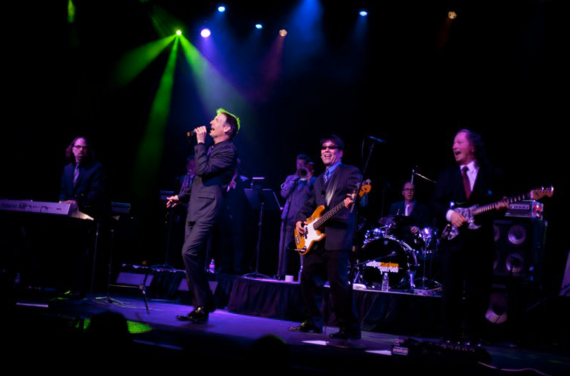 That was certainly the case Friday night at Seattle's Triple Door (a wonderful venue in which to experience live music and great food) as lead singer Stefan Mitchell opened the show with explosive energy and went on to work the extremely age diverse crowd into a partying and dancing frenzy. Personally, I was quite surprised by his rendition of the classic song Seattle, which was set to a very a rockin' rhythm.
And everyone seemed willing to participate in the party at the luxurious Triple Door as the quartet of eight men (including three horn players who are not usually part of the quartet) generated an on stage revelry with their dancing and jumping. I was amazed to see three middle-aged men (the keyboardist and drummer did not participate in this move) often jumping in complete synchronicity at various points during the entire show.
Then, when the band began playing Abba's Dancing Queen and a big disco ball filled the room with glittery light, a great many of the women (and a very few guys) took to the aisles dancing in a frenzy that continued throughout the show. Even the young kids in attendance enjoyed songs that they probably didn't even know existed.
The Dudley Manlove Quartet really brings on the party, even in a large venue like the Triple Door, and they seem particularly appealing to the Soccer Mom crowd who were out on town in full force at the show. All in all, everyone had a great time right up to the conclusion, which featured several of the women in the audience up on stage with the band. And the band played along with the crowd while managing to keep the show's energy fully ramped up.
Dudley Manlove is a group you should not miss when you have the opportunity. They bring the energy and professionalism of a mature band while playing all the songs a more mature audience wants to hear ... again and again. The other iteration of the band, Bowie Vision, plays at the Triple Door on May 30. No doubt it will be another rockin' good time in Seattle.