Last week I attended Teatro Zinzanni's new show The Hot Spot, and I was - as always - delightfully entertained. I've always considered Seattle's Teatro ZinZanni a unique treasure that seems like a Disneyland for adults, and the new show is no exception.
Key among the character players was Frank Ferrante in his classic role as Chef Caesar (a.k.a. The Caesar), a character he has portrayed there since 2001. The first time I saw Ferrante in that role at least a decade ago, I couldn't help but notice an uncanny resemblance between what he was doing and the way Groucho Marx used to toy with contestants on You Bet Your Life. Only later did I learn that Ferrante is, in fact, a huge Groucho fan who performs a one-man Groucho show at venues around the world - including Seattle's ACT Theatre for the past three summers.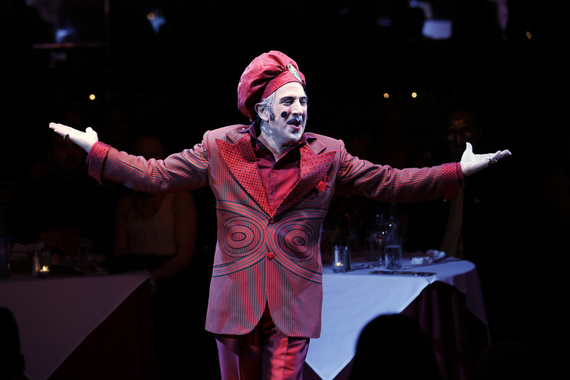 Since that first realization, I've seen his Groucho show, An Evening With Groucho, several times and his Teatro ZinZanni Caesar performance a few times as well, and with each performance I can't help but think he's doing much more than acting. Ferrante seems to be channeling the spirit of Groucho (or perhaps Sid Caesar). And the same is true of many of the cast members who are continually interacting with individuals in the audience in a way that makes even the people sitting in the farthest reaches of the spiegeltent feel like they could be the next "victim."
In truth, there is no place to hide in the intimate circular tent filled with only 300 people. Still, people sitting on the outside edges may think that they can avoid contact with the cast of zany characters until one of the cast starts climbing over the patrons at a particular table, as was true of the table next to ours.
And when the show was over, I couldn't help but feel a certain urge to "run away with the circus." In speaking with friends, I was surprised that my reaction was not uncommon. There is something in most adults that sees this highly skilled form of play as appealing.
Still, I doubt that I could ever come close to Frank Ferrante in his amazing nightly recreation of witty banter with whichever audience member becomes his next victim. May everyone have at least one opportunity to be "victimized" with such humor, kindness and style.