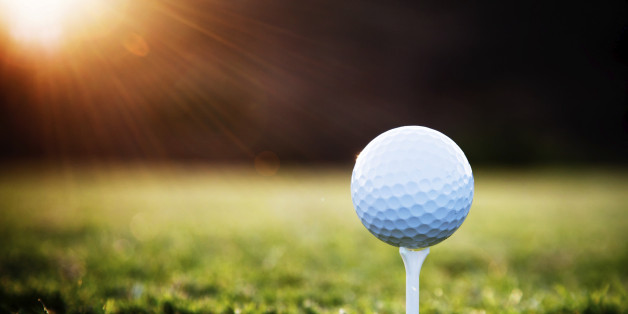 Until yesterday, the only golf ball I've hit in my sixty plus years was on a miniature golf course. This became a bit of an issue when I took a summer job with Dixon Golf representing their eco-friendly, high performance golf balls at charity tournaments. Once in a while, while on the job golfers would, in good fun, chide me to hit the shot for them or "just take a swing at it."
These comments were all in good fun. However, having watched many duffers make a mess of their shots, I had no interest in stepping up to the ball -- especially with an audience.
That changed yesterday. I was working a tournament sponsored by The First Tee of Greater Seattle at the Snoqualmie Ridge Golf Club in the mountains just east of Seattle, and I arrived at 6:30 in the morning to set up before the 7:45 start.
After checking in with the tournament director, I got a cart and headed out to the par 3 hold where I'd been assigned. When I arrived I found myself high on a hill overlooking a beautiful valley covered with pre-dawn mist. The only activity in the area were a couple deer grazing innocently on the fairway between myself and the green, which was somewhat downhill and 160 yards away.
I began setting the site for the Dixon Challenge when the peaceful morning was interrupted by the golf cart of Matt, a young man who was putting out the tee boxes for the tournament. Upon pulling up, his first question was, "So you gonna play a few shots today?"
I quickly declined, but he insisted that it was a good thing to do. After we chatted for a few minutes, he asked if he could use the demo hybrid club that I carry to show Dixon Challenge golfers what they receive for participating.
In the past, several golfers have used the club, so I was happy to let Matt try. He dropped three balls and proceeded to hit them with a swing that clearly displayed his expertise. Then, he made one more attempt at coaxing me to try, but after witnessing the beauty of his swing, I was even less interested in a public demonstration of my novice ability.
However, once he left, I was overwhelmed by the beauty of the site and the fact that I was completely alone -- except for the two deer -- on the top of that hill with a club and a ball and a target. I've read Golf In the Kingdom a couple times and even watched the movie. The pristine environment surrounding me felt like it came directly from that story. It was magical, inviting and open to possibility.
Clearly, my time to enter the world of conscious golf had come. And I had no audience to witness whatever happened. No cars passing by. No airplanes overhead. No greenskeepers riding by on lawnmowers. Just me, the 13th hole, a few crows and a couple deer to witness my first golf shot as the sun began to rise over the distant cliffs.
Feeling confident, I took one Dixon Earth ball from my stash of several hundred, picked up my sole club and teed up the ball 160 yards from the hole. Standing on that hill, I felt a calm oneness with the ball, the club the course and all creation. It was such a potent moment that I didn't even take a practice swing. I just stepped up, took a breath and made my shot.
As that seeming slow motion event unfolded, I heard the perfect swoosh of the club and then the strike as the sweet spot on the club hit the ball. Next, I heard the zing of the ball flying off. I did not, however, watch the ball's flight. I just stayed present experiencing the feeling of a perfect moment in time.
When I finally did look out toward the green, I watched the ball land squarely about ten feet from the pin. There it was ... one ball, one club, one swing ... perfection.
Quite naturally, my busy mind kicked in with the thought that I should keep doing this. I should become a "real golfer."
Only later did I realize that I had experienced genuine golf in the kingdom. Alone on a quiet course with the sun rising. No audience. No pressure. No commentary or coaching from others. Just me, the ball, the club and nature.
So, a moment has become my golf career. It is complete and perfect. No need to try improving or doing it again. I am a one-hit wonder of a golfer, and that's OK with me.
One Ball. One Club. One Swing. Perfection. My golf career is complete.
May all people find such completion and satisfaction in all their endeavors.