The Seattle Repertory Theatre recently presented the world premier of The Comparables, a new play about three women working in the cutthroat world of high-end real estate. In The Comparables, CEO Bette, the original glass ceiling crasher, is on the verge of debuting a reality television show designed to introduce a whole new audience of women to her no-holds-barred view of business. Iris is the new agent who has just joined Bette's agency while Monica is the veteran who has been with Bette for ten years.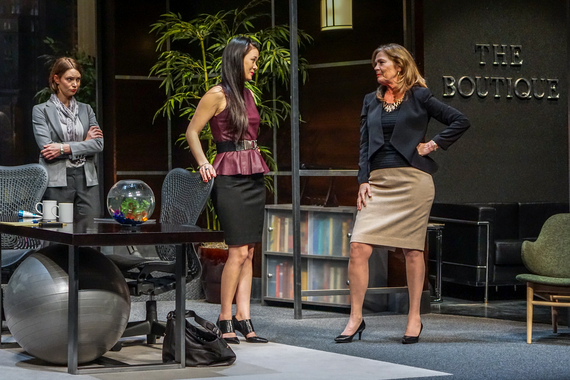 The plot twists and turns for ninety minutes while these three women wrestle with the issues common to many women attempting to climb a corporate ladder dominated by men. Their drama is played out on an elaborate stage that morphs into several versions with well-conceived lighting changes helping keep the audience completely involved in the story.
The three-woman cast of The Comparables works through several interpersonal and business issues all focusing on the question, "How do women survive and thrive in the shark tank of competition dominated by men?" A working assumption of this story is that women want the same things that men want, and this leads these three women to be portrayed as "fish out of water" who aren't happy and have a stereotypical single-faceted life focused almost entirely on work.
The Comparables gives rise to many questions about gender roles, especially in the highly competitive business world.
This is a performance that leaves the audience thinking and talking about such issues while still creating plenty of laughter-filled moments. The Comparables continues through March 29 at Seattle Repertory Theatre.
May all people find a new level of increased cooperation and happiness devoid of the competition that is destroying our ability to survive and thrive as individuals and as a society.