Tacoma Musical Playhouse's latest production Oliver!
is a tribute to what can be done locally when a classic gem of a show is produced at an excellent venue with great talent. From start to finish, the cast and crew provide the audience with singing, dancing and acting that gives great life to this timeless story of a young boy caught in the poverty and despair of the time.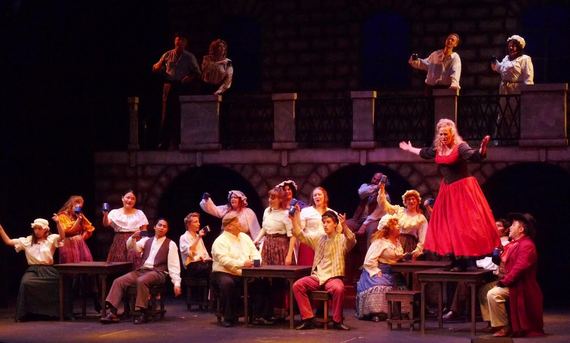 Here's Tacoma Musical Playhouse's (TMP) synopsis of
Oliver!
"...the captivating story of Charles Dickens' Oliver Twist set to Lionel Bart's sensational score. You'll hear timeless classic favorites as "I'd Do Anything," "Consider Yourself," "Food, Glorious Food," "You've Got To Pick-A-Pocket Or Two." "Oom-Pah-Pah" and many more, sung by the likes of Fagin, the Artful Dodger, and Oliver himself. A story about a boy who asked for more, his search for love, the triumph of right wrong and hope for a better world."
All this is true of both the story and TMP's production. Particularly delightful are Helene Minassian playing The Artful Dodger with seemingly unlimited energy and Sam Barker brilliantly bringing the crooked yet lovable Fagin to life.
There are many ways to view Oliver!. My 27-year-old son attended the show with me. He is not a big follower of musicals, so he was surprised to discover that there is a musical employing the same story as one of his favorite Disney movies Oliver and Company. He was also impressed by the wide range of talent we saw onstage by the fact that the entire cast came out to the lobby to greet patrons following the show.
All in all, Tacoma Musical Playhouse's Oliver! is delightfully entertaining and not to be missed, even if you have to take a short drive from Seattle as we did. Oliver! continues at TMP through October 11.