If you go to Hong Kong and eat nothing but Chinese food, you are passing up a big bite of the scene.
There is much more to the local cuisine than Peking duck and dim sum. Hong Kong's international restaurants are innovative, particularly in Central and Causeway Bay, and fight to bring in top chefs, mixologists and designers.
In this travel video, I eat my way through six of my favorite restaurants and bars. Warning: the food close-ups might excite your appetite...
Caffe Habitu
In this frantic city, Caffe Habitu is an oasis. The boutique space is ideal for meeting friends or working (hooray for high-speed, unlimited Wi-Fi). While unfussy, the Italian-style dishes are made with quality ingredients. I'm a fan of the caviar eggs benedict, creamy pasta carbonara and chocolate lava cake with pear. The imported coffee gets a cute twist: lattes are decorated to look like a teddy bear's face! Habitu has multiple locations; the Lan Kwai Fong branch is the only one with coffee cocktails. (Room 101, Tak Woo House, 1 Wo On Lane, Central)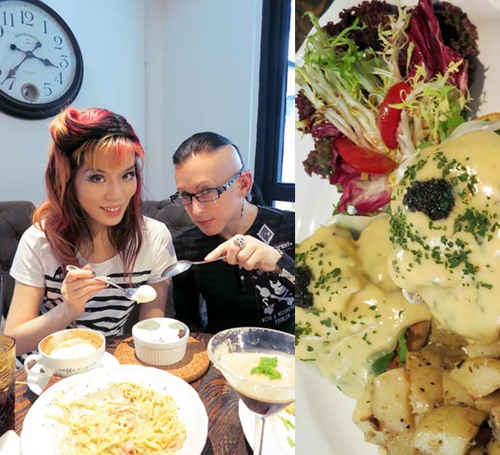 The Academics
At this sister cafe to Habitu, the award-winning (and stylish) baristas take center stage. They hand-roast their own beans and pour it through a Chemex drip to maximize flavor. An Americano goes well with apple strudel or a chocolate tart topped with walnut and gold. I enjoyed the New York City-feel of The Academics, with high exposed ceilings and brick walls. (38 Yiu Wa Street, Causeway Bay)
Taboo
Hong Kong doesn't have much of an alternative club scene, but Taboo is changing the story, Alice-in-Wonderland-style. Stepping through a keyhole-shaped entry, I found myself in a topsy-turvy space where the piano's mounted on the ceiling. My friend John Skeleton describes the bar as "a stylish version of Dr. Frankenstein's lab" that concocts molecular cocktails with smoke and bubbles. Downstairs, Taboo keeps true to its name with racy wallpaper and a shower for dancers. (G/F, 16 Arbuthnot Road, Lan Kwai Fong, Central)
Socialito
I ate Mexican food in Hong Kong, and it was as flavorful as what I had in Mazatlan. Outside the always-packed Socialito, John and I sat on bar stools and sampled soft pork belly tacos. Inside, we enjoyed tuna tostadas, grilled salmon with pumpkin seed mole and an Old Fashioned with a tequila twist. (G/F, Shop 2, The Centrium, 60 Wyndham St, Central)
Lily & Bloom
John describes the concept as, "one that recalls both fin-de-siecle inspiration and the Prohibition Era of the American 1920s." Our tasting menu had exotic yet approachable creations; even finicky eaters would enjoy the bread-enveloped escargot cube and pasta with ostrich. Teetotalers will miss out on Lily & Bloom's artisinal cocktails, especially "Death In Paris," a Hemingway-inspired poison with an absinthe base.(5/F, Hotel Rhombus LKF, 33 Wyndham Street, Central)
Boqueria
The Spanish tapas joint is a favorite in NYC, and recently opened a location here under Chef David Izquierdo. Boqueria's interior reflects Barcelona's bustling marketplace with dangling pork legs and classic blackboards. We started with small plates like "bombas de la barceloneta" (traditional croquettes), worked up to seafood paella and finished with churros con chocolate. I couldn't decide between the red and white sangria, so I had both. (7/F, Hotel Rhombus LKF, 33 Wyndham Street, Central)
What do you think of Hong Kong's food culture? Do you have any favorite restaurants? For more city coverage, check out La Carmina's Hong Kong travel guide.
PHOTO GALLERY
Hong Kong Foodie
Video hosted and created by La Carmina. Thanks to John Skeleton and Ken Yuen.