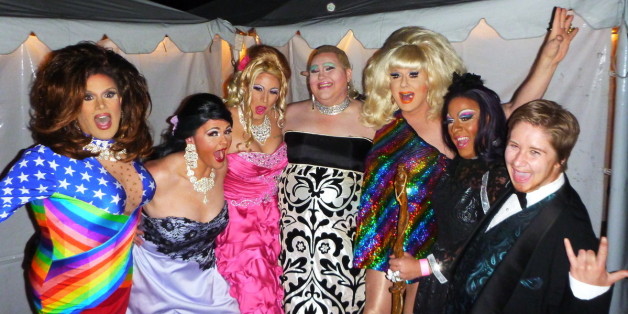 I wasn't expecting to get a reality check from a place that sounds like it came out of a Dr. Seuss book. (In fact, the local airport even sells T-shirts that read, "Yes, there really is a place called Kalamazoo.") But I was hired to perform at their Pride festival on June 13. In addition to performing, I emceed the Mr. & Miss Kalamazoo pageant, whose winner, LeDonna Devine, told me that they had only been having their outdoor festival for four years. Before that, locals would throw a fundraiser to hire coaches from nearby Lansing if they wanted to celebrate Pride. There isn't a single gay bar in Kalamazoo, so their festival is literally the main event.
My heart sank a little. Here was a queen who was just happy to have a Pride festival in her city. I'm from New York City, where the Pride parade is often viewed as a marketing opportunity for Red Bull and Sprint, who hire straight bodybuilders to dance on their floats. The organizers, Heritage of Pride, have now copyrighted "NYC Pride" and every configuration of it and are suing local promoters who dare to mention Pride on their invites. Copyrighting Pride, which belongs to all of us?
And in my New York City bubble, where we can walk down the streets of most neighborhoods hand-in-hand with our same-sex lovers, we're a little spoiled, as gays are in many bigger cities. We feel that we can be ourselves most of the time and don't necessarily need to wave a rainbow flag to prove it. For over a decade some larger cities have even hosted annual "gay shame" parties as a sort of protest of the commercialization of Pride events, which has rendered them somewhat soulless marketing opportunities.
And protest we do. Lately the LGBT community has seemed so deeply divided that we barely seem to like each other. Twinks hate bears and vice versa. Some lesbians frown on men and drag queens in particular, just as some gay men hate women and try to ban them from cruisier "butch" bars. Activist trans women are banning words that they perceive as slurs from drag-queen game shows. Some especially bitter queens (including me) wonder how we can sit sobbing and cheering through Larry Kramer's The Normal Heart, which depicts the sort of revolutionary activism of the '80s that took on the government, Big Pharma and the Catholic Church, and then face the fact that all that radicalism has been replaced by the comparative conservatism of today's LGBT community. Now we work with the government for the right to fight their unjust wars for them, and we whine over imagined slurs when we used to simply remove a slur's sting by reclaiming it, as we did with "queer." But Kalamazoo's LGBT population isn't big enough to splinter off into different subpopulations as we do in larger cities. It's one small community in Michigan. Midwesterners are known for being nice, and a couple of the drag queens I spoke with told me that they don't even care for RuPaul's Drag Race because they feel that the show is mean-spirited and thus doesn't represent their own tight-knit, supportive community.
One Kalamazoo queen, Meetri'a Bardot, walked onto the stage in a mourning ensemble, complete with a black veil. Unlike the other queens, who performed feel-good favorites, Meetri'a had a message, which she revealed on posters while a slow song played: Our LGBT youth are in trouble. I spoke to her afterwards and asked her why she'd selected such a somber theme. Miss Bardot explained that one of her best friends had committed suicide not long ago. She is only 27 years old herself, and she's horrified by the prevalence of suicide attempts in the LGBT community, so she wanted to let everyone in that Kalamazoo audience know that someone in the community loved them and supported them. Meetri'a didn't win the crown, but the nerve of expressing a message that's dark, true and not heard often enough won my heart.
I'd just heard about a 19-year-old youth who had contracted HIV because no information about safe sex had ever been made available to him. Here we are, arguing over which words should or shouldn't be used on a TV game show, when our young are taking their own lives and contracting easily preventable, sometimes fatal diseases. For their sakes I hope we can put our differences aside and figure out what it is that they need. I'm not saying that we shouldn't have or discuss our differences, but if there's a chance that some of those who should be carrying on our LGBT traditions may not make it, then we need to focus some of our passion on their very real plight. Just as many LGBT people won't have kids, many of these LGBT kids have been rejected by their own families.
But in Kalamazoo they've found a loving community. No city is too small for us to learn a lesson from it. A 14-year-old boy came out at Kalamazoo's Pride festival! But are some of us making the LGBT community so divided and toxic that other youth may be tempted to stay in the closet? I wonder.
Now I'd like to let Meetri'a Bardot's signs speak for themselves and show why she thinks Pride is still very important. (She'd already changed out of her mourning costume when I asked her to grab her signs again, but she sweetly obliged.)
PHOTO GALLERY
Meetri'a Bardot At Kalamazoo Pride
I hope you'll agree that we need to focus more on our troubled LGBT youth. This was a much-needed reminder for this old queen. I'm so touched by Meetri'a's message that I'm going to begin offering safe-sex demonstrations to all males of legal age, gay or straight. (Maybe I should offer them free meth as an incentive?) Thanks to Meetri'a Bardot, the young queen with a heart, and thanks to Kalamazoo. Who knew?