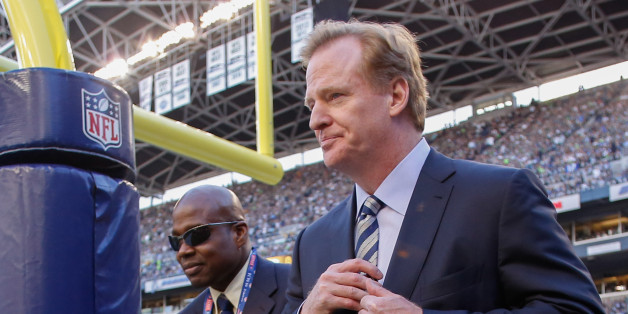 In a letter sent Wednesday, 12 Democratic members of the United States House Judiciary Committee called for "the highest level of transparency" in the aftermath of an elevator video showing Baltimore Ravens running back Ray Rice assaulting, and rendering unconscious, his then-fiancée, Janay Palmer. The letter from Congress demanded more scrutiny in dealing with domestic violence cases and questioned the manner in which the recipient of the letter handled the case, reminding him that he and his organization have "an important role... in shaping public perceptions concerning domestic violence."
There was only one problem.
Congress sent the letter 115 miles north of where it should have gone, arriving to the attention of NFL Commissioner Roger Goodell in New York City instead of Atlantic County Prosecutor Jim McClain, whose office "prosecuted" Rice and yet inexplicably allowed him to enter into a no-jail, no-probation, no-need-to-plead-guilty pretrial intervention deal.
As a former prosecutor looking in, it's hard to begin. The criminal case against Rice was a no-brainer, a proverbial first and goal. Here was a prosecutorial agency armed with a videotape of a well-known defendant beating unconscious an unarmed, defenseless woman. (It was no longer a he-said, she-said). Add to that an eyewitness who saw Rice spitting on Palmer moments before getting into the elevator. Add to that a security guard who could identify Rice dragging a virtually lifeless Palmer out of the elevator. Add to that Rice's own consciousness of guilt, where he - upon being confronted by the security guard -- lied and claimed that Palmer had fallen in the elevator because she was "intoxicated." Not enough? Add to that a phone call Rice makes immediately afterwards, some fifteen minutes before the police even arrive, telling the person on the line: "I'm getting arrested tonight." A sock to the face, lies, and videotape; it was all there.
Let's be even more clear. Unlike the real-time debate as to who at the NFL office actually saw the tape, McClain's office had unequivocally watched the videotape footage inside the elevator. It appeared, at least initially, that McClain's office liked the evidence they had. In fact, they elevated the charges against Rice from a simple assault to an aggravated assault. On March 27, they received an indictment from the grand jury against Rice and dismissed the simple assault charge against Janay Palmer, correctly acknowledging that she was the victim and the assault against her was unprovoked. On May 1, McClain's office even refused to offer pretrial intervention to Rice and insisted that he plead to a felony aggravated assault charge with probationary conditions.
But on May 20, McClain's office suddenly did an about-face, claiming that pretrial intervention was appropriate and, if Rice successfully completed some anger management classes, the case against him would be entirely dismissed and off his record. What changed? And how did McClain justify pretrial intervention when the "Guidelines for Operation of Pretrial Intervention in New Jersey" state very clearly that: "If the crime was... deliberately committed with violence or threat of violence against another person" then "the defendant's application should generally be rejected."
And how did Rice, a resident of Baltimore and a traveling professional athlete, become eligible for a pretrial intervention program designed for residents of New Jersey who live close enough for "effective counseling or supervisory procedures"? For a prosecutorial office in charge of handling domestic violence cases, it would seem that McClain's office -- even more so than Goodell's -- would have "an important role... in shaping public perceptions concerning domestic violence."
It was Act I, Scene 4 all over again. Something was rotten in the State of Jersey.
The only thing that did change from the day that Rice was indicted was that the very next day Janay Palmer, the once-unconscious fiancée in an elevator, was now Janay Palmer, the loyal, new wife standing by her husband's side. She and her lawyer made it clear that she would not cooperate with McClain's office in their prosecution of Rice, a rather unsurprising move on the part of a domestic violence victim.
From experience, prosecutors are trained to anticipate this in any domestic violence case. 'Pissing backwards' is the all-too-common phrase given when the victim testifies under oath in front of a jury that "nothing happened," that "it was my fault," that "I fell accidentally," or that "I never said that to the police." Judges expect it and juries understand it. And all across America, it is a sad but true reality but one that does not excuse a prosecutor from at least putting on the case. In fact, most of the time the strategy is so outlandish, it backfires right in the face of the defendant.
But here, with videotape evidence and corroborating witness statements, there would have been no need to ever put Palmer on the witness stand in the first place, even assuming she chose to 'piss backwards' or dodge subpoenas. The law even permits prosecutors to name the victim in the complaint as "Jane Doe," relaxing any technical burdens of proving the identity of the victim in court. There was no excuse here not to move forward as originally planned.
By punting his role as prosecutor to Goodell, who has already come under heavy fire for his own version of NFL domestic violence law, McClain has committed a disservice to his constituents. As the chief prosecutor sworn to uphold the law and protect victims of domestic violence, and who failed in doing so, perhaps members of Congress, who are apparently searching for the "highest level of transparency," should cc Jim McClain as well.