Alfie Deyes is a YouTuber and the author of YouTube channels PointlessBlog, PointlessBlogVlogs and PointlessBlogGames. His weekly videos on topics like "The Food Pong Challenge," "Electric Shock Lie Detector," and "THE BEGINNING! | Sims 4 with Zoella #1," place him in an elite club of more than one billion YouTube views, with more than ten million subscribers and growing.
Since 2014, Deyes has released three books in his Pointless Book series, which have topped the Sunday Times and Amazon bestseller charts. Deyes was a member of the "Guinness World Records OMG!" channel and held a number of world records, including "Most party poppers popped in 30 seconds" and "Most bangles put on in 30 seconds by a team of two", along with YouTuber Marcus Butler.
Deyes was named by Yahoo! News as one of 12 Web-savvy entrepreneurs to watch and was featured in Debrett's 500 most influential people in Britain. Lan Anh Vu caught up with Deyes to hear more about how he started his own YouTube channel, the challenges that he has faced along the way and his advice for aspiring vloggers.
As told to Lan Anh Vu
How I Got Started in the YouTube World
I started vlogging in 2009. I watched YouTube for years and years before I started. I always loved the interaction and the opportunity to get to know someone through the Internet that you wouldn't get to know without YouTube. One day I thought I would try to make a video myself. I didn't tell any of my family, friends, or anybody at all. It was my own little secret project that I thought I would try out. Back then vlogging was nowhere near as popular as it is today, so many people thought it was odd.
Challenges
I definitely do not have a schedule; I don't wake up and work from 9 to 5 and then finish. That was never the case. It's different every single day. What I do every day is completely different. I am constantly filming and making videos. I video my day and upload the next day. I start most of my videos in bed, so every minute I am awake, I am potentially filming or editing. Not having a schedule, being constantly busy, and not knowing what is going to happen is quite hard. But this is the thing I love, I love that it is different every day.
Another challenge is having lots of people following your every move. So every time I go to a hotel, train station. or anywhere, there's always people waiting and I try to make sure that I've got enough time to please those people. I make sure that every time I leave a hotel I've got 20 minutes to spend talking to everybody else and taking pictures. That is quite hard.
Lessons Learned
The main thing I've learned and that I really try to tell my audience, my family, and my friends is that there is really no point in life doing a job that doesn't make you happy. The main message I try to convey is to do what makes you happy, because you never know what's going to happen. Make sure that you love everything you do and try to make hobbies of yours into your job. YouTube is my hobby, my passion, and happens to also be my job and I'm very lucky for that.
Do everything you can to pursue and make your dreams come true. Even if you work two or three jobs to make your living and then dedicate all of your spare time to what you want to do in the future, don't give up on it. If you want to be an artist but work in a coffee shop, as soon as you finish that shift do everything you can to create and love an art job in the future. Find one thing that you love and turn that into a job.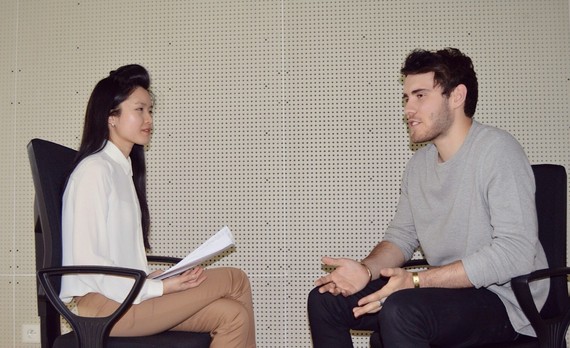 Key to Success
For myself, what I try and do is film the life of a normal person. I'm exactly the same as the person watching the video, I just happen to be on the other side of the screen. I suppose with TV shows like Big Brother you're watching other people's lives. In my videos, you're literally watching me live my life. I live such a normal life; it allows people around the world to watch the life of a normal British boy. I try to have fun in my videos, so that hopefully people watching them can also have lots of fun.
Consistency in uploading is an important factor. I try to stick to a schedule so if anyone starts watching they will know when to come back.
Every time I hit a milestone I try not to think too much about the numbers of how many people are watching. I try to enjoy making videos as much as possible. But I remember hitting a quarter million subscribers, which was the same number of people living in my city. Wow, that was amazing! I never expected it. I just hoped that people would watch my videos.
How I Deal with Online Trolls
Some vloggers find it really difficult to deal with and get offended by negative and mean comments. I always look at it like this: if somebody spends their time putting someone else down who they don't know, it shows more about them than about the person they are putting down. They are the ones I feel sorry for, rather than letting them bring me down. Why don't they spend more time doing what they love instead of negatively commenting on somebody else's video. If you don't like these comments, you don't have to tolerate them. Just delete, block, or ignore them.
Exciting Possibilities for the Current Vloggers
I think the most exciting thing for vloggers is the unknown, not knowing what's coming next. These unknowns include earning millions of subscribers on YouTube, writing a book, going on tour around the world to meet viewers, and traveling around the world to make videos. There are so many unexpected things that happen; I think that is the most exciting aspect of vlogging.
Future Outlook
I think more people are starting to watch vloggers. The audience is growing and there is a bigger variety of vloggers. Apparently in the UK, the fifteen most suggested careers for teenagers in school includes vlogging, which is unbelievable. But I think it's such a positive thing to want to get into. I'm so happy that YouTube as a platform is growing, and I feel it will open a larger pool of people and experiences. Opening your experiences is such a positive thing, and I really believe social media does that.
Advice for Aspiring Vloggers
Have fun making videos and don't focus on the numbers. Do this because you genuinely love it and you will find success, regardless of the numbers. Making videos on a schedule really is a huge way to keep people coming back for more. So be consistent. Make content that you would want to watch. Have fun making videos and enjoy what you are doing. Don't get involved if it's not something you truly love. Get involved in making videos with people who love making videos and who share their passion. And take it as it comes; it's exciting and lots of fun.
This interview has been condensed and edited for clarity.
This post is part of "How I Got There" series, which features people around the world speaking about their journeys. What is the path to success? What challenges did people face and how did they overcome them? Lan Anh and her guests answer all these questions and much more. To view the entire series, visit here.