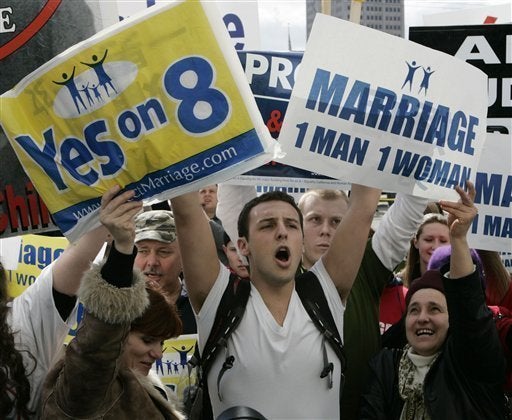 An elderly woman sits with her grandson. She begins to tell the story of her family and her Catholic faith. She talks about her core values and says, "Marriage to me is a great institution. It works, and it's what I want for my children, too."
The camera angle widens to reveal the woman's son and his male partner sitting next to her and her grandchild. It is only then that you realize this is an ad asking you to vote no on a ballot initiative which would repeal marriage equality in Maine. (You can see the ad HERE.) The commercial said a lot. But it's what it did not say that was worth hearing. The ad didn't say a word about rights or benefits. It spoke of responsibilities and commitment.
Third Way recently partnered with Greenberg Quinlan Rosner Research to conduct two statewide polls after the 2009 election: in Washington, where voters upheld an expanded domestic partnership law, and in Maine, where voters overturned marriage. By analyzing the poll results, we've come up with some insights about what we think is the best way forward to achieve relationship recognition and marriage in the future, and they sound an awful lot like that ad from Maine.

Our research found that there are people who don't yet support marriage but who are fundamentally easier to reach than other marriage opponents. For these folks, who we call "the middle," the equality argument (which to date has been the primary focus of marriage advocates) isn't connecting. Our work revealed that in order to reach folks in the middle, marriage advocates must make clear that gay and lesbian couples are seeking to join in the true spirit of marriage, the way the middle sees it. Our poll found that people in the middle view marriage as an ideal, not a legal construct, and they are not yet persuaded that gay couples fit into this ideal. To them, the ideal is about lifetime commitment, responsibility, and obligation--not rights and benefits, or even legal protections.
Instead of leading with talk about equality, our polls suggest that marriage advocates should concentrate on making plain that gay couples fit into this ideal and demonstrating that gay couples want to undertake the sacrifices that it entails. When advocates speak about marriage in this way, they can address the middle's concern that allowing gay couples to marry will threaten or change the tradition of marriage, or that it will alter the way children perceive or value that tradition.
If advocates can show and convince Americans that gay couples want to join the true spirit of marriage as the middle sees it--to be there for each other for better or for worse--they will help move the country more quickly towards support for marriage. Who knows? They might even make Grandma proud.
To read more of Third Way's insights and analysis, CLICK HERE. To see the polls, click HERE and HERE.
Rachel Laser is the Culture Program Director at Third Way and Lanae Erickson is Senior Policy Counsel at Third Way.