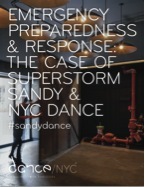 This National Preparedness Month, New York's arts and cultural communities continue responding to superstorm Sandy, which hit the state nearly two years ago. In doing so, we take critical steps toward a more resilient New York.
First came the launch of CultureAID (Active in Disasters), "a collaborative network of stakeholders and service providers committed to strengthening the creative sector before, during, and after disasters, through an organized communications system, as well as coordinated activities and services to the field." The network results from working sessions convened by the New York City Department of Cultural Affairs and facilitated by the Federal Emergency Management Agency. The organization I run, Dance/NYC, is a founding member of its Steering Committee.
Now comes Emergency Preparedness and Response: The Case of Superstorm Sandy and NYC Dance, representing Dance/NYC's continued response to the storm and made possible by leadership support from the New York State Council on the Arts and the Lambent Foundation Fund of Tides Foundation. When Sandy struck the metropolitan area, Dance/NYC collected early testimony that made the case for the NYC Dance Response Fund, established by the Mertz Gilmore Foundation and administered by Dance/NYC. The fund delivered $200,000 to 51 dance nonprofits and sponsored artists whose stories of impact, loss, recovery, and resilience the new study endeavors to tell.
The promise of the art form is uniquely present in findings on "resilience," defined broadly as the ability of an entity to adapt, recover, rebound, and/or return to form after shocks and stresses. For example, nearly two-thirds (63%) of grantees predict no material effect on future programming, and nearly one-third (31%) report new audience and community engagement efforts in the wake of Sandy. Findings indicate approximately 80% experienced the storm as a call to action and launched into new practices to prepare for and respond to future emergencies, indicating "systemic" resilience.
In the data, we see New York City dance not only demonstrating its own resilience but its contributions to the resilience of New Yorkers; dance and the wider creative sector are linked reciprocally with society. To scale up delivery of this public value, I advocate the inclusion of arts and culture in all recovery and resilience agendas, which have been priorities for our new mayoral administration and countless others learning with us post-Sandy.
Data also underscore the scope and severity of Sandy's impact on the study sample, whose collective financial losses totaled more than $5.8 million and cut across multiple loss types, dominated by actual (80% of grantees) and projected (70%) income losses resulting from, for example, cancelled dance performances and classes. Barely half (55%) of grantees report total financial recovery, and those with the smallest annual budgets recovered less than others--raising questions about equity in the distribution of resources.
The Dance/NYC study also dives into pre-Sandy financial dynamics in an effort to better understand the study sample. Using New York State Cultural Data Project profiles and calculations established by Nonprofit Finance Fund, the analysis shows the majority walking thin financial lines in service to the art form--with very slim (sometimes negative) operating margins, little unrestricted cash, and negative unrestricted liquid net assets. These findings encourage me to advocate for broad thinking about both specific emergency preparedness measures and the field's overall financial health.
The value of the study will be measured best by its application--the dialogue, creative problem solving, and action it generates. While discipline- and geography-specific in its focus, it is also an invitation for arts and culture-wide activity and collaboration and common messaging among stakeholders. For public and institutional funders and colleagues in arts service, it is a tool to guide resource provision. For dance and creative sector workers, it is a tool to advocate for, access, and manage resources.
For all of us, it encourages consideration and action now to prepare for future emergencies; there is work we can all be doing.
This National Preparedness Month, I hope you will join CultureAID, Dance/NYC, and New York's arts and cultural communities in advancing a more resilient New York.