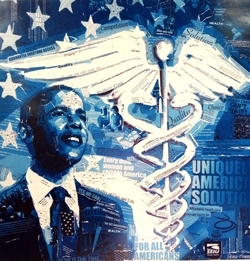 Today is a great day for our Country and the state of California.
In a historic decision, the United States Supreme Court upheld the constitutionality of the Affordable Care Act -- landmark legislation that expands access to quality, affordable healthcare for all Americans, regardless of age, income or pre-existing conditions.
This ruling upholds something that we have all known: a person's ability to stay healthy should not be a privilege for the few but a right for all.
While we celebrate this victory for our members and for all communities throughout the state, we will remain vigilant to the attacks of Republican leaders who have already set a date to repeal this law. They will spend millions, will try to distract us and most egregious of all, they will waste time not working on solving the issues affecting American families. Come November, we will need to stand united to ensure that a Congress that is representative of working people is elected.
Every 30 minutes, an American dies because of lack of healthcare, that's 45,000 annually. For the past two decades, California's uninsured population has grown to be the highest in the nation at 6.9 million. We are already building the infrastructure to simplify healthcare enrollment, making it easier for individuals and businesses to compare plans and purchase affordable coverage.
The Affordable Care Act has secured hundreds of millions of dollars in federal funding for California which help establish transformative community health programs, expand coverage to millions of uninsured California residents and increase services provided by community clinics.
Thirty percent of ULTCW members will now be eligible for Medicaid under the expansion, as outlined in the Act. A majority of other members will also now be eligible for cost sharing subsidies and basic healthcare plans.
Since the beginning, we knew this fight was a just fight. We knew this cause was a Just cause. And now we know that this law is a Just law as it's been put to the highest test.
The Affordable Care Act not only benefits our members with health coverage, it uplifts communities and moves our nation forward by saving lives and promising every single American a better future.
*Artwork: Derek Gores, "For All Americans"