To be a feminist mother of two boys is a gift. It is an opportunity to stop the cycle of objectifying women and ridiculing women who are not conventionally attractive. Raising boys who do not tolerate sexism is just as important as raising strong girls.
My fourth grader has his own personal email account. Some people may think he's too young for it, but he likes to email his out-of-town relatives and his friends from school. Because we are divorced, it allows us to stay in touch on the days he goes to his other parent's house. I keep a close eye on his inbox, and so far, it hasn't been a problem.
A few days ago, in my weekly perusing of his email, I found a picture of a large female derrière clad in a garter belt and thong. Next to it was a picture of a clove of garlic. I'm not posting the picture here, but I'm sure you can imagine what it looked like.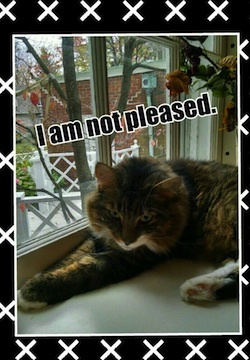 It had been forwarded from one school friend to another to another, going through three other 9-year-olds' inboxes before it landed in my son's.
I hit the roof, and I hit it hard enough to give myself a concussion. I forwarded the email to the mothers of the other boys that had originally gotten the picture and forwarded it on.
Of course, I used this email to start a reminder discussion on internet safety and appropriate behavior. I lauded my kid for neither replying nor forwarding it on. Honestly, he didn't even understand what it was a picture of.
But there is another discussion equally important to internet safety to be had: misogyny, fat-shaming, how forwarding on harmful pictures leads to the decay of your own morals.
I know that I will not be able to stop my sons from occasionally laughing along to an inappropriate joke. What I can do, though, is make my boys uncomfortable about it. I can use examples like this email to explain how making jokes at someone else's expense hurts people.
It's hard and perhaps unrealistic to expect children to be morally strong enough to tell a friend, "that's not funny --that's belittling a human being and I don't want to hear it." But what we can realistically do is make them not like to laugh, make them change the conversation to something more appropriate. In short, do not reply, do not forward.
I think the easiest way to stop the laughter is to remind my child that the person in the photo is a person, and may not have even known the photo was taken. It's an opportunity to talk about the people we love that are different sizes and shapes and how sad we would feel if someone laughed at them.
Yes, it's easier to let it slide under the rug and tell yourself that your kid didn't understand it, that it doesn't really matter or it was just a fluke. But we are trying to raise boys against a flood of racist, misogynistic and bullying messages. We have to take the opportunities we have to reinforce our core values, to help shape our boys into the men we know they can be.