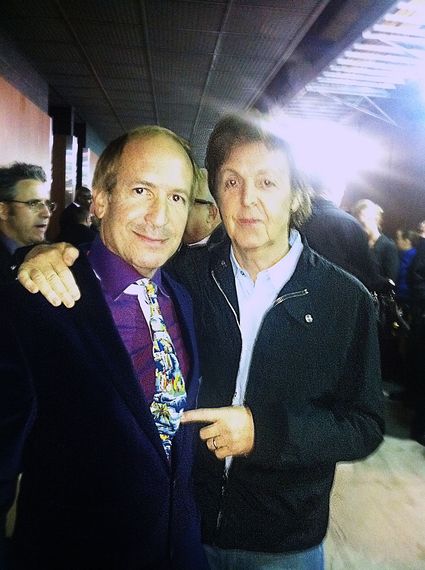 John Lennon glowed like a saint with a luminous aura, as I watched him step out of the long, stretch black limousine. The year was 1975. He looked like a delicate aristocrat with a Medici type fedora tilted sideways, a cumulus billowing white silk scarf, a large bejeweled flowering brooch that said "Elvis," long stringy hair, and those famous wire rim spectacles. At the time, I was a youngster living at home in New Jersey and playing keyboards in Sunrise, a local rock band from Dumont High School. My bandmate Steve Lozowski, and I drove to New York City to score some weed.

Sketchy dealers during that time lined dark and dangerous streets just west of Times Square--in what is now known as the trendy Hells Kitchen area. Before we could pull over to roll a doobie, we saw rows of stretch limousines parked alongside the Uris Theater, where the Grammys were being held. We randomly followed a limousine as it pulled away and we did this not knowing who, or if anyone, was inside. When it arrived at an unmarked door, on west 43rd street, a few blocks away, out stepped Mr. Lennon. I was what the English would say: gobsmacked. Almost out of a gag reflex, I shouted from the backseat to John, "Hope you get to stay in the states!" John and Yoko had been fighting the US government for years ever since Richard Nixon found their Give Peace A Chance views threatening to US foreign policy.
John heard us, swiveled around and approached our car. He leaned in the window and in his famous Liverpudlian twang he said "Thank you so much. Yoko and I are keen to stay in New York, it's home." He said a few other things I don't remember as I was simply stunned from meeting my first rock star. Mr. Lennon was my idol growing up. I was inspired by The Beatles to make music more than a hobby and my life long career. I was a just teen and suddenly I came face to face with my guru. This set a tone for my life and influenced my future. If John Lennon could be so down to Earth, then, gosh darn it I could aspire to do the same.
The Grammys are a Cinderella tale for musicians. We often go from rags to riches and, if we're not careful, back to rags again. We go from dreaming of the spotlight in our bedroom to center stage, under the white HOT spotlight, being cheered, lauded, and poked at.
My own Grammy memories began with that fateful encounter in 1975. It came full circle in 2012 when as a co-writer and producer of Alan Jardine, co-founder of The Beach Boys, I accompanied them to rehearsals, backstage, and their 50th reunion performance, and had the most memorable and heartwarming encounter with Paul McCartney.
Over the past 25 years I've had many happy Grammy memories; starting with becoming a member of the Grammy organization NARAS (The National Academy of Recording Arts and Sciences) and voting. I've been nominated myself multiple times in all the rounds, from initial to final. I sat with Karen Minor, whose husband, Ricky, was Whitney Houston's musical director. Whitney came up from a platform beneath the Radio City Music Hall stage singing "I Will Always Love You" the year The Bodyguard swept the Grammys. I stood with the Krasnow family the year Elektra Records won for Natalie Cole and Metallica. I saw Madonna chatting with Seal right next to me, and I had my first Grammy after party where a very attractive Christian Music singer, whose father was a preacher, picked me up and took me home--praise Jesus! The list goes on of moments where I felt like Cinderella invited to the ball.
But here is my John & Paul story: I tell it not to come across as sounding my own horn, but to inspire anyone who feels like their dream is out of reach and a million miles away for those 'other' people more lucky. We musicians are all dreamers sculpted from the same sacred clay. When we follow our heart's desire and truly go for what we want in life, nothing is impossible. We can reach our dreams and shine among the brightest stars. Just look at Sam Smith. No-one heard of him 12 months ago, yet on February 8, 2015 he swept the Grammys.
In 2012, I was lounging by the pool of the Bel Air Hotel when Beach Boy Al Jardine called me to invite me to the rehearsal for their 50th reunion Grammy performance; the Thursday before Grammy Sunday. I was winging it when I arrived in Los Angeles, I didn't have a ticket to the awards or the Music Cares charity dinner, just an invite, personally from legend Clive Davis, to attend the post-dinner concert for his annual Grammy bash the night before. The Clive event turned out to be a sad affair. Whitney died a few hours earlier that same day in the same hotel, unknown to attendees, she was still upstairs while we attempted to put our best face on and party downstairs.
I got dressed and drove to The Staples Center where the Grammys are held. Somehow, after several false starts, I found a tiny side street which leads to a labyrinth under the parking garage for the venue. At the artist check-in table, I said my name and voila! Like rubbing Aladdin's lamp, I was transported to a magical world. First, I went directly onto the stage when Al Jardine told me to come and I found a crew of 40-50 technicians hanging surfboards, blinky fake palm trees, and constructed an elaborate Las Vegas type surf fantasy. A baby-faced young man yelled at me, "Larry Dvoskin, what are you doing here!" I didn't recognize him when he approached me, but he was glad to see me and had his hand out. I wondered, who is this ? Is it someone I worked with? Someone I hooked up with? He said, "It's Mark...don't you remember? Mark Foster!" I suddenly put two and two together and, ah ha, it's Mark Foster of Foster The People. We met in 2005 when I lived in LA and I jammed a bunch with Mark at John Zagata's house--his manager at the time. Foster The People was opening a trio of Beach Boys performances; dressed in the white and blue striped shirts with blue sports coats like The Beach Boys did in the early sixties, and singing "Wouldn't It Be Nice." Following them was Adam Levine and Maroon 5 doing a delicately faithful version of "Surfer Girl."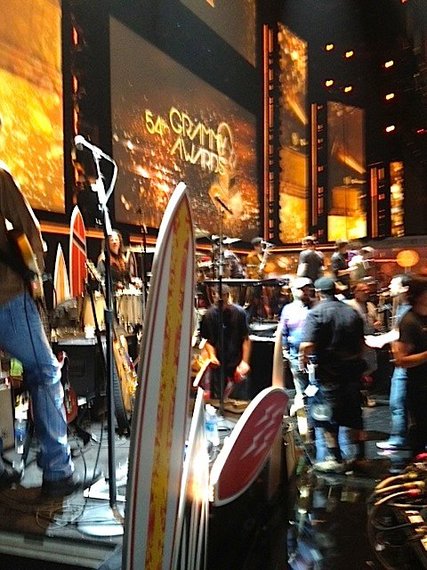 I found Al Jardine, and his bright sunshine of a wife, Mary Ann, and hung around the dressing room until they went to run through "Good Vibration" with both Maroon 5 and Foster the People backing them.
Al had been campaigning during this time to have his songwriting contribution to The Beach Boys long awaited 50th Reunion album "That's Why God Made The Radio" be one of the songs I co-wrote and produced titled "Waves Of Love." Several key industry and radio people heard it and said it was the best sounding Beach Boys HIT in over 30 years. Still, however, the politics of the band, being such that Brian controlled a majority of the writing, and with stakes so high after that long break apart, both Brian and Mike strung Alan along. They paid him lip service saying tomorrow, and tomorrow, but they never got around to finishing the song. Fans have embraced demos leaked online but the song, as a master single, still remains unreleased as a Beach Boys single. It even has guest vocals from Carl Wilson, who sang on it before he passed away, and his sweet lyrical tenor can be heard alongside Al's son Matt Jardine.
My 25 years of experience around The Beach Boys is like a musical version of The Titanic: a first class, elegant and wide vessel that keeps sinking over again and again. Each year seems to bring a new iceberg of infighting and backstage drama that a Hollywood script writer can't imagine.
On Grammy Sunday, I rose bright and early, and drove to meet Al and Mary Ann at their hotel. I never knew the entire ceremony takes place twice--once in the morning and afternoon of the show, as a final dress rehearsal, and again for broadcast. The award presenters use funny characters when announcing winners who are only revealed later that night. For example, the winner for best rap performance by a duo or group was Mickey and Minny Mouse. Best female vocalist? Catwoman.
We arrived at the venue in a chauffeured van, and around noon The Beach Boys got called to the stage for their final run through of "Good Vibrations." Standing in the hallway, between our dressing room and the stage, was cheery and cheeked Paul McCartney, just greeting and chatting with anyone who came along. During the final run through, The Staples Center was empty except for artists and technicians, so most of the famous stars like Macca were free to mill about with minimal security.
Paul saw The Beach Boys and gasped, "It's The Beach Boys! Hey Brian! Hey Al!" They stopped to greet each other like long lost friends who frequently crossed paths. Since photography was forbidden, in order to avoid leaking the set, artists, or songs before the live telecast, there was no official Beach Boys photographer. I, of course, immediately broke the number one cardinal rule by whipping out my camera phone and began snapping Paul, Brian, and Al together. I was worried that current NARAS President Neil Portnow would come along and scold me, as he was my first mentor and producer when I played keyboards with the RCA Recording group Fandango, back in the day.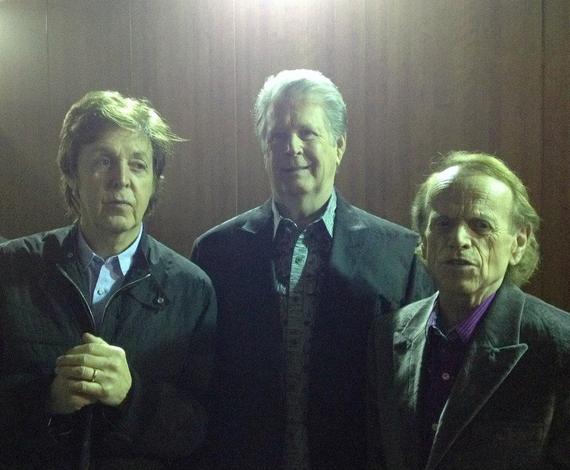 Paul asked "Would you like a picture with me as well?" I handed my iPhone to someone else but something went wrong and it wouldn't work. Paul, in mirth spirits, whispered into my ear, "Ya' know it's gunna cost you a hundred quid, because uh...I'm Paul McCartney." Then he tickled me under my arm as if I was an eight year old--I wasn't sure if it was real or just a dream. As I fiddled with my camera, Paul's handlers rushed in to pull him away. He leaned in again and whispered again in my ear, "Ya' know, its gunna cost you 150 quid if I have to wait much longer cause ya' know, I'm Paul McCartney!" Similar to the way he created the Sgt Pepper characters to free the Beatles from the weight of being the most famous stars on Earth at the time, Paul seemed freed by the ability to playfully joke around with his own fame in third person.
What surprised me most is how comfortable Paul made me feel. The feeling of "I'm home." Perhaps it's something magical and mysterious--like quantum physics? Music is a vibration--a frequency. We vibrate with whatever and whomever is near us. Sir Paul has given so much love, and to so many people through his songs for so long. I felt his warmth, like a line from "Here Comes The Sun," radiating from his being that morning.
I was among the most respected artists in my field, and with my own musically creative place among them.
Thank God for The Beatles. Thank God for The Beach Boys. The dreams that we dare to dream really do come true. And in my case, Cinderella stories do come true.