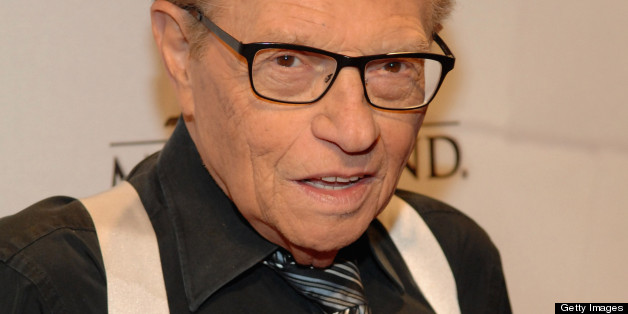 A memorable interview reveals not only what someone does, but why. It's at the junction of motivation and manifestation where personal history really gets interesting. I've had the privilege to interview many of the world's most intriguing "doers." It's the greatest job I could ever have imagined (besides pitching for the LA Dodgers). I'm constantly reminded of how creative, curious, complex, dedicated and compelling human beings can be.
Inspiring individuals live all over the place. I meet them in line at Brooklyn Water Bagel, and everywhere I travel. They do so much good for others, and most do so without a microphone or television camera present to capture their impact. I've met plenty of these under-sung stars through the organization that I started 25 years ago, the Larry King Cardiac Foundation. The original goal was to help those without medical insurance secure the cardiac care needed to stay alive. We've worked with countless everyday heroes -- from doctors and researchers to family members and the heart patients themselves.
Now, in this era of major healthcare changes, challenges and opportunities, my wife Shawn and I are opening a new phase in evolution of our foundation. With the help of a new president Tamsin Smith, we are committed to making prevention and heart health a more visible, accessible, and fun priority for all. We know we don't need to reinvent the wheel here. What we can perhaps uniquely do, however, is make the "how" and the "who" behind greater heart health much more famous. Think of the healthy heart as the next big celebrity. I'd love to see one grace the cover of Time magazine.
So, time to get to work. We'll do our part to put the everyday heroes of heart health in front of the country's inquiring minds. We'll use the media as a megaphone to up the importance of exercise, better nutrition and minimizing stress -- and we'll celebrate the organizations and individuals who are making a huge difference neighbor by neighbor, heart by heart.
I love sharing stories. Certainly Carlos Slim, Quincy Jones and 50 Cent have lots to say on plenty of topics, including how to live a vital life. Certainly, the more I live life, the more I've come to understand that people are more alike than different, and everyone has a story to tell. I'm excited about expanding the circle, and sharing more stories -- through multiple channels -- on who the doers are in making the rest us fans of heart health.
Here's just one such story to whet your appetite:
Nick Papandoopoulos runs a family farm in Sonoma County called Bloomfield. It's a great spot to go and pick organic vegetables with your kids. But on his small farm, as on most, there's sometimes a surplus of produce. It frustrated him that those leafy greens would go to waste without a kitchen table to go home to. He also knew there were plenty of hunger-relief organizations that could benefit, if he could just figure out a way to transform potential waste into much-needed nutrition. Well, he's figured out a super smart way to make those connections and engage the whole community in the process. Check out CropMobster.
Do you know any folks like Nick out there? We want to talk up people who are helping make our country healthier and happier with smart new projects like CropMobster? If you do, please do me a favor and post a link on our foundation's Facebook wall.
From where I sit, I bet they have some pretty incredible stories to tell and we're hungry to share them.