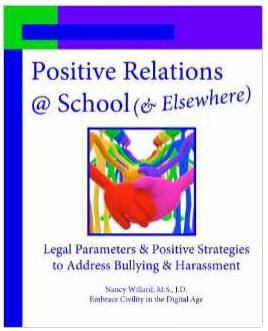 New book helps educators and parents deal with bullying
Nancy Willard has been writing and speaking about cyberbullying since practically before the term was coined. But, like most cyberbullying experts, she knows that cyberbullying -- for the most part -- is bullying. And that -- plus a lot of research, a master's in education and a law degree -- qualify her as a bullying expert.
Willard has recently written two important books. One, which you can buy on Amazon for $40.19, is Positive Relations @ School (& Elsewhere): Legal Parameters & Positive Strategies to Address Bullying & Harassment.
If you're a school administrator, a counselor, a teacher or a parent leader, you owe it to yourself and your students to read this book. In it Willard focuses on what schools are doing to stop bullying and what is and isn't working. Wearing both her educator and lawyer hats, she shares insights into bullying and looks at laws and enforcement while providing supporting resources and an "action plan." Willard -- who I often quote in my bullying articles -- writes about "hurtful speech vs. free speech" and explores "disparaging speech on campus."
Well-meaning adults can make things worse
Naturally, adults at school and home want to support kids in their care, but Willard points out that many of the most commonly used approaches, like a strict disciplinary policy are often ineffective. Pointing to research, she cites a study that found
while 87 percent of school staff think they have effective strategies for handling bullying, 58 percent of middle and 66 percent of high school students believe adults at school are not doing enough to stop or prevent bullying.
A free e-book for parents
Willard has also written a free 26-page e-book that you can download for free from her Embrace Civility website. The short e-book, which draws on some of the materials in her education book, provides talks about why "the current bullying prevention approach is not working," and gives parents advice on legal protection for their bullied child or teen." There are also "strategies to prepare and make your case for the need for more effective intervention in the situation facing your child or teen." There are short chapters on legal protections including "preparing and making your case," plus practical tips to help resolve and diffuse problems. "One of the biggest mistakes the parent of a bullied child or teen can make is calling for the student(s) who are being hurtful to be 'punished,' wrote Willard. "Holding these students accountable and ensuring their hurtful actions are stopped is essential. Punishment will not accomplish this."
Anne Collier, my ConnectSafely.org co-director has more thoughts on Willard's books along with some insight of her own in her blog post, "A positive, insightful new book for schools on bullying."
Another free resource is A Parents' Guide to Cyberbullying from ConnectSafely.org, the non-profit organization where I serve as co-director. In this eight-page guide, we focus on just the basics that parents need to know when dealing with bullying online and on mobile devices (which of course often has its roots in school).
This post first appeared on SafeKids.com