Monday is press day at CES -- the show actually opens on Tuesday. And, so far, the news -- or at least the buzz -- seems to be on ultra-high definition TVs, curved and bendable TVs from (Samsung and LG), fitness devices and -- believe it or not -- some news on the notebook PC front...
UHD and curved TVs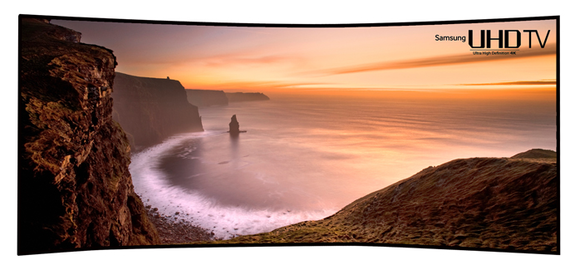 Samsung' introduces curved and bendable TVs
Just about every TV maker is expected to show off some ultra high definition (UHD) TVs, also known as 4K, that have four times the resolution of today's 1080p high def TVs. The good news is that they are stunning to look at but the bad news is that there still isn't much content for them. That will change over time but not right away. Last year these sets sold for upwards of $10,000 but we're seeing more affordable UHD sets starting at under $3,000.
Samsung is showing a pair of curved TVs including one that actually bends. The bendable one has a button on the remote control that causes the screen to curve about 20 degrees. In an interview, Samsung's Dave Das told me that the screen will create a more immersive experience. I got to see it at a preview event and, while impressive, I'm not yet sold.

Click to listen to my interview with Samsung's Dave Dos about the curved and bendable TV
Notebook PCs with adaptive keyboards
Lenovo introduced a slew of new tablets and notebooks including the new 14-inch Carbon X1, which weighs only 2.8 pounds, making it lighter than the 13-inch MacBook Air. One distinguishing feature is an "adaptive keyboard" where the function keys change, depending on the application you're using.
Fitness and health
There will be plenty of fitness devices on display at CES. LG announced two new gadgets: Lifeband Touch and Heart Rate Earphones. The band is similar to the Nike Fuel band with an accelerometer and an altimeter to measure your movement. The earphones can monitor your heart rate and transmit the data to the fuel band's display or another device,
At a press event Sunday night, Fitbit, which makes wearable fitness tracking products, announced new software that not only track your exercises but motivate you as well. Packages include "no more baby belly", "bum beautiful", and "gut buster." It's like having a virtual personal trainer..