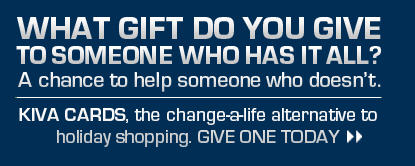 Now that "Black Friday" and "Cyber Monday" are history, maybe it's time to start thinking about a new day, "Compassionate Wednesday" or "Caring Thursday." In the midst of all the holiday buying and selling, it would be nice to take a break from online shopping and think about online giving and investing in our global community.
Don't get me wrong. I'm all in favor of showering friends and family with gifts, whether from local stores or your favorite e-merchants. But as we get ready for the holidays, we should also take time to think about ways we can make a difference.
Instead of buying presents for the young people in my family, I prefer to give them gift certificates for Kiva.org. That's a website where you can lend money to individual entrepreneurs across the globe so they can invest in their small business and their community.
Unlike entrepreneurs in Silicon Valley, Veronica Del Carmen, a chicken farmer in El Salvador, doesn't need hundreds of thousands or millions of dollars. She's seeking $1,200 to expand her farm and pupusa restaurant. But you don't need to come up with the entire amount to help her. Through Kiva, you can lend as little as $25 to her or thousands of other entrepreneurs around the world.
Kiva, a not-for-profit microlending service, doesn't pay interest, but it does almost always pay the lender back. According to its website, more than a half-million people have used Kiva to lend more than $170 million to more than 450,000 entrepreneurs, who have a repayment rate of 98.99 percent.
Another site, Microplace.com, approaches microlending as a business. A subsidiary of PayPal, Microplace is registered as a securities firm and pays interest to lenders and investors. Interest rates vary between less than 1 percent to 3.5 percent, which is good compared with what banks and money market funds are paying now.


Microplace allows you to gift an investment
Both Kiva and Microplace allow you to gift investments. With Kiva, you can give a "Kiva Card" for as little as $25, which allows recipients to set up their own account and pick a recipient. I sometimes give Kiva cards to children and teenagers in my family because it requires them to go to the site and pick out worthy investments. When the loan gets paid back, it helps them toward their college fund or other savings goals. You can fund the loan from a PayPal account or a credit card.
Microplace also allows you to send gifts, but the process is different. The person giving the gift picks the investment and enters the name and e-mail address of the recipient. If the recipients already have a Microplace account, they can immediately add it to their portfolio. If they don't have an account, they can quickly set one up online. Microplace accounts are available only to people 18 and older, so if you want to give money to a child, a parent or other adult will have to hold the investment.
I'm not sure how long this offer will remain on the table, but Microplace is offering a free $20 gift certificate for each gift you give, which means you can invest $20 and give away $40 worth of investments. You can pay for Microplace investments via PayPal with no fee or from your checking account.
Even if you don't have any gifts to give, consider making Kiva or Microplace part of your portfolio. I've made several investments on both sites and have always been paid on schedule. Because of its excellent interest rates, Microplace is one of the ways that I'm saving for my retirement.
This post is adapted from a column Larry Magid wrote for the San Jose Mercury News