Whether Verizon's new data plan is good or bad depends on how many devices you use and how much data you consume as well as how gabby you are.
The good news is that you can now share buckets of data across devices and there are no limits on voice calls and text messages. The bad news is that it's likely to cost more for people with only a single device.
The "Share Everything" plan, which goes into effect on June 28 starts at $50 for 1 GB of shared data and goes up to $100 for 10 GB. But even though you can share data across devices, there is still an extra charge per device as you can see from the chart below. Verizon stopped selling unlimited data plans about a year ago but has been "grandfathering" existing customers but -- after June 28 -- you'll lose that unlimited plan if you buy a new subsidized phone. You could keep the plan by paying a lot more for your phone but the extra hardware cost (possibly $400 or more) probably wouldn't be worth it.
Good for families, but not many individuals
It can be a good deal if you have lots of family members with smart phones or if you have a smart phone and a tablet or two and, of course, it's terrific for that shrinking number of people who talk a lot on their phones. But, as Roger Cheng at CNET blogged, it can be bad for individual users.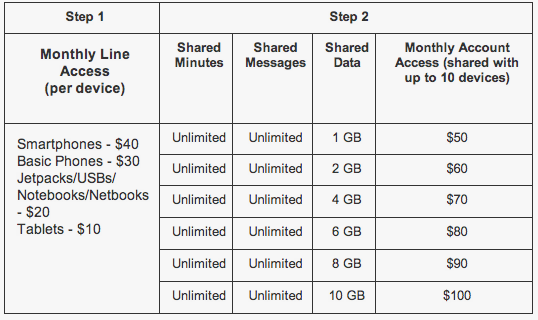 Verizon's new "Share Everything" data plan (Source: Verizon Wireless)
Bad for individuals who don't talk a lot
An individual with a single smart phone using 2 GB of data would pay $100 under the new plan and get unlimited voice and text. With the old plan they could get 450 minutes of voice (plenty for many people) and 2 GB of data for $70. Texts would cost them 20 cents each but they could buy 1,000 text messages for $10 or unlimited for $20 which would still come out $10 cheaper than the new plan.
Good for chatty talkers and texters
Heavy talkers who also text and use data would benefit from the new plan. Under the old plan it costs $70 for unlimited voice plus $20 for unlimited texting. Add in the current $30 charge for 2 GB of data and such a heavy talker/texter would no pay $120, making the new plan seem like a bargain.