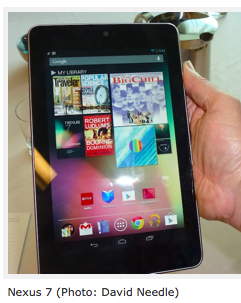 I picked up a review unit of Google's soon-to-be-released Nexus 7 and my first impressions are quite positive, especially compared to other 7-inch tablets I've used. At $199 for a model with 8 GB of memory, the Nexus 7 is squarely aimed to compete and beat the Amazon Kindle Fire. But there are unconfirmed reports that Amazon will announce a Kindle Fire 2 but -- at this point -- Google is ahead of Amazon.
The Nexus 7 is 2.6 ounces lighter than the Amazon Kindle Fire but it feels lighter still -- probably because of its sleeker rounded design highlighted by a rubberized back. The 1280 by 800 HD screen looks great when reading and when watching a video and the audio, which comes from a speaker on the right side of the unit (holding it horizontally) was better and louder than I expected for a 7-inch tablet. There is also a physical volume control, which is sorely lacking on the Kindle Fire.
Peppy hardware and GPS navigation
The Nexus is powered with a quad-core Tegra 3 processor, and is equipped with a 1.2-megapixel camera, 1GB of RAM. Google claims that the battery provides over 8 hours of HD video playback, 10 hours of web browsing or 10 hours of e-reading. It runs the new Android 4.1 "Jelly Bean" operating system. One cool feature of Jelly Bean that works on the Nexus 7 is the ability to download a Google map for a geographic area (such as a city) to the device and use the built-in GPS to navigate even if you have no data connection -- which is a good thing considering that the Nexus 7 supports WiFi and Bluetooth but doesn't have a cellular modem option.
Comparing the Nexus 7 with an iPad is a little like comparing an orange with an (pardon the pun) Apple. The 7-inch form factor makes the Nexus a lot more portable -- it fits easily into a man's suit coat inside pocket and even in my pants pocket (not sure about women's fashions). Of course, there are some who prefer the larger iPad screen and the iOS apps but, personally, I find myself using my Kindle Fire more often than my iPad and I'm sure that will be even more true with the Nexus 7. There are rumors that Apple might introduce its own 7-inch iPad which would be a welcome addition to its lineup.
Selling content
Like Amazon and Apple, Google is selling more than hardware -- it's selling content that people buy in its Google Play store including books, music and video. According to TabTimes executive editor David Needle, "like Kindle Fire the Nexus 7 is a good deal for a 7-inch tablet. Google isn't making money on the hardware, they want to sell the services."
Google is accepting orders now for both the 8 GB model and a $249 16 GB version but shipments won't be until July.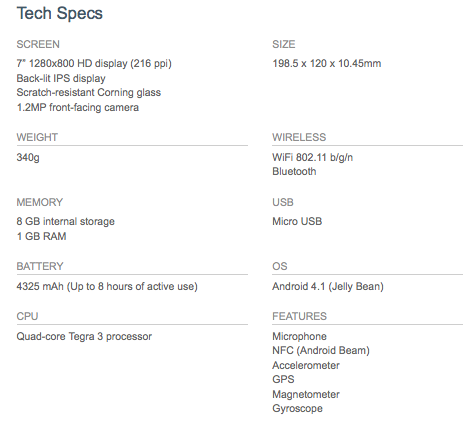 This post first appeared on Forbes.com