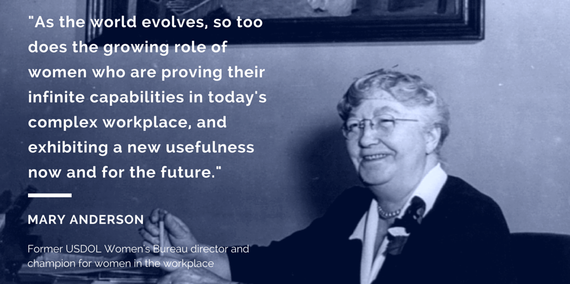 When Frances Perkins stepped into her role as labor secretary in 1933, she was the first woman in the United States to hold a Cabinet secretary position. And she didn't waste a day: by the time she left her post in 1945 she had championed transformational policies that still shape our modern workplace, such as the 40-hour work week, minimum wage laws and unemployment benefits.
"I came to Washington to work for God, FDR, and the millions of forgotten, plain common workingmen." - Frances Perkins
Today I sit in a building that bears her name on the last week of Women's History Month, surrounded by impressive women in leadership positions. The legacy and contributions of Frances Perkins, and the other women in labor history who fought beside her, are everywhere. Banners of Frances Perkins, Dolores Huerta, Esther Peterson and Mary Anderson wave to us from our Hall of Honor − a daily reminder to continue the fight for a more equitable America.
Today, thanks in large part to the efforts of these dedicated women and others like them, we are now more likely than men to graduate from high school, college and graduate school. Women have grown from one-third to almost one-half of the workforce, and women now hold 52 percent of management and professional occupations. We are almost half of all union members, and our role in advocating for the best work-life policies for men, women and families cannot be overstated. Women helped bring about the Fair Labor Standards Act, the Family and Medical Leave Act, the Equal Rights Amendment and the Lilly Ledbetter Fair Pay Act.
While it's important to honor these leaps forward, we have to recognize that huge challenges remain, including the lack of paid leave policies, the ongoing struggle of minority women for racial as well as gender equality, the continued wage gap between women and men, and occupational segregation by gender.
So, join me in celebrating the women of labor's impressive achievements during this Women's History Month, but also in continuing their work long into the future. We owe it to Frances, all those who came before and all those who will come after.
Latifa Lyles is the Director of the Department of Labor's Women's Bureau.