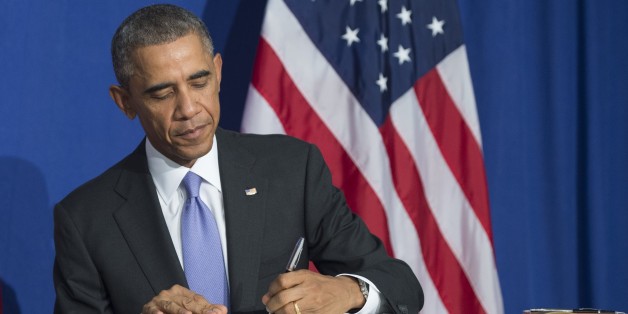 by Matt A. Barreto
Tonight, President Obama will announce his long-anticipated administrative orders on immigration reform, expected to include changes with regard to which immigrants the federal government prioritizes for detention and deportation, and specifically the temporary relief from deportation for undocumented immigrants who have lived in the United States more than five years, have no criminal record, and have U.S. citizen or permanent resident children living with them. The president is expected to explain and defend this policy change because it will prevent separating families who, by almost any measure, are already part of their communities.
Polling data suggest that the response from Latinos to this announcement will be overwhelmingly positive. Latino Decisions' 2014 election eve survey found that 58 percent of Latino voters personally know at least one undocumented immigrant. In our June 2014 national poll on behalf of the Center for American Progress, we found that 87 percent of Latinos supported the president's use of executive authority to provide relief from deportation for undocumented immigrants who have U.S. born children. In the Latino community, almost everybody supports keeping families together.
Republicans should be very careful how they respond to the president's announcement, and would be wise to recall lessons from Mitt Romney's disastrous response to the deportation crisis during the 2012 presidential election. In the GOP's own highly-publicized, 2012 post-mortem report, "The Growth and Opportunity Project," the party specifically recognized that it can no longer continue to use anti-immigrant rhetoric or espouse anti-immigrant policies and still hope to win the Latino vote. They are absolutely right.
Moving forward, the key political-electoral question is whether Republicans will heed their own conclusions. Latino Decisions analyst Tom Schaller emphasized the importance of the GOP's response to immigration back in March of this year:
But much of the [Governing Opportunity Project]'s focus is on ways to re-brand the party in an effort to appeal to a wider swath of the American electorate, with a special emphasis placed on Latino voters, who in the 2012 presidential election accounted for a double-digit share (10 percent) of the electorate for the first time. Section 2 of the "GOP," entitled "America Looks Different," addresses the party's problem with Latino voters head-on: "If Hispanic Americans perceive that a GOP nominee or candidate does not want them in the country (i.e., self-deportation), they will not pay attention to our next sentence. It does not matter what we say about education, jobs or the economy; if Hispanics think we do not want them here, they will close their ears to our policies." The document specifically recommends that the party embrace comprehensive immigration reform.
Latino attitudes toward the Republican Party are already at an all-time low. According to Latino Decisions' 2014 election eve poll, only 22 percent of Latino voters think the Republican party "truly cares" about Latinos, compared to 42 percent who think the GOP does not care, and another 23 percent who think the GOP is "openly hostile" towards Latinos. That's a net 65 percent who already think the GOP is not on their side. In a separate question, LD also found that 40 percent of Latino voters agree with the statement "the Republican party has now become so anti-immigrant and anti-Latino that it would be hard for me to consider supporting them."
Yikes.
The GOP is treading on very thin ice with Latinos, and if the party aggressively opposes -- legally, or even rhetorically -- the president's immigration actions, Republicans risk solidifying their anti-immigrant image with Latinos, and also Asian Americans. In 2012 a majority of Latinos cited Mitt Romney's opposition to DACA as a reason they were not voting for him.
At stake here is the fact that the president is promoting a policy that tries to keep children and parents together, and stops the detention and deportation of parents who have U.S. citizen children. Can the Republicans honestly face Latino voters and say "We want the federal government to continue deporting parents who have young children"?
That seems like an impossible policy position and very difficult electoral pitch for the GOP to defend with Latino voters heading into the 2016 elections.
Matt A. Barreto is co-founder of the polling and research firm Latino Decisions. Barreto is Professor of Political Science at the University of Washington and co-author (with Gary Segura) of the just published book, Latino America: How America's Dynamic Population is Poised to Transform the Politics of the Nation.