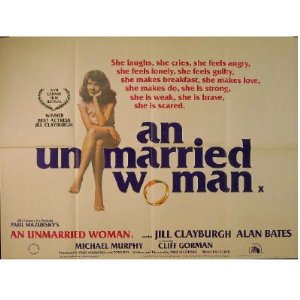 Originally posted on Women's Voices for Change.
The New York Times captured her gifts and her warmth in Jill Clayburgh's obituary on November 6. It is left to women who sat in movie theaters in 1978 to remember how she portrayed us all from the inside out in An Unmarried Woman.
The film, directed by Paul Mazursky, left many of us speechless at witnessing the coming undone not only of a marriage, but of a self that Ms. Clayburgh managed to disassemble on screen -- even as she was preparing to reassemble her character Erica into a stronger, more buoyant, more sure-footed version of someone whose brains and beauty were just a starting point for the deeper resources of her soul.
I have reached an age when names, plots, entire films are forgotten, some momentarily, others forever. Reading Jill Clayburgh's obituary, I realized I remember almost every scene, every actor, every moment of An Unmarried Woman. That comes as no surprise. So searing was her portrayal that I and legions of others left the theater feeling as though a friend had gone through a tragedy and a transformation.
It is to be hoped that her marriage to David Rabe and her life with her children (including the powerful Lily Rabe, appearing on Broadway as Portia in The Merchant of Venice opposite Al Pacino) was as idyllic as has been reported. In the aforementioned role and many of the others that followed -- in films like Starting Over and The Longest Yard and on Broadway and television -- she understood neurosis and weakness and worked from a strength that allowed her to confront them as an actor and invited audiences to approach them through her portrayals.
There was something about Jill Clayburgh that makes this loss seem personal for many who never knew her. Humanity is what it is called. Many people live far longer than 66 years without ever approaching what she brought to her characters as a young woman. So many long for the grace she showed as she grew as an artist, allowing herself to age on screen while fighting leukemia and prevailing until leaving us to remember her with gratitude and joy.
Visit the original post on Women's Voices for Change to see a clip of An Unmarried Woman.