This post was originally published in "The Uptown Chronicle."
"Do people eat goat balls too?"
A boisterous passerby who was walking past 168th and 3rd in the Morrisania section of the South Bronx stopped outside USA Meatpacking Inc. to question employee Mahmoud Simreen, 18.
Mahmoud smiled. He is used to these questions. And he answered, yes, some people do eat the goat's balls.
Mahmoud's father, Musa Simreen, owns U.S.A. Meatpacking Inc. Musa is Palestinian but was born and raised in Kuwait. He founded the business in 1992, and the business model is summed up by its motto: "You pick it, we kill it."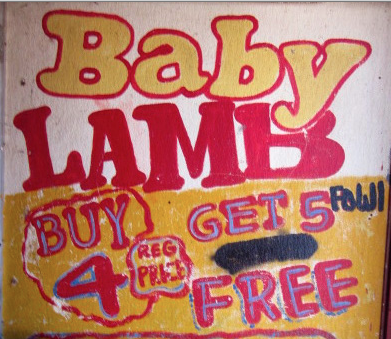 Meatpacking Inc. has specials for customers. (Photo by Laura Dimon | The Uptown Chronicle)
Customers select the animal they want, and in minimal wait time (one chicken takes about 10 minutes) their order is dead, plucked, skinned, gutted, cleaned, cut up, and packaged. USA Meatpacking Inc. sells fowl, duck, guineafowl, hen, rabbit, pigeon, lamb, goat, and sometimes beef and turkey. Shipments of the poultry come every few days from farms in New Jersey and Pennsylvania. The larger animals come from farms in upstate New York, as well as Texas, Pennsylvania, and Georgia.
Mahmoud is the oldest of Musa's four sons (his brothers are Ibrahim, 17; Ahmad, 14 and Omar, 11) and according to Mahmoud, "everybody helps out." Mahmoud is a full-time college student at Westchester Community College, but he still tries to make it to the shop every day. His responsibilities, he said, include making sure that "the animals are taken care of, everything is clean... everything is done the right way" and to deal with "any complaints the customers have." He only kills the animals "if it's busy." On full days of work, Mahmoud said he is the first one in the shop in the early morning and the last to leave in the evening.
Depending on the day, Mahmoud said he could serve about 150 customers, and the business overall is "pretty stable." On busy days -- which are Fridays, Saturdays, and Sundays -- the family sells about 100 chickens, their most popular item. They also have help from workers who come from countries such as Albania, Palestine, Puerto Rico and Ghana.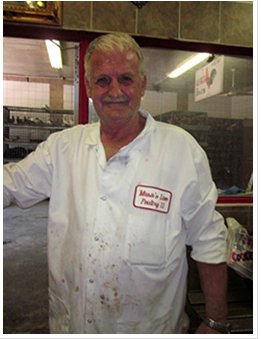 A worker at Meatpacking Inc. (Photo by Laura Dimon | The Uptown Chronicle)
Imad Hamad, 49, is from Palestine and has been working at USA Meatpacking Inc. for seven years. He is jovial and can often be seen hugging or joking around with regulars or passersby. He is matter-of-fact about what he does, saying, "work is work." With a laugh, he added, "Nobody eats the animal alive!" He said he is particularly busy at the beginning of the month when people get their food stamps, which can be used at Meatpacking Inc.
The lambs and goats are in a small rectangular barn with one long end abutting the street, and passersby stop and pet the animals through the bars. Inside the shop, there are dozens of birds in cages, chirping and clucking away. Workers in smocks and boots shuffle around and keep busy ringing up customers, taking orders, preparing the orders, or doing repairs. A small room adjoining the poultry area (next to the cashier) is where the chickens are killed. The larger animals are killed and prepared in the back room, not visible to people standing in the main cashier's area or the poultry area. But customers are invited to watch as much or as little of the process as they wish.
The shop is halal, which means that the animal must be blessed and killed in a certain way to make its consumption permissible by Islamic law. Mahmoud explained that before killing the animal, the worker will say an Islamic prayer --"Bismillah allahu akbar" -- which declares "God is great." The animal must be killed in a way that causes the least amount of pain and suffering: one slice to the throat, no electricity, and no extra harm. But Mahmoud said that there is "a whole variety" of customers, certainly not all Muslim. Some customers ("Spanish, African, white") do not follow a halal diet, but they come to USA Meatpacking Inc. for other reasons.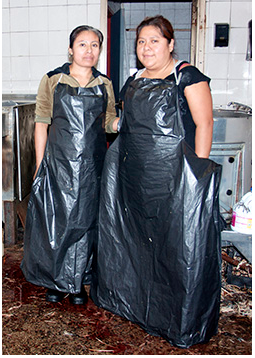 Two employees who process chickens. (Photo by Laura Dimon | The Uptown Chronicle)
Karidja Bamba, 40, is from Ivory Coast. She was in the shop with her young son, Seydou Fanny, 6, buying three chickens for about $15 (priced by weight.) She said the shop is convenient because it is near her home, she has a big family to feed (seven children) and, as she said, "It's fresh." But she does not watch the killing and prefers to wait outside.
Joe Kofi, 55, is another regular originally from West Africa, but unlike Bamba, he prefers to watch the slaughter, saying, "It's live, you see them kill it... other places the goat may be dead several days and they (still) sell it to you." Kofi comes in about once a week to buy a chicken and occasionally buys goat. He said he comes to the shop because, "They give you your choice, and they don't keep you waiting too long."
The shop also tailors the order to the customer. With the larger animals, for example, the workers remove the horns and almost always remove the hooves. But because some customers eat everything -- Mahmoud said, for example, that some Hispanics take the intestines in order to make blood sausage -- workers leave the head, stomach, liver, and brains. Mahmoud does not ask the customer what he or she does with the parts. He explained, "Some people get offended" because the preferences are cultural.
Cultural indeed. Jerry Tibbitt, 45, is from North Carolina, and feels differently than Bamba and Kofi. He is a resident in the neighborhood and he stopped outside the shop to pet the lambs. He has no problem eating meat, but he does not want to see the animal alive right before it is slaughtered to be his meal. In a Southern drawl, Tibbitt said, "I don't want to pet my steak."
But Tibbitt still appreciated the uniqueness of the shop. "I've [lived] here five years... this is the only one I've ever seen." One thing is certain. As Tibbitt said, "It's not usually the kind of thing you see in New York City."