Do you find yourself throwing away small portions of leftovers because you couldn't figure out what to do with them? I know I used to!
You see, It was just a couple of years ago that I decided to "get with the program" and made it a priority to feed my family quality, nutritional food.
There seems to be lots of dinner recipes out on the web; but when it came to lunch packing and tips on how to reuse dinner for lunch... well, there aren't that many. For this reason, I each week I incorporate ways to plan ahead and use up leftovers in the MOMables menus.
My subscribers tell me that they are tying new recipes into their meal rotation and are feeling more comfortable with their kitchen skills. I am thrilled that people are eating better and a wider variety of foods, but I can't help but feel like I should incorporate leftovers more, considering how much food is being thrown away each day.
Let me give you an example of what happened prior to planning my meals. I'd buy a bag of potatoes at the grocery store for one soup recipe and then a week later my potatoes were going bad! Add another week to that ... and they would go straight into the trash. What a waste!
One day, I thought to myself: I have taken major steps in the right direction with cooking, but now I need to find ways to be less wasteful. What if in addition to the three potatoes I boiled for my soup, I added three more and made mashed potatoes the next night?I started to plan this way and utilized one ingredient in 2-3 recipes. Not only did this cut down on waste, but it also saved me time and money.
Now, I pack three school lunches and two adult office lunches daily. It only makes sense to apply these same principles of "re-purposing" food for his lunches, right? Of course.
A great perk to re-purposing food for lunch is that you don't need a lot of leftovers to make it into "something." The leftovers that you would normally pitch, because it just didn't seem like enough to justify keeping, could be just the right amount for a kid's lunch.
I'll give you another example. Let's say one night you make a grilled pork loin with seared plums, and a baked sweet potato on the side. Use your leftover sweet potatoes to make black bean and sweet potato burritos. Or, you could make our sweet potato hummus and send it with pitas for lunch!
We all love this vegetarian lunch option because of the delicious combination of flavors from the sweet potatoes, black beans, roasted vegetables, spices and fresh herbs -- except my 5-year-old, who likes his burrito without the peppers.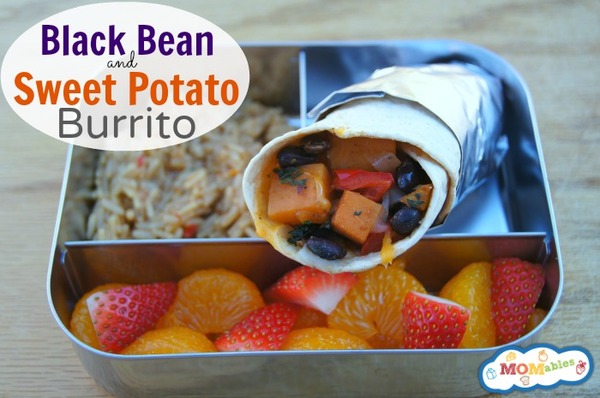 Black Bean & Sweet Potato Burritos
Recipe Courtesy MOMables Menus
Yields 2 Burritos
Ingredients:
• 1 sweet potato, peeled and cubed small
• 1/3 jalapeno, seeded and finely diced
• 1/3 red pepper, diced small
• 1/3 small red onion, diced small
• 1/2 teaspoon olive oil
• 1/2 teaspoon cumin
• 1/2 teaspoon chili powder
• 1/8 teaspoon salt
• 1/8 teaspoon black pepper
• 1/3 cup black beans, rinsed and drain
• 2-3 T chopped cilantro
• 1/2 teaspoon fresh lime juice
• 1/3 cup shredded cheddar cheese
• 1/3 cup shredded Monterey Jack cheese
• 2 burrito-size tortillas
Directions:
1. Preheat the oven to 425 degrees F. In a large bowl, toss together the sweet potatoes, jalapeno, red pepper and red onion with the olive oil, cumin, chili powder, salt and pepper. Dump the coated veggies onto a large rimmed baking sheet and roast for 18-20 minutes, tossing halfway through. The vegetables should be tender but not mushy at the end of cooking time.
2. Let the vegetable mixture cool. Scrape the mixture into a large bowl and toss with the black beans, cilantro and lime juice. Taste the mixture and add additional salt and pepper to taste, if needed. Refrigerate the mixture until ready to assemble the burritos or use immediately.
3. Place 3-4 tortillas on a microwave-safe plat and cover with a damp paper towel. Microwave for 15-20 seconds until the tortillas are pliable. Place 1/4 cup or so of the vegetable mixture in the center of the tortilla and top with a sprinkle with shredded cheese, a little of each kind.. Fold in the sides of the tortilla and roll up. Place seam-side down on a baking sheet. Repeat with the remaining tortillas until you have all the burritos you need (the filling can be refrigerated and used for 3-4 days).
4. Bake in a 375 degree F oven for about 10-15 minutes, until heated through and the top of the tortilla is golden brown. Adjust the baking time as needed depending on if the filling has been refrigerated or not. For a softer tortilla, wrap each burrito in tin foil and heat through. Serve immediately.